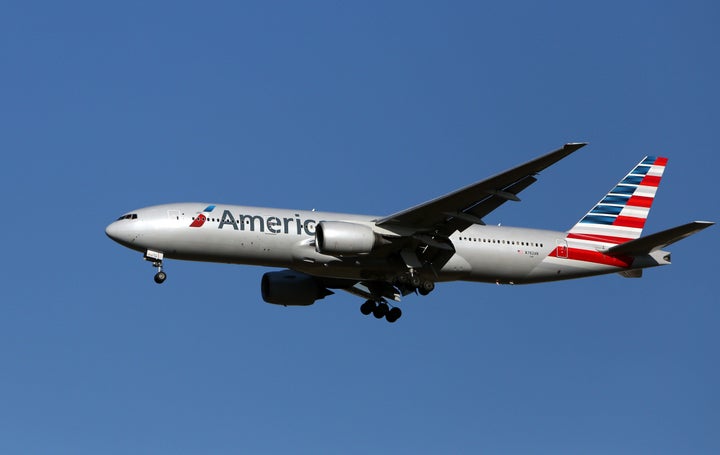 For many Americans, air travel is a necessary way to get where they need to be to conduct business or see their families. For others, it's an exciting chance to explore unfamiliar places and experience new things. But for people of color, it's far from certain that they will be able to access and enjoy air travel without discrimination.
What qualifies as a demand for basic customer service when exerted by a white passenger is translated as a safety threat when expressed by a black passenger.
When a single black mother traveling alone with her infant recently asked for the baby's stroller to deal with a lengthy flight delay, an American Airlines pilot called law enforcement to remove her, labeling her behavior "disruptive and unruly."
In recent years, American Airlines has displayed a deplorable pattern of overt racism and discrimination toward African-Americans. It seems like this problem has escalated exponentially over time, with a new apology owed practically every week.
I have recently gotten to know Ms. Briana Williams, a young black mother and third-year Harvard Law student from Los Angeles. She and her newborn were kicked off their American Airlines flight after Williams asked if airline personnel could bring her the infant's stroller when passengers were asked to get off the plane following a five-hour delay.
For the safety of her baby, Ms. Williams wanted the stroller so she didn't have to balance a newborn and three carry-on bags. As in other cases filed against American Airlines, a discriminatory pilot and flight attendants defaulted to label her a "threat."
This kind of language, and the inflicted consequences on passengers of color, are starkly different from what other passengers experience. American Airlines says it holds its employees to a high standard and claims it doesn't tolerate "this kind of behavior," but its actions say otherwise.
Companies understand the importance of customer loyalty, and the best brands work hard to stop the damage caused by bad customer service. African-American buying power topped $1 trillion in 2016, but the respect due that consumer muscle has been slow to follow.
NewVoiceMedia calculates that brands are losing $62 billion a year from poor customer service, with 49 percent of consumers polled reporting switching, and of those, 67 percent saying they switched more than once. White customers get the chance to respond to bad customer service with their wallets. Complaints are soothed with apologies, discounts, free products and services. Black customers who raise complaints are restrained with insults, shackles and incarceration.
The difference is this: White Americans view African-Americans as fundamentally dangerous. This belief allowed a neighborhood watch volunteer to shoot and kill the unarmed Trayvon Martin and get away with it. The same belief system casts the black single mother of an infant as a deadly threat when she speaks up for herself.
The unstated pernicious belief that permeates all aspects of American culture is that African-Americans are a negative force to be guarded against, not an asset to be courted.
Ms. Williams is not alone in her efforts to defend herself against a powerful company whose ideals seem to be rooted in a racial hierarchy that puts black customers at the bottom of the list.
Last month, Tamika Mallory, co-president of the Women's March, changed her seat assignment at an American Airlines kiosk and had a boarding pass as proof. But at the gate, the American Airlines attendant said she had already given that seat to another passenger, who was white. When Mallory complained, the attendant brought in the pilot, who told her she had no choice but to accept the other seat and asked her if she was going to behave herself on his flight. Mallory said she didn't appreciate being spoken to like she was a child. But she agreed to accept the seat and asked for the names of all involved to follow up later. At that point, the pilot ejected her from the plane. When a black traveling companion offered his seat, he was ejected, too. Interestingly, when a white passenger also offered up his seat to her, he was allowed to remain on the plane.
And it doesn't end there. North Carolina preacher Rev. William Barber, who created and led "Moral Mondays" civil rights protests and was a featured speaker at the Democratic National Convention last year, had a similar experience with American Airlines. When he asked a flight attendant to quiet two drunk passengers who were speaking loudly behind him, the flight attendant remarkably kicked him off the plane instead.
And Ms. Rane Baldwin, an African-American woman, was "sent to the back of the bus" after her first-class ticket was switched to a coach seat at the ticket counter. Her white companion was allowed to remain in first class.
In the wake of these and other shocking cases, it comes as no surprise that the NAACP recently issued a travel advisory to black travelers, warning that the organization has been monitoring a pattern of "disturbing incidents" reported by African-American passengers, specifically in dealing with American Airlines. The NAACP is alerting travelers, especially African-Americans, to exercise caution because "booking and boarding flights on American Airlines could subject them to disrespectful, discriminatory or unsafe conditions."
It's way past time for errant brands like American Airlines to correct the error of their ways to treat African-Americans as the valuable customers — and respect-worthy human beings — that they are.
Benjamin Crump is a nationally known civil rights attorney and advocate, and is the founder and principal of Ben Crump Law, www.bencrump.com. Briana Williams has retained Crump to represent her.