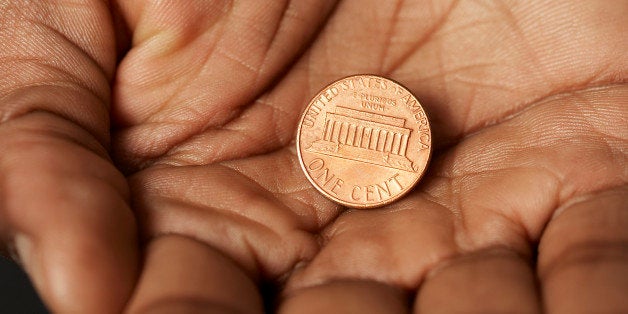 Think we're living in a "post-racial society"? Think again. A recent Gallup poll found that black people are more than twice as likely as white people to have trouble putting food on the family table.
Gallup surveyed a random sample of 148,854 adults age 18 or older and asked if at any time in the last year they did not have enough money to afford food.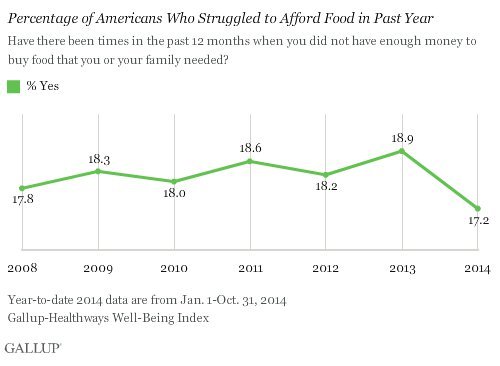 On the whole, 17.2 percent of Americans reported difficulty paying for food, which is down from a peak a 18.9 percent in 2013.
The percentage of black people who can't afford food was a lot higher.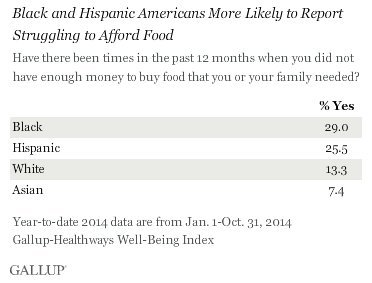 Twenty-nine percent of black people surveyed by Gallup said they had trouble affording food, more than twice as much as the percentage of white people (13.3 percent). Hispanic people were right behind blacks at 25 percent.
The survey is just the latest indicator of the huge racial economic divide that persists in the U.S. As Gallup points out, the median household income among black people ($34,598) is far less than that of white people ($58,270). And when it comes to household wealth, white families are about six times as wealthy as black families. According to data cited in a 2013 report from the Urban Institute, the average white family held about $632,000 in assets in 2010; the average black family had $98,000. That gap grew wider in the last couple of decades.
Calling all HuffPost superfans!
Sign up for membership to become a founding member and help shape HuffPost's next chapter