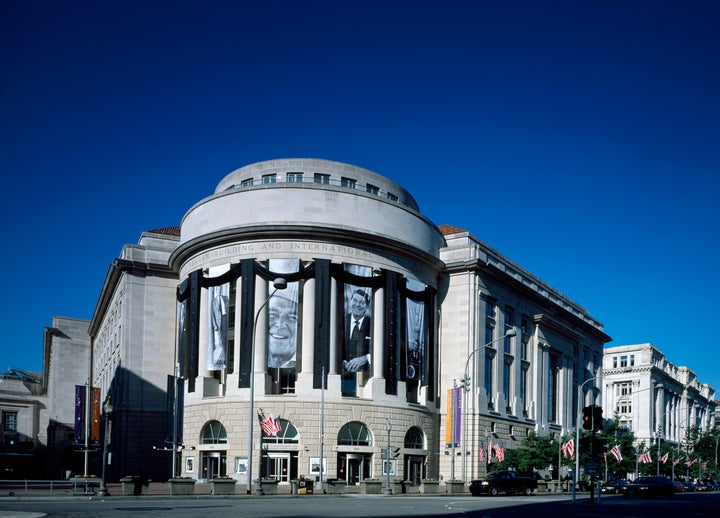 On a brisk Saturday in early March, I went to the Ronald Reagan Building to spend the evening with a bunch of white nationalists who were in town for the National Policy Institute's winter conference.
The three black security guards at the entrance grimaced when I asked for directions to the eighth-floor rotunda room where the group was holding its event.
Their faces eased when I explained that I was a reporter there to cover the conference. They laughed, though they still looked puzzled about why I would want to attend this kind of gathering. Despite having a badge and gun, one guard joked that he'd "pray for me." As I walked to the rotunda, another officer asked whether I was there to work the front desk.
NPI, which describes itself as an organization "dedicated to the heritage, identity, and future of people of European descent," had a press hour scheduled to begin shortly after I arrived. I was presumably the only black person the guards saw headed to that event.
About 50 people were gathered in the room overlooking Pennsylvania Avenue to hear from NPI President Richard Spencer. Spencer, who has proposed creating "an ethno-state that would be a gathering point for all Europeans," has been called "one of the country's most successful young white nationalist leaders." The room was filled with white men in business casual attire who wore their hair in a side-shaven combover reminiscent of Nazi Germany, a style that Spencer also sports.
I approached a white, female staffer to inquire about where I might check in for media credentials. Without prompting, she quickly assured me that she didn't work for NPI -- she was part of the facility staff assigned to work the event. She was visibly concerned and seemed confused by my presence, but directed me to make myself "comfortable."
Unexpectedly, that was the only major awkward black-elephant-in-the-room moment that I experienced. The attendees appeared to be more comfortable with my presence than I'd assumed, considering that the rest of the evening was spent observing pseudo-academic rhetoric of white separatists.
There were several noticeable themes in their discussion. Many of the attendees said they didn't like to be described as white "nationalists," even though creating a separate white nation is exactly what Spencer has called for. They often refused to give their last names, which they said was because they worry about facing a social or employment penalty for aligning with this cause. And they tended to give evasive answers to every question about the actual policies they would like to see implemented.  
Questions on planning were avoided. Questions about strategy were shunned. Comments on concrete action were snubbed in favor of what came across as a thought experiment rather than any clear agenda.
"There are tons of policy proposals. Millions of pages and words are being published every day. But what is not being done? I want to do what no one else is doing or what very few people are doing," Spencer told reporters. "I know it might be a little bit ironic because it is called the National Policy Institute. But I think you have to have identity first before you have policy."
Instead of elaborating on specifics, Spencer told reporters he wants to "engage in a philosophical conversation -- a conversation that we are not having."
If I had felt any discomfort, it would be in the image of the black server walking with a tray, offering brisket sliders to men that would prefer he live in a separate nation.
Much of the conference agenda centered on Donald Trump's presidential campaign, and how it is helping the mission of the organization. While Trump is not formally aligned with their organization in any way, Spencer said his candidacy is "energizing" the movement. Conference attendees said Trump's ideas on issues like immigration give them something to rally behind.
"My perspective is basically that of an American patriot," said an attendee named Chris, who did not give his last name. "I want what's best for American citizens of all races. Politically, my goal is a stabilizing of the demographic changes that have been going on in the United States."
An interesting -- and audacious -- moment arose in my conversation with Chris when he described himself as a "mainstream conservative," with the exception of his belief in "race realism," a pseudoscience that argues black people will always be inferior to whites because of, among other things, our smaller brains.
I took a quick survey of the room. The servers and I were the only black people there. If I had felt any discomfort, it would be in the image of the black server walking with a tray, offering brisket sliders to men that would prefer he live in a separate nation.
They validated this event, in large part, by the community it afforded them. It came across as a shelter for the false cause of white victimization in America. The group provides them protection to discuss their beliefs without restraints on their speech -- speech they claim is being limited in liberal, politically correct America. The attendees desire their own playground of sorts, where they can talk about white separation and preservation, under the leadership of Spencer, a man who charges that white America is "avoiding and denying their own identity."
Nathan, a student at California State University Stanislaus, has been involved with NPI for a year. He credits the Internet for giving him a forum to discuss his perceptions on race, because there "hasn't been a platform prior." Discussion of white oppression, he said, is "essentially censored from any form of debate or dialogue."
"There has just really been a monologue about social issues going on in the last 50 years," he said. "Anyone who has come out with the fact that people of European heritage have rights and have interests have been socially ostracized, and they have been disenfranchised economically."
While my presence shocked the people that worked in the building, conference attendees didn't seem hesitant to discuss their thoughts about the need to advocate for white people. As I stood 3 feet away, on the other side of a small cocktail table, Spencer gladly held forth about the need to create a separate nation to preserve the white race.