It was my dad's idea to snake a black ribbon up through our Christmas tree; mom agreed it was fitting. The satiny strip wound through the balsam branches, just close enough to the trunk to hold shape and just far out enough to shimmer among the colored lights and homemade ornaments. The ribbon was there every year to remind us that in spite of yule logs, spiced cider and jingle bells, something was still not quite right with the world.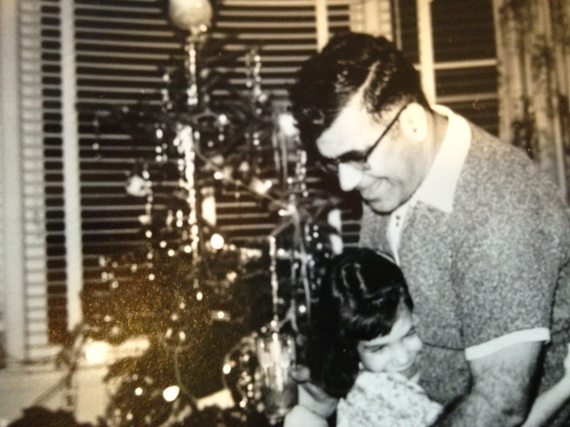 My mixed-culture family decorated our home in Flushing, New York, alongside mostly Irish and Italian Catholic neighbors. In the 1960s and 70s we trimmed our porches and stoops with red, green, and golden bulbs. Plug-in candles balanced on windowsills inside. Blocks of twinkling houses welcomed home fathers who tromped through the snow from the #7 IRT subway station about a mile away.
Like the other neighborhood dads, mine commuted to Manhattan. But unlike them, he had an accent and came from a place not many people had heard of back then: Iraq. Mohammad Mehdi was Muslim to boot, and in those days it seemed not many people had heard of Islam, either. With dad we celebrated Ramadan, which was challenging and exotic ... but being from mom's side was less complicated. Beverlee Turner, blonde and blue eyed, was from Canada. She was the daughter of a Scotsman, a Protestant minister, who died a US Army chaplain in World War Two. With mom we went to church.
My parents met as graduate students at the University of California, Berkeley. Dad used his Ph.D. to educate Americans on the history of Palestine. Mom used her master's degree to teach junior high school social studies. It was she who supported the family because, at that time, there weren't a lot of jobs paying anyone to teach about Palestine. Mom and dad were always looking for ways to politicize us -- join the farm workers' strike against grape growers, picket to get a new traffic light on the corner, demonstrate against the war in Vietnam -- as if being Arab-American, Methodist, Muslim, and pro-Palestinian weren't already enough!
At Christmas time we hosted an annual spaghetti supper for the junior choir. After the feast we'd carol at the homes of elderly people who couldn't make it to church. One year, as mothers stirred meatballs on the stove and put garlic bread into the oven, our gifted, handsome, and ever-unmarried choir director asked me about the black ribbon in the tree. "What's it for?"
"It's about sorrow and loss," I told him. "You see: it's not right. Here we are celebrating Christmas without even thinking about the people of Bethlehem." I imagined children in the storied little town centuries after Jesus's birth, shivering in the bleak midwinter, with war after war after war.
"Americans have a lot to learn," he nodded, "and you'll have to help." Then he turned to the piano and put us through our paces: warming us up before dinner with "Noels" and "Glorias" in four-part harmony, and changing the key every few measures just for fun.
Over the years I gazed at our splendid trees with the same black ribbon threading through, pondering the blessing of warmth and the calamity of cold, wondering how I got to be so lucky. When fortune and injustice wrestled too loudly in my mind, I'd take off my glasses and look at the lights in a near-sighted blur. The tree became a comforting, fuzzy green triangle dotted with spheres of living color. And when finally the internal conversation quieted, I'd turn on the TV to watch my favorite soap opera, Dark Shadows, and start my homework.
REAL LIFE. REAL NEWS. REAL VOICES.
Help us tell more of the stories that matter from voices that too often remain unheard.