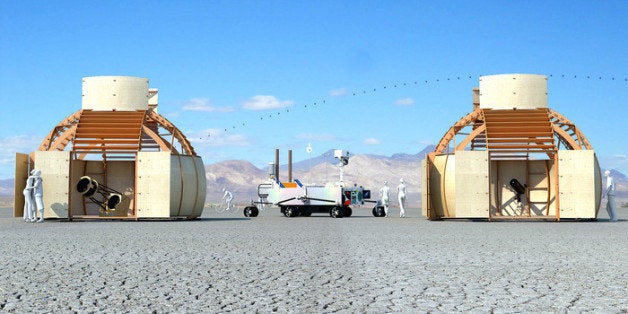 The men and women who flock to Burning Man every year witness stunning, unadulterated skyscapes as they gaze at the stars from the empty expanses of Nevada's Black Rock Desert. And that trippy experience may become even more spectacular if a group by the name of the Desert Wizards of Mars gets their way.
The comically titled collective has taken to Kickstarter with an idea to build the Black Rock Observatory, or a real astronomical hub that will allow Burners a late night staring contest with the stars. Consisting of two 20-foot domes equipped with telescopic instruments capable of seeing into the depths of the universe, the structure is designed to celebrate the nexus of art and science so treasured by Black Rock City inhabitants.
"Rather than build an observatory for research and measurement, we choose to build one for the public as art and a celebration of science. As modern astronomy moves ahead, the telescope is seldom used visually. Cameras and spectrographs have separated us from seeing the universe with our own eyes. We intend to show the public the joy, immediacy and beauty of our solar system and universe with telescopes."
The Desert Wizards of Mars (DWOM) have been attempting to fuse the wonder of science and the aesthetic of art at creative festivals since 2012. They believe "there should be no division between art and science when it comes to building inspirational creations that bring out the awe and wonder in us all." Their past projects have included a tribute to the Mars Rover (aka "Dustiny").
For the Observatory, set to debut at Burning Man 2014 this August, if Kickstarter funding stays on track, DWOM recruited architect Gregg Fleishman (who is no stranger to the Burn) to design a plywood construction forged from cubic symmetry and interlocking wood. In terms of the nine-foot telescope housed inside, the instrument is based on a design by Isaac Newton in 1668.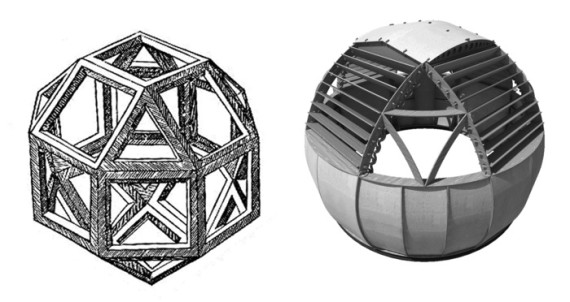 What are some of the celestial bodies you can expect to ogle? Mercury, Saturn, Mars, Neptune, Triton and Uranus, as well as a litany of nebulae, globular clusters, and galaxies.
"Our telescope is a 20" f4.5 Newtonian telescope on a Dobsonian mount," DWOM writes on Kickstarter. "If everything goes well, it will track targets and have GOTO capability. We'll also be bringing a menagerie of smaller scopes and we invite our fellow astronomer and star gazing types to set up their gear, too if they'd like."
Head over to the Black Rock Observatory Kickstarter to learn more about the art-meets-science installation Carl Sagan would surely love. The group has already raised over $15,000 of its $20,000 goal to cover building expenses, with 16 days to go.
BONUS: A piece of Nickel-iron meteorite is also slated to be on display at the potential Burning Man hot spot, so there's your Black Rock pun.
Calling all HuffPost superfans!
Sign up for membership to become a founding member and help shape HuffPost's next chapter
BEFORE YOU GO
PHOTO GALLERY
Burning Man 2013