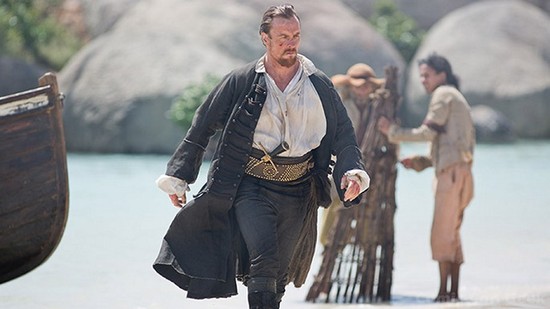 The pirates of Black Sails are to be feared before they are seen. The attack on an English vessel begins at a distance, cannon fire shredding the hull. And then the shredding continues once they actually board the ship, emerging from a shroud of smoke to inflict terror and a lot of pain on Her Majesty's crew.
This is the opening sequence for the new Starz' drama Black Sails, a Michael Bay-produced pirate show co-created by Jonathan E. Steinberg and Robert Levine, which serves as a prequel to Robert Louis Stevenson's 1883 book Treasure Island.
Premiering January 25 at 9 p.m. on the cable network -- although the first episode will be available online on the video entertainment network Machinima, as well as on iTunes, Amazon Instant Video, Maxim, Xbox Video and more beginning January 18 -- Black Sails is not your typical swashbuckling adventure series.
Taking place in the "Golden Age of Piracy" of 1715, the show is largely set around New Providence Island, a territory ruled by pirate "law." Yes, there are sword fights, at-sea battles, sex, pirate cities, deals, deceptions, rogues, scoundrels and scurvy dogs. And both Toby Stephens (who plays the infamous Captain Flint; shown above) and new recruit John Silver (Luke Arnold) look the part. But instead of Errol Flynn antics, or Captain Jack Sparrow swagger, there is a lot of politics, economics, strategizing and pirate diplomacy.
In the following interview, Jonathan E. Steinberg, who also serves as Black Sails' show runner, spoke about the choice to opt for gritty realism over parrots and planks.
Why take on the pirate genre?
It's something I've had my eye on for a long time. It is a story in a world that people feel is simultaneously tired and trod over, and also something I've never seen portrayed in a real way -- told from the point of view of the pirates.
How did you decide to make this a prequel to Treasure Island?
When we settled on Treasure Island as being the springboard for the show, we went back and read it. We assumed Long John Silver was going to be our central character, but when you read that book, there's something intriguing and enticing about the way Flint is portrayed. He's the ghost in the background; he has a huge presence, and they're all living in his shadow. But there is very little you're told about him except they were all afraid of him and that he was this larger-than-life personality. You read it and automatically want to hear that guy's story.
What do you hope to change about people's thoughts about pirates?
It is about trying to understand them as human beings in a historical context with relatable motives and responses. They are not just guys looking for an adventure, and almost every pirate story I've ever seen is a story about guys getting into adventures. The reality was more interesting. These are people disenfranchised from a rigid social system in England, and feel the economic system isn't built for them anymore. They're going to respond by breaking out on their own. It is like a start-up company, like a biker gang with these cool analogues baked into the structure of it.
How would you describe the pirate political system?
These guys are so mistrustful of authority. A lot of them sailed on naval and merchant ships where they were abused and the captain's authority was so absolute that there was no recourse. The rule is they don't give up authority easily, and try not to give it up at all. They're willing to take orders from their captain in battle, when the heat of the moment dictates it, but otherwise it is a very naked democracy. Majority rules and everything is subject to a vote. It's an experiment in democracy but sometimes experiments explode. This is that; they're so mistrustful of authority but sometimes it feels like they need it. What is that balance, and where does Flint fit into that? He's a guy who wants to step in and fill that void. It's an intensely political world where your authority depends on an ability to corral at least half the mob and keep them in your corner.
What do you think will be the response to how women are portrayed on the show?

It was important we tackled that question head-on. We try to make sure the women portray what it was like to be a woman in that world in a more fleshed-out way than just saying they were prostitutes or pirates. There were very specific social and economic expectations put upon them. Some suffocated under them, and some managed to figure out how to reach out from under them and achieve things that maybe they couldn't have achieved in London.
Were you previously a fan of the pirate genre?
I grew up very much on Errol Flynn and The Seahawk, Captain Blood. Weirdly, a lot of the movies I grew up on were pirate stories in another name. In some sense, Indiana Jones is built out of some of the same pieces as some of those early pirate movies. Han Solo is built out of those pieces. Some of the language of our show owes something to those characters already derivative of pirates. As much as we want this to feel real and gritty and uncompromising, we also want it to be fun. We want to deliver on all of the things you're hoping to get out of a pirate show while delivering a bunch of other things you weren't expecting.
Would you survive as a pirate?
I'd be dead in 10 minutes. I wouldn't even stand a chance. It's pretty gnarly what these people went through and I don't think I would've done so well.
REAL LIFE. REAL NEWS. REAL VOICES.
Help us tell more of the stories that matter from voices that too often remain unheard.