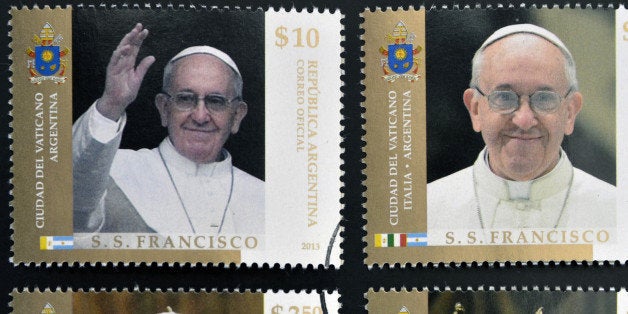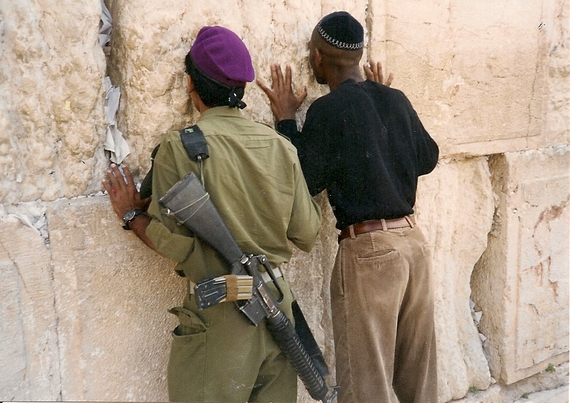 Mark Charles Hardie prays and reads the Bible next to a soldier at the Western Wall (Wailing Wall) in Jerusalem.
Pope Francis, head of the Roman Catholic Church, recently addressed both houses of Congress. His Holiness spoke as both a head of state and a religious and moral authority. From my point of view as an African American, I believe that Pope Francis is an excellent role model for African American men.

There are myriad issues facing black males in the United States such as high unemployment, high incarceration rates, difficult issues with high school dropout and delinquency, and health care issues with HIV and AIDS. Some civil rights leaders such as Reverend Jesse Jackson and Al Sharpton have taken a stand as role models for African American men. Some black men have turned to Minister Louis Farrakhan as a leader. In addition, the "Black Lives Matter" movement is raising awareness of important issues such as police brutality and racial profiling.
However, I think the issues facing African American men are not merely socio-economic, political, and legal; rather, I firmly believe that African American men are facing a spiritual crisis in the United States. The fundamental question of our time is: What lies within the souls of African American men on a spiritual and faith-based level?
Some of the hip hop and rap music videos portray a superficial, money-oriented, and misogynistic image of African American men. For example, in the music video for the song, "Loyal" by Chris Brown, rapper Lil' Wayne asks: "Why give a b*tch a heart when she'd rather have a purse? Why give a b*tch an inch when she'd rather have nine? I've done everything but trust these hoes." The troubling aspect of those words is that they ignore the spiritual and faith-based souls of African American peoples, the sacredness of romantic relationships, and our commitment to a higher power.
Although I am both a baptized and confirmed Roman Catholic and a converted Hasidic Jew, I do not put myself on a pedestal and venerate myself. As a sinner, I am not better than anyone else, and I do not seek to unfairly criticize African American culture. I have not come to abolish, I have come to fulfill. I have prayed unceasingly to God for assistance in helping my African American brothers and sisters. After years of prayer, I was inspired with a new truth: God alone is the key to African American deliverance.
My own spiritual awakening came after spending more than five years in the Holy Land and frequently worshiping in the Church of the Sepulcher in Jerusalem. As I prayed in the church, I sensed the words of Jesus of Nazareth within me: "I have not come to bring peace, rather I have come to bring the sword".
I came to realize that life is a spiritual battle. I began to change my role models. I replaced political role models such as John F. Kennedy, Ronald Reagan, Colin Powell, and Barack Obama, and instead I chose spiritual role models such as the Virgin Mary, St. Bernadette of Lourdes, St. Maria Goretti, Mother Teresa, Pope Francis, and Rabbi Menachem Mendel Schneerson of Chabad Lubavitch. I then realized that the true destination of the African American community is not material wealth, but spiritual ecstasy, moral courage, and spiritual rebirth. For black Americans, it's not only a matter of religious practices and rituals, rather it is an matter of personal relationship and an unbreakable process of being born again.
Since the time of the Emancipation Proclamation, many African American leaders have been focused on achieving equal rights within the United States. While the achievement of such rights is an important goal, it is time for the African American community to recognized that the quest for equal rights and fair treatment is far too limited. Instead, it is more significant to save the souls of every black man, woman, and child. Civil rights are granted by governments, however governments cannot provide salvation---only God can provide salvation.
The time has come for a movement from "Black Lives Matter" to "Black Souls Saved".
Mark Charles Hardie is an attorney-at-law who graduated from the University of California, Hastings College of the Law and the University of California, Riverside. He was an international student at the University of Costa Rica and the Hebrew University of Jerusalem Faculty of Law. Mr. Hardie is a member of the NAACP and the World Jewish Congress. He is in the process of writing a book of prayers called "Holy Mary, Mother of God, Healer of Black Peoples.
Calling all HuffPost superfans!
Sign up for membership to become a founding member and help shape HuffPost's next chapter