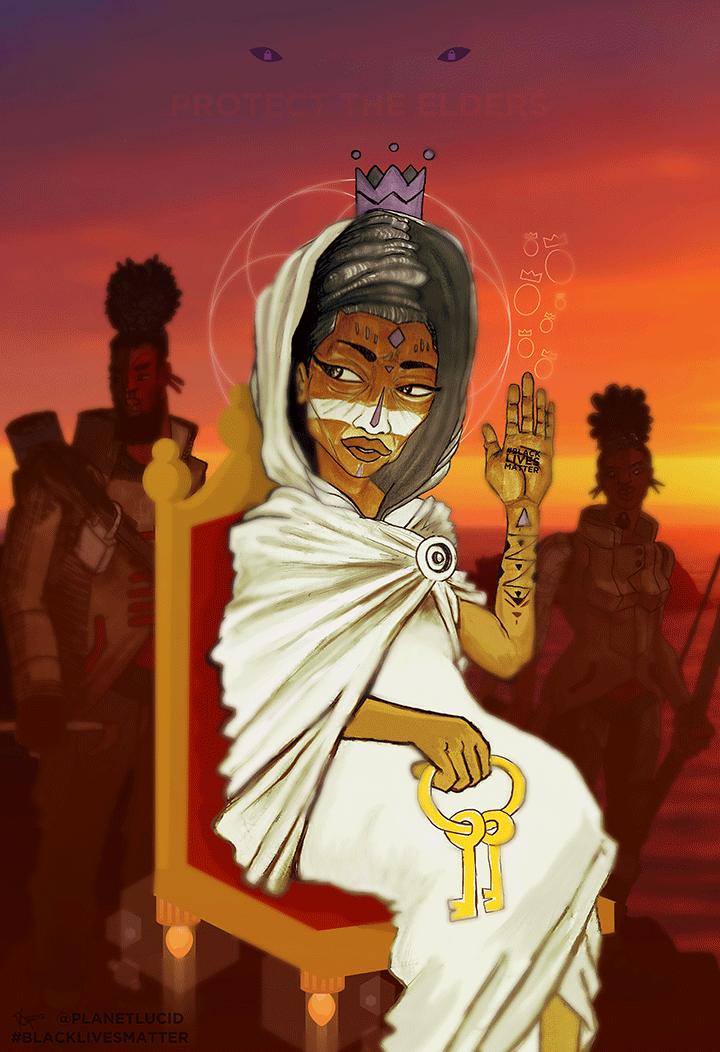 I am an 81 year old Afro American. I proudly identify as a person who is active and fully committed to the Black Lives Matter movement. I was raised in a home in Harlem where race pride and responsibility were honored. In my home, my father was very much involved in both his church and his union. I remember very clearly when he would talk about racism and what it meant to be a Negro. We used this term during my childhood. We were taught that we had a responsibility to strive for personal achievement and to understand that our achievements were made possible by people who had come before us. This being so, ours was the obligation to "pass a hand to the people behind us." As I grew older I learned more and refined these teachings into a clear political perspective. I came to realize that the struggle for social justice for my people would be continuous, and I had a responsibility to stay engaged.
I give you this brief summary of who I am to say that that there are many seniors, like me, who are seasoned in the history of the struggle with a strong and deep connection to the pursuit of social justice for the Black community. Black seniors over 65 years are approximately 4 million (U.S. Administration for Community Living.)
My generation represents a strong resource for the Black Lives Matters movement. We are the people that have lived through several social movements including the Civil Rights movement, the women's movement, and the Black power movement. For those of us who are lesbian, gay, bisexual and transgender, we have also lived through the gay rights movement. Mine is a generation growing into full adulthood during much civil unrest, the leadership of both Dr. Martin Luther King Jr. and Malcolm X. We were around when such pioneers as Shirley Chisholm, Adam Clayton Powell Jr. were strong leaders.
You may not know us as public figures, Civil Rights leaders or strong movement people, but many of us were the soldiers then and we can do it again. We do not have to be the leaders. We may be frail and experience physical limitations, but we are here. I know and others know that our future well-being and security (for the rest of our lives) depends on the work now going on. . My generation represents a strong resource for the Black Lives Matter movement. I know that many feel that it is our responsibility to teach the young people how to direct their movement. While I give some importance to this thought, I think our contribution can be more diversified. Some of us have a degree of economic security and are not burdened by multiple obligations. Our maturity brings a sense of self and self-worth freeing us to openly express support of the movement. A historical perspective allows us to affirm that change is possible and that strategies take different forms of engagement.
We are not all people who are watching the revolution on television. We have our phones and we are learning how to use them more effectively. We have computer skills, verbal and written skills. We can perform educational outreach services; bring research/ investigation skills and education in social settings and houses of worship. We have our social and religious affiliations that come from long term connections.
I believe the organizers of the BLM movement when they state on their organizational page. "We are committed to fostering an intergenerational and communal network free from ageism. We believe that all people, regardless of age, shows up with capacity to lead and learn." The movement is larger than confrontations around police brutality, but it is rooted in the experiences of all Black people in this country who are disenfranchised and marginalized by a racist system.
We are a large population that can be mobilized to participate in this new movement being directed by young Black people. Many of us are already engaged, but it will take education, motivation and creative outreach to engage others.
The movement must make a case that links the treatment of young Black people to the overall marginalization of Black seniors who still live disproportionally in poverty and marginalized living conditions. The movement will have to make a case that the problems of gentrification , inadequate health systems, expensive rental units, crime are all linked to the criminalization and killing of young Black people. The movement leaders will have to find ways to utilize the social capital and skills that senior bring. In doing so the historical connections of the Black senior community to the Black church and its civil rights work cannot be minimized.
My words are not meant to be a complaint or a demand. They are meant to be a challenge and a plea to use us more fully.
This post is part of the "Black Future Month" series produced by The Huffington Post and Black Lives Matter Network for Black History Month. Each day in February, this series will look at one of 29 different cultural and political issues affecting Black lives, from education to criminal-justice reform. To follow the conversation on Twitter, view #BlackFutureMonth.
Calling all HuffPost superfans!
Sign up for membership to become a founding member and help shape HuffPost's next chapter