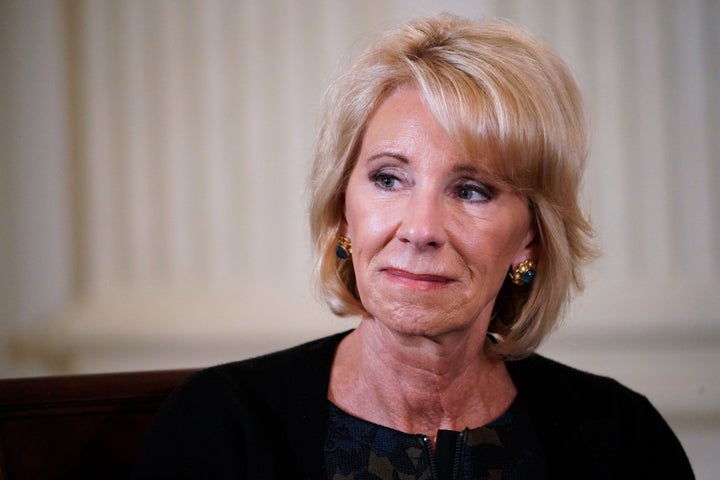 Black students and students with disabilities routinely receive harsher punishments at school than their peers. But the Education Department is considering eliminating civil rights guidance designed to stymie these disparities ― even as data released Tuesday illustrates the scope of the problem.
The data comes from responses to a survey sent to all of the nation's public school districts as part of the Education Department's Civil Rights Data Collection, reflecting information from the 2015-2016 school year. The survey is conducted every other school year, and is intended to paint a picture of the different opportunities afforded to different groups of students.
This year, as in years past, the numbers show wide gaps in terms of how vulnerable students are treated when compared to their white peers. The Obama administration often cited numbers from this survey when designing civil rights guidance intended to reduce racial disparities. But the Trump administration has put pieces of Obama-era guidance on the chopping block. Specifically, under Secretary Betsy DeVos, the Education Department has signaled it may scrap guidance that is supposed to reduce racial bias in school punishments.
Indeed, even more than in years past, the latest figures show that a growing number of black students are disproportionately subject to school-based arrests and referrals to police. This issue is particularly relevant amid new federal efforts to increase the number of police officers in schools after the school shooting in Parkland, Florida, that killed 17 people.
Black students are also disproportionately suspended and expelled. At the same time, the data shows that high schools dominated by black and Latino students have less access to high-level STEM coursework, compared to all high schools.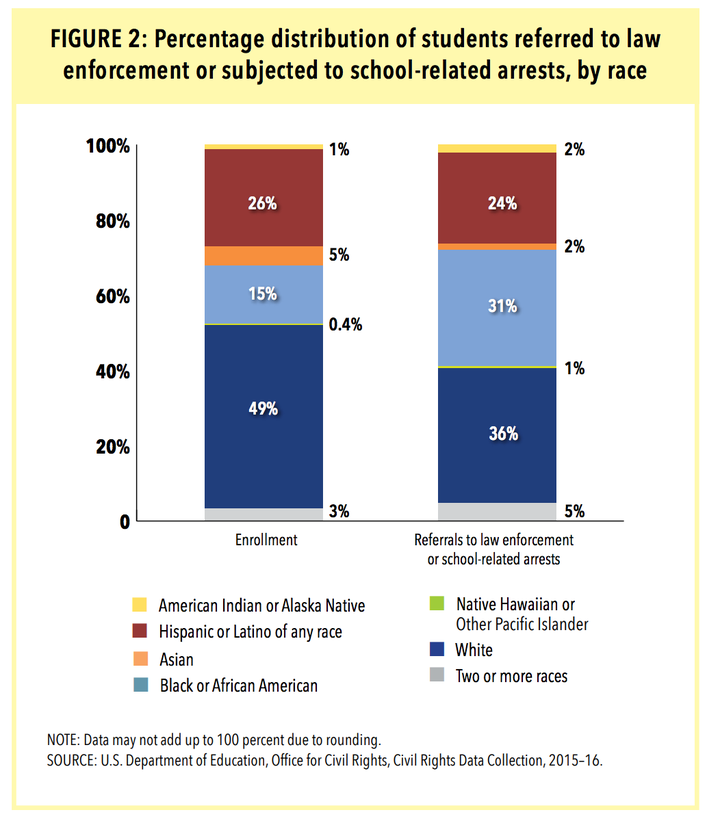 Students with disabilities are likewise subject to high rates of suspension and expulsion, and are also more likely to be restrained and secluded in school. While students with disabilities make up just 12 percent of students enrolled at public schools, they make up 28 percent of those subject to school-based arrests.
For the first time, the 2015-2016 survey asked about school-related shootings and homicides. Only 0.2 percent of schools reported having at least one incident related to a school shooting, and even fewer reported a school-related homicide.
The latest data reflects patterns recently found in a report from the nonpartisan Government Accountability Office, which noted stark disparities in terms of how black students are disciplined compared to their white peers.
In response to the release of the survey results, DeVos said in a statement that "protecting all students' civil rights is at the core of the Department's mission."
However, critics will likely see the new numbers as evidence that DeVos' agenda is specifically harmful to students of color and students with disabilities. Earlier this month, DeVos met with critics and proponents of the Obama-era guidance that is designed to reduce racial bias in school discipline. Critics of the guidance say it has had a compromising effect on school discipline overall. Proponents say it is a necessary protection for vulnerable student communities who are already disproportionately punished. It is not clear when the Education Department will make a decision on whether to keep this guidance.
Popular in the Community