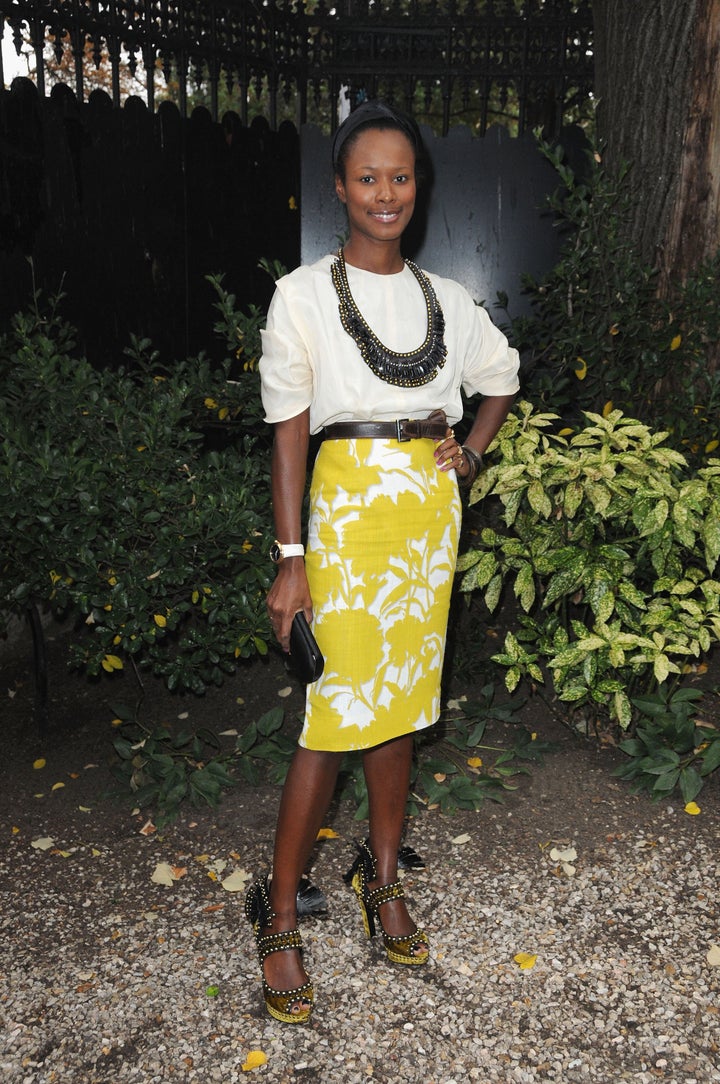 On the eve of New York Fashion Week, I found myself tipping slowly into the Uptown location of Miu Miu for the Italian luxury brand's Fashion Night Out event with a very tall date on my arm.
We whispered to one another to assuage the apprehensions of such social functions and I surveyed the fashionable scene set before me. Amidst the stylized cadre, the twinkling mirrored surfaces, and fetching garb hanging from the store's racks, I was really here for two things and two things only: to support the party's hostess, Shala Monroque, and free champagne (although the glitter booties from the label's Fall collection were quickly becoming a third element of interest).
Ms. Monroque, the Caribbean-born former Editor-at-Large of Pop Magazine and partner to prolific art gallerist, Larry Gagosian, had been inspiring my style moves for some time now and with New York Magazine recently anointing Shala as the newest style icon of this generation, it was clear her influence was wide-reaching. With almost meteoric speed, the 32-year-old fashion newcomer has etched out a style id for herself and her risk-taking approach to fashion. Sporting colorful turbans, dramatic midi-length skirts, and Prada's tailored yet quirky silhouettes that played against her lithe frame and Caribbean roots (much to the delight of style photographers and bloggers), Ms. Monroque has become a style darling, setting a tone of inclusion amongst a historically racially homogenous sect.
Tonight was no different. When I finally spotted Ms. Monroque within the fete, she was holding court amongst a swarm of admirers in a navy midi-length cocktail dress, with a fox fur wrapped sparingly around her neck: even amidst the humidity of the evening, the woman didn't break a sweat. She was evoking the night's theme of muses from the 40s almost seamlessly and I too had fashioned myself in a vintage frock to meet the alluring St. Lucian tastemaker. In my interpretation, I was channeling the grace of the wives of Black doctors in the Jim Crow era, and slid throughout the party in a blue and green printed dress cinched at the waist.
Moments later, as if in a blur, Shala herself was smiling warmly at me, asking if I wanted to have my picture taken. She admired my dress, commenting I had great style. I gushed about hers. It was a moment Black fashionable girls dream of. The moment you connect with style icons and figures who speak to you and look just like you: a moment that has been realized more and more as of late.
In the last three years, it could be fairly argued that there has been an upsurge in visibility of Black style icons who find themselves firmly rooted in an industry that has historically had a flaky relationship with figures of color. From W's newly appointed Fashion and Style Director, Edward Enninful, Wonderland Magazine's editor Julia Sarr-Jamois, Grazia Italia's Tamu Macpherson, Studio Museum of Harlem's Thelma Golden, larger-than-life stylist, June Ambrose, to Ms. Monroque herself, a vanguard of Black style has unconsciously formed.
These magazine editors, museum directors, designers, stylists, bloggers, muses, and the like, have been propelled to fashion's center stage largely as a result of social media's advent and the growing number of Black style readership who draw inspiration from these figures' personal style.
The boom of the blogosphere has served as a central outlet for creative Black women and men to vigorously document their own sartorial pursuits and positions on the happenings of the fashion world. Individuals of color, who normally work outside of the official perimeters of fashion, have used social media to transform their position within it. As Matthew Newton argued in his recent Forbes article, "Selling The New Cool: Inside The World of 'Influencers'", "using the speed and immediacy of social media has allowed influencers to flourish, for both client work and their own personal branding." Subsequently with the click of a camera and a computer mouse, Black style bloggers have almost made the industry pliable in a way. It is undeniably accessible -- democratic even -- for kids in the Bronx to those in Paris to tap into, but most importantly, it remains self-authored. The role of editor, of style writer has unconsciously been placed into the hands of a new demographic, and a new message surrounding Black identity has in turn surfaced.
From Black Vogue Italia to Fashion Bomb Daily, Black style blog readership has grown considerably and hit fever's pitch just a few short weeks ago when the New York Times' Style section ran its profile on Joshua Kissi and Travis Gumbs, the young Black men behind the blog, Street Etiquette. It was a formidable moment in modern Black style, as dominant style culture had seemingly intersected with a subculture of sorts. Underscoring Mr. Kissi and Mr. Gumbs' attempts to dismantle racial binaries and reimagine ideas of Black masculinity through their blog and style, Jon Caramancia shown light on the intent of so many young Black men like them. While Caramancia synthesized this idea into a move towards "Black dandyism" and "Black prep", I would argue that it's much more than tailored lines and Varsity jackets that comprise the idea of Black style. It has much more to do with a sense of memory, an inherited legacy of chic-ness that Black folks have seemingly always known and identified with -- but rather now it is merely being called upon again by a new crop of engaging influencers through new portals. In fact, when I first made the acquaintance of Mr. Kissi, he was much more interested in discussing a painting I had hanging in my house of Black power leader, Malcolm X, than really any of my opinions on designers or trends.
It was in this moment that I realized that the discussion of Black style is not merely a conversation surrounding designer labels, but the personal stories Black individuals infuse into their style identities. Although hip-hop scions Jay-Z and Kanye West recently rapped long of their fashion knowledge in Watch The Throne ("What's Gucci my n -- a?/What's Louis my killa?/What's drugs my deala?/What's that jacket, Margiela?"), they were really speaking to an idea of consumerism. Black style is capable of much, much more than consumption: it's really a form of storytelling that can debunk racialized myths surrounding Black representation.
I know it at least felt that way when Ms. Monroque agreed to share her style inspirations with me for this article. Speaking of her Caribbean background, she shirks the Cinderalla-like story that often surrounds her narrative, insisting that although her "family may not have been wealthy or have the capacity for great consumption", she hardly comes from nothing. Rich with culture and memories, she explained how although her family's access to education was minimal at best, she was always learning, absorbing tenets and cultural praxis. "I grew up constantly being told folk-tales, my maternal grandmother was especially good at it. Rich stories from the African continent. We had a family friend who would visit our smoky kitchen with his banjo and we'd sing and dance. We had dances as varied as the Koutoumba and the Quadrille, the first being African and the second European in decent. So though my great-grand mother was not reading text-books about the snow in England (I was), she still possessed a vivid imagination which was passed to me."
It's clear Ms. Monroque evokes this same imagination when you read the pages of the provocative new magazine, Garage, she is now collaborating with Dasha Zhukova on as the Creative Director, or see her photographed striding along gallantly in a jewel-toned mink. Her roots travel with her, in the same way as say, Mr. Kissi's African roots declare themselves in his affinity for color and prints, or Wonderland Magazine's fashion editor, Julia Sarr-Jamois' gravity-defying Afro boasts her Senegalese and French makeup. When asked in an interview to locate the roots of her style, Ms. Sarr-Jamois pinpointed her mother's Brixton, London flea market stall that sold vintage jeans in the 1980s. "All my best denim, my dark jeans, are from her!" she declared. It is interesting to consider that one of fashion's youngest (she's only 24) and most influential editors draws from Brixton, London's predominately African and Caribbean neighborhoods, rather than say, Savile Row, for inspiration.
It is this differentiation, this interpretation of fashion that gives Black style political vitality. By modern Black style icons and iconoclasts drawing upon their own history, roots, and cultural identity and expressing it through their dress, a subjectivity arises, a sense of perspective, feelings, and passions pushes through. We call this "personal style" in the fashion industry, but that knowledge of self is incredibly powerful when applied to Blackness. Historically, a sense of subjectivity has never been afforded to Black people due to slavery's demoralizing customs and an absence of universal civil rights: a sense of identity has always eluded us. The Black style movement rejects such notions, and instead underscores a Black tastemaker's keen knowledge of one's self. Their way of dress artfully details the comfort they take in existing within their own skin, which in so many ways is a kind of social resistance. Barbara Summers explores this idea in her book Black and & Beautiful: How Women of Color Changed The Fashion Industry, arguing, "Individual styles has been perhaps one of the most basic and unexplored survival skills of Africans in the Americas, one of the most obvious and undervalued tools of resistance, and one of the most successful strategies of the subversive."
In this, Black style is not a rejection of a racial or cultural identity, but rather an expansion of its meaning; Blackness can come to mean and look like many different things. As Ms. Monroque declared, "I am everything that comes with being Black. That is not all that I am though. Through my veins runs all the different blood I mentioned [before]. This means that it's not just blood, but memory running through me. This is what creates who I am today. When I get dressed in the morning, when I dance at a party, when I write, all of these memories make up the output, make up the style."
Reading Ms. Monroque's words almost instinctually filled me with pride and optimism, as it sunk in that this project is much more than the idea of designer duds and finishings affixed to Black bodies. According to Cleon Grey, a noted style photographer who collaborates creatively with Street Etiquette, the Black style movement is really a means to an end; he and his contemporaries are really working towards Black ownership. Ownership of magazines, clothing labels and stores runs the gamut, Mr. Grey explains. "That's what we're really trying towards: Black brand ownership, mass media ownership... There are so many fans of all different races and nationalities that like what they [Street Etiquette] do and what we do, it can never be "All Black everything! Black style, Black camera man, Black shoes, Black shirt!" We just want to make it seem like it's Black owned. It's not necessarily a bad thing to say that something's 'Black owned' or 'Black culture' or some form of it and it's assimilated to everybody. It's not like Black style, Black culture is made just for Black people."
I was fascinated by Mr. Grey's creative vision of Black ownership within media, as it pointed at several of Black style's underlining utilities: the importance of controlling one's image, inclusion within a broader conversation on style, and owning a stake within the media that has propelled all Black style icons forward. Perhaps the content of a future magazine Mr. Grey works on with Street Etiquette wouldn't consistently profile Black people, but it would be controlled by those that are. This, in my mind, is where the fame of dressing well stops and the influence of being creative begins.
All the aforementioned individuals have garnered attention due to their fashions, and there will surely be another crop just like them, but it's crucial what this Black fashionable sect does next with their platform. For Ms. Monroque, it's simple: it's about inspiring a young generation to explore, if it be through literature, the arts, or travel, "... I want to say to young people who are watching my style, that you should pay as much attention to clothing your mind as you are to clothing your body."
I paused on those words after reading them initially, just spellbound. There are public figures of color who are certainly offering this form of advice but I'm certain they don't look half as stylish as Ms. Monroque when they do.
Calling all HuffPost superfans!
Sign up for membership to become a founding member and help shape HuffPost's next chapter