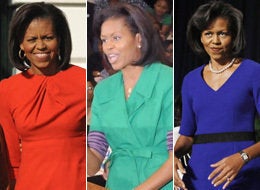 It was Malcolm X who observed how,
"Of all our studies, history is best qualified to reward our research..."
and wow, do black Americans ever have some incredible saga to explore!
Quite recently there was none of us who held national elective office. Not until the 1960s was there a single black character on the TV airwaves whose presence was as likely to inspire pride as to induce winces of shame. But this, we're told, was yesterday.
Tall, tanned and terrifically photogenic, America has a brand new first family and they're black. Our elegant First Lady has already appeared on the cover of Vogue. It's a fashion magazine which has had comparatively little coverage of blacks over the decades. But so buoyant is the spirit of change in the land, that the smiling visage of Michelle Obama strikes most as nothing at all out of the ordinary. A new day has dawned, they say.
Long before this, blacks had another cool and capable Chicago couple as a prominent role model of success.
In 1938 economic depression raged around the world as fascists stood poised to establish a thousand-year Reich. To many it seemed as if Lady Liberty's torch might be extinguished. And then Joe Louis, mild mannered, but deadly, entered the ring at Yankee Stadium.
On a warm June night, 124 seconds after his famous re-match with Max Schmeling started, Louis struck a decisive blow for democracy. Irrespective of age or race or class, like a beacon re-lighted, there was hope anew.
Among scores of African Americans, people who had long despaired of having anything to feel hopeful about, Louis' knockout was more than a symbolic victory over the Nazis. It also counted as a strike against home-grown inequities. His biographer, David Margolick, declares in ways large and small, "Joe Louis' triumph was black America's triumph too..." Part of the luster of his achievement lay in the evident pride this new heavy-weight world-champion took in being a black man. It extended to his engaging, soon-to-be wife, Marva Trotter Louis and even to the stylish clothes she wore.
As Margolick points out in Beyond Glory, Joe Louis vs. Max Schmeling, and a World on the Brink, Knopf, 2005, "Chicago's largest department stores and smartest shops had vied for Marva's business and everyone had urged her to patronize places like Marshall Field's or I. Magnin." Described as a "winsome lass", Marva Louis was deemed black America's uncrowned queen. Were she alive today, her image would also grace the cover of Vogue. For as much as with Michelle Obama, she too was someone who, no matter what she wore, exhibited a verve that always shown through brilliantly.
And Mrs. Obama could profit from a study of Mrs. Louis too. Because, instead of shopping exclusively at fashionable mainstream stores, Marva most frequently took her trade to Mae's Dress Shoppe, owned and run by blacks. Quietly heroic in her own right, she thereby upheld what one black newspaper termed, "an example of fidelity to racial business institutions...which could bring shame to the cheeks of most of our racial leaders and saviors, to say nothing of their wives." Still, some suggest, the fact that the Obamas have so far passed over black tailors or dress designers is a triviality. Others disagree, saying it is a crucial indicator of what's to come, a harbinger of which is to have greater significance politically for the administration, issues of style, or matters of substance.
Others contend style and substance are really the same, that one person's triviality, is another's livelihood. They are adamant in pointing out that in terms of $100s of millions, if not more, just five people, single-handedly, are going to give certain sectors of the economy a boost, one that amounts to their very own stimulus package. The only uncertainty, they say, is whether or not this 'Obama factor' will benefit blacks and whites equally?
Across the nation entrepreneurs, including the New York Times and ordinary African Americans, are involved in the growth industry of supplying Obama memorabilia to legions eager to collect a piece of history.
By distinction, exploitation of the impact the President and his family are having on fashion, on domestic wares and design, is largely overlooked and almost wholly white. Yet without question it's the latter enterprise that's far more lucrative.
For, in an hour of uncertainty, every little thing about this First Family, is rapidly being translated, into a sure-fire payday. As Martha Stewart elaborates, "From now on, as much as any future appointment, or new policy, tremendous importance is going to be attached to who cooks the Obama's food or who styles their hair. What they eat and what they wear, their flowers, their toys, their pets, the designers, venders or manufactures they favor, are all destined to directly impact the market-place and to effect all of us in it."
Like Lincoln, so far, President Obama's efforts at inclusion have earned mixed reviews. Some feel that he shows greater consideration for those who oppose him, than for his staunchest supporters. They suggest that sometimes he and the First Lady appear to even forsake their own people. So say critics like former high fashion model, Amnau Eele.

Co-founder of the Black Artists Association, she lamented in an interview with WWD, that the Obamas got off to a bad start from the very beginning, on inauguration day:
It's fine and good if you want to be all 'Kumbaya' and 'We Are the World', by representing all different countries. But if you are going to have Isabel Toledo do the inauguration dress and Jason Wu do the evening gown, why not have Kevan Hall, B. Michael, Stephen Burrows or any of the other black designers do something?
But journalist Cherryle Lu-Lien Tan is only one of many lauding these selections by Mrs. Obama. For America's young or unknown couturiers, she says it forecasts a new era of unprecedented accessibility . In The Wall Street Journal Tan trumpeted effusively, "The First Lady Sends Message With Dresses:...the new Presidential designers embody...multiculturalism, the universal immigrants' success story...a powerful visual symbol of the struggles and triumphs that Barack Obama has spoken of in his sweeping speeches..."
Toledo is a 25-year, Cuban born fashion veteran. In pursuit of a better life, her family fled to the U.S. when she was still a young girl.
Wu, just 26 and openly gay, is a Taipei-born designer who lived in Paris before interning in New York for Narciso Rodriguez.
"Miss Tan overlooks a few things", observes designer Malcolm Harris. "Imagine any other group, saying of a President, drawn from among their numbers, how as 'everybody's leader', he has no obligation whatsoever to provide openings for them too. That would be crazy, right? Because not for 140 years, when Elizabeth Keckley dressed Mary Todd Lincoln, has another African American ever created an Inaugural Ball gown. No African American has ever decorated the White House either. What's that about? If talented immigrants warrant opportunities to shine, don't black designers deserve our chances now too?"
"Amongst bourgeoisie blacks, complaining about injustice in 'mixed company', is considered unseemly.", states social critic, Stanley Crouch. "Any black designer 'whining about being overlooked by the Obamas', most likely would be denounced by someone educated and black, as an untalented opportunist, as an out-and-out, low down hustler!"
Writing a recent post for The Daily Voice that asks, "Shouldn't the Obamas choose black designers?" what a surprise to learn the degree to which Crouch's assessment held up.
"I'm black, but she can wear what she wants...", snapped one of dozens of respondents.
Yet others dismissively mocked the proposition that over a two-year period of seeking support for an historic candidacy, that the vendors and designers engaged by the Obamas ought to have included blacks.
One asks sarcastically about an even greater improbability than a black President, "Would you rather have a black gay decorator and a white Republican president? Geez..."
And another insisted that Obama, "is not the President of Black America. I mean, what will it take? Should the Obamas send their daughters to Washington D.C.'s beleaguered public schools? Get with it! Everybody isn't obsessed with color in this country -- even those of us of color..."
Yes, all in all it was a revelation, to rediscover how lacking in self-interest or empathy many are.
But though conflicting, the question of whether or not the President's young daughters should have been sent to public schools, so many of which are sub-standard, is merely another issue about fairness. Like wondering if black designers are given equal opportunity, it's just another microcosm of weightier issues, none of which Obama should avoid.
As a former South Chicago community organizer, the President knows all about schools in derelict areas. Already he and the First Lady have helped to call attention to those in Washington with a conspicuous visit to read to students at a local charter school. Are such gestures enough?
Without a commitment from the well-to-do to integrate these schools with their kids, have our bereft urban classrooms any hope of redemption?
Considering these places for one's own children, where even the gifted are often unavoidably doomed, which of us is prepared to make the sacrifice required, to conduct that experiment?

Back to the matter of the Obamas seeming to avoid Black designers as a means of showing greater fairness, one needn't be an African American designer to appreciate how it must feel being routinely left out.
A century ago, determined to employ an African American architect to design her Harlem town house and country estate, beauty products magnate, Madame C. J. Walker, engaged Tuskegee- and Cornell-trained Vertner Woodson Tandy. With black millionaires in short supply, he only designed two other houses before his death in 1949.
His contemporary, Julian François Abele of Philadelphia, devised elaborate houses for some of the nation's richest families, like the Dukes and Vanderbilts. Although head-designer for noted white architect Horace Trumbauer, he often was left 'hidden' in the shadows, and many of the firm's clients were oblivious of either Abele's existence or of his crucial role.
Paul R. Williams in L.A., eventually flourished as a star architect and interior designer. From the 1920's until his death in 1980 he produced numerous prestigious projects, including houses for top Hollywood performers like Bill "Bojangles" Robinson, Frank Sinatra, Lucille Ball and Tyrone Power.
Orphaned at four, Paul Williams' launch was hardly auspicious. Like many others he was discouraged by teachers who insisted, "Negros don't hire architects and whites won't pay a colored designer..."
"Prospective clients would turn to leave as soon as they saw he wasn't white." recalls Williams' granddaughter, Karen E. Hudson. Resorting to trickery, he'd lie, telling retreating prospects that he was already over-committed. As he followed them he' d rapidly sketch their related ideas, beautifully and upside down. Through such ingenuity, Williams was able to win over many.
In a recent interview reflecting on the 1970s, before the death of her husband, innovative fashion designer Isaia, style maven Phyllis Swann was in a plaintive mood. From her home in Cincinnati she recalled how then, the watch-word was, "Black is beautiful", while 'Black style', was regarded as the quintessence of 'cool'. Swann also noted, "Some of us, back in the day dared think that 'Black genius' had at last been discovered, to be accorded the respect it deserves."
Failure finds her questioning once more, "How long will an embrace of our own culture, our history of overcoming adversity through creativity, a tentative attempt to encourage and employ each other, be viewed as racism in reverse? We have a black First Family now, but when will we ever have recognized black designers? When will "special treatment" for us, mean more than just being left out, as usual?"
Popular in the Community