Four young black men were handcuffed by undercover police Thursday for selling water on the grounds of the National Mall in Washington, D.C.
Tim Krepp, a tour guide at the mall, told HuffPost he had just finished his shift when he saw the young men being detained by plainclothes park policemen.
Krepp, who has been a tour guide for nearly 11 years, said that he has seen young boys and girls selling water "all the time" but has never witnessed anyone be detained by police as a result. He said seeing the young men sitting handcuffed on the ground and being searched by the cops immediately struck him ― so he took pictures of the moment and shared them on Twitter.
Krepp's tweet has since been retweeted more than 15,000 times, sparking widespread outrage over the officers' actions.
"There's no way you can avoid the obvious imagery of young black men being handcuffed and clearly being treated as a threat with white cops around," Krepp told HuffPost.
"Images matter and symbols matter, especially at the National Mall when you're here to see symbols and images to learn," he added. "That's why it's here, this is a sacred space to talk about our national history and the cops should be aware of that."
The tweet has even led D.C. Councilman Charles Allen to issue a letter to the U.S. Park Police chief denouncing the officers' actions and calling out the racial double standard around this case.
"I can't help but think how the reaction by these same officers might have varied if different children had set up a quaint hand-painted lemonade stand on the same spot," Allen wrote. "While still the same violation of selling a beverage without proper permits and licenses, I doubt we would have seen little girls in pigtails handcuffed on the ground."
Sgt. Anna Rose of the U.S. Park Police said in a statement Friday that "officers placed them in handcuffs for the safety of the officers and of the individuals," according to NBC Washington.
The young men were reportedly given a verbal warning and eventually released, but Krepp believes this incident speaks to a broader issue around policing and black lives.
"We want quality, community policing ― we want it to work well and that wasn't what I saw," he said.
Before You Go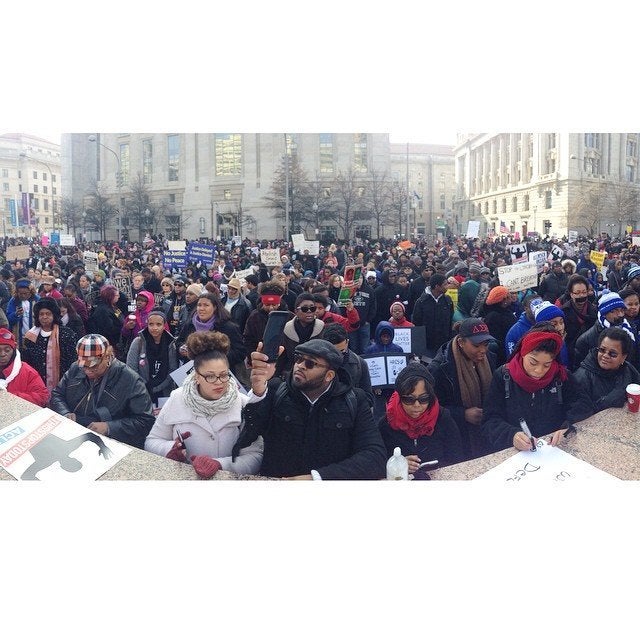 Powerful Black Lives Matter March In Washington
Popular in the Community