Black Tiger Sex Machine is a three piece electronic group from Montreal, Quebec, made up of Marc Chagnon, Julien Maranda, and Patrick Barry. They specialize in what they have come to claim as "Future Thriller," a genre that spans multiple styles of dance music but remains heavily rooted in dubstep and drum and bass. They don state-of-the-art tiger helmets, and utilize a multitude of controllers, synths, and drum pads to put on an extremely immersive live show that is undoubtedly unique.
When I got to Webster Hall last Friday night, I went up to the balcony level and entered the green room; I was immediately greeted with open arms. Marc was talking to a couple of people, but turned to greet me as I entered. He apologized for the mix-up at the door (apparently the venue had the wrong last name on file), offered me a drink, and we started chatting. Marc and I discussed their independent rise, and how they had played their first show in the United States just over a year ago at the very same venue. He was genuinely excited to be back, and throughout our discussion maintained a really humble air about him. He thanked me for writing the review that had come out earlier that week and at some points seemed more interested in discussing my writing and photo work than answering the questions I had.
The night's opening acts were Dabin and Apashe. Dabin was an extremely versatile act who incorporated live guitar into his "music for your feels" (as he describes it). Heavenly synth usage paired with his live instrumentation creates a phenomenal show of talent from the Toronto-based producer. Apashe simply lists his genre as "EPIC;" which is exactly what it is. He weaves elements of trap, dub, and drum and bass in his grand and heavy-hitting tracks. His show was relentless from start to finish and was the perfect segue into the church that BTSM was about to take us to.
From the onset, there was an air of electricity to their performance. The bright LED lights outlining the eyes on their tiger helmets burst through the overflow of fog that engulfed the stage. Wearing leather jackets, denim vests, and all-black-everything, the gentlemen began a set that echoed chest-pounding bass and monstrous synths that truly embodied the post-apocalyptic theme that surrounded their music. From my position on stage, I could see a bit more of the technical aspects of their show, as well as the skill with which they moved between midi controllers, drum pads, and synths; a truly impressive glimpse into what goes into their live mixing and production. The theatrical aspects of their show created a spectacle that kept the crowd engaged and dancing from start to finish.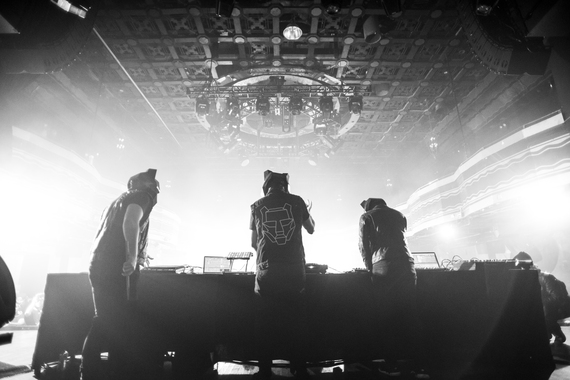 The whole performance had the feel of a science fiction overture; the score to a dark and vicious cinematic experience that offered every member of the crowd a supporting role. There was a level of connection between the fans and BTSM that was apparent from the moment they stepped on stage to the family photo taken at the end. Throughout the show, there were moments when the guys went to the edge of the stage, acknowledged a fan who had welded his own black tiger helmet, and even gave out a flag emblazoned with the group's logo: a geometric tiger head on a pure black field.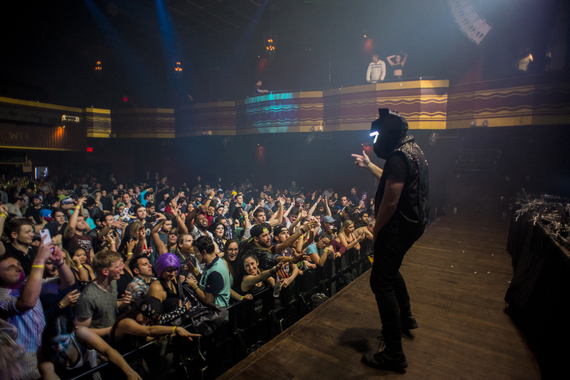 By the time the show was over, I was thoroughly impressed. Only having been introduced to the group a few months prior, I was truly unsure of what I was going to witness, and I was not disappointed. They made their way upstairs as the crowd mostly dispersed; nothing but smiling faces and satisfied discussion. I couldn't wait to sit down and really get to know the men-behind-the-masks.
Shawn: There seems to be a certain mythos surrounding the "Kannibalen Virus." What prompted you guys to build your music around the concept of this post-apocalyptic world?
Julien: Well in Montreal a few years back I went to a Justice show with Pat, when the cross lit up we were like "wow, this is different, there's something happening here." At the same time, we love Justice don't get me wrong, but in our opinion there was no real connection between them and the crowd, besides the cross. I don't think a DJ or an artist can really get a connection going with the crowd directly with them, like implement them directly in the night. But when we started our first electronic events in Montreal, we wanted the people at home would star thinking and planning their night. So, we invented the event called 'Kannibalen' (before the label), and told people "you're coming to our night, but you're infected." A little bit like a zombie walk. So they were entering with their friends and splashing fake blood all over them -- nothing violent -- just like the cool part of a community with something to do before coming to the show. You know, like taking the bus and looking like a zombie. So when we started the label, we thought it would be really fun to kind of have a story behind every artist, and now our new music video that's going to be coming out, probably early March for the song "Numbers;" it talks about the infection, our post-apocalyptic world.
Marc: It kinda relates to how we approach the music industry. We don't have a major label we don't have anybody pushing us, it's just us doing what we like and working hard and the "infection" has been spreading. You have people on the label like Snails, and it's just growing and growing. People are going around with the Kannibalen brand and the label and they're just sticking to it. So that's why it's been growing for the past four years, it's really an infection, but a good one.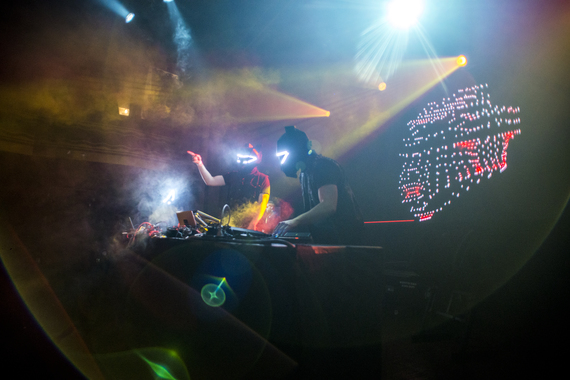 Shawn: There's not many mainstream electronic artists utilizing the live-show format. There's artists like Porter Robinson, The Glitch Mob, they bring the live performance aspect that's kind of shifting electronic music to become more than just mixing a set for people to dance to. Do you think that's benefitted your specific style, and how?
Pat: Yeah, I can definitely say that it's benefitted us in the sense that we like to create something interesting for fans. We tried to still come up with a show that kept that side of the DJ style where it's always very dynamic, and never stops with the more instrumental side where there's more improvisation where you can change stuff and create things that people haven't really heard. It's not just the same songs that you've heard, you can combine elements from other tracks. We definitely were inspired by other artists like The Glitch Mob, Keys N Krates, there's guys that started doing this a few years ago and really pushed this new style of creating a performance with both elements. And we're excited to keep pushing it, and see where we can take the genre because we feel like the surface has only been scratched. It's really cool the things that you can do live, and it's really cool to see people taking chances with it and pushing the boundaries. It's really great to do something different, and that's what it's all about really.
Shawn: You guys are extremely good about keeping a personal relationship with your fans, you're always doing live feeds from the studio, and chatting with fans on Facebook. Has it always been this way, and do you plan on keeping that up as you gain popularity?
Marc: I guess we never got like a free pass. We always worked super hard and when we started those parties that Julien talked about, it was all about the fan interaction and connecting with people. So it's not like we made a one-hit-wonder or got like a huge marketing push from some management team. We're self managed, we work really had, we now have a team that we built together that are working just as hard as us behind the scenes. So it's all about interacting with fans and they've been relating to that because they know we want to show them something special. So we definitely want to keep up with that, because it comes back to the Kannibalen Virus; it was a small thing that started at a party in Montreal that grew into something big with guys like Snails, us, Dabin, Apasche, etc. Guys are going around the world, so it's kind of like this grass roots-small family, and that's the mentality. So we're going to keep doing that 'cause it feels good and that's the best.
Julien: Personally, when you watch kids, or teenagers, adults -- when they go to a music event, it's that one time during the week, or a festival it's that one time during the summer, where they'll be happy whatever happens, yknow? They'll just be there to share community, the kids are coming through the gates and they're just smiling, and the only thing they want is to listen to their favorite artists -- meet them if possible. That's why we take off the helmets the last fifteen minutes of the show. We try to connect with the fans, just so they understand that we're like them, and we'll go in the crowd every show. I went just tonight in the crowd afterward, and the kids are saying stuff like "oh my god, you take so much time to talk to us!" But for us it's so natural, I think it's the most important thing. If they have dreams to make music, they go back home motivated, and if there dream was just to meet you, then it's done. I comes very natural to us, it's like Marc said we don't take this for granted, we know it can all go away really quick so our fans are the most important thing.
Pat: We looooooooove the fans. ;)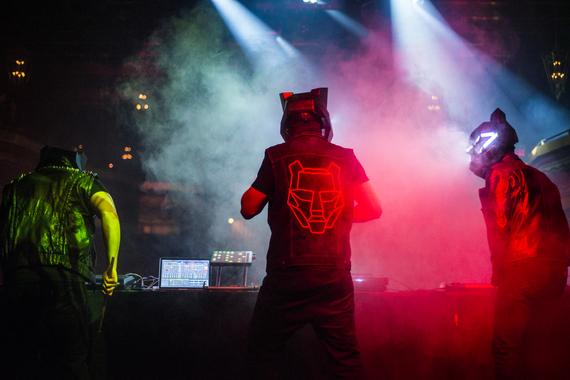 Shawn: You used a sound bite from "The Vampire Bat" on the album, what films have influenced your genre of "Future Thriller?"
Pat: A lot of stuff, sci-fi movies, horror, action. Really cool movies like "Blade Runner," "Mad Max," "Star Wars," definitely. We just all love sci-fi, and even like sh***ier movies, well I don't want to say "sh***ier," but crappy sci-fi movies from the 90's like "Demolition Man." Really any kind of weird B movies with dark worlds, alternate realities. Whether it's futuristic or horror or medieval. The imagery and the sounds that populate these movies have been what's really influenced us. We've got this "Blade" homage clip coming out, there's really so many; "Aliens," I love aliens and...
Marc & Julien: [Laughing] Yeah, we like movies, ok.
Marc: We have to give a shout out to our boy Dead Battery who used the sample in a release called "The Devil's Signature" on our label in early 2014. A nasty drum and bass record, but it was fitting way too well on "Infected" with Karluv Klub who's actually sitting right there [Points behind me] Ralph. He's a sexy man of many talents [all laugh]. But yeah, Patrick is definitely the weirdest one. [Laughs]
Julien: We all love movies, you sit down and you absorb another world it's the best way to find that influence; with something artistic at home.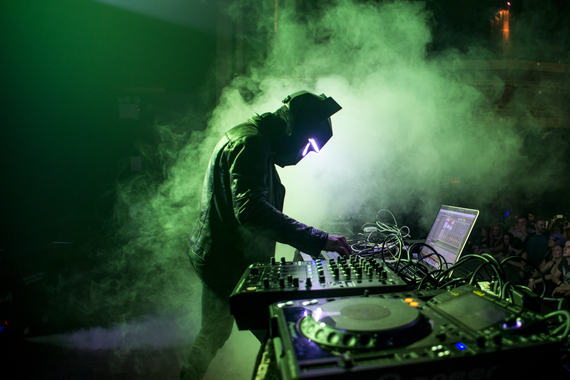 Shawn: You've independently built your label, and it's taken a while but you've garnered some success. What advice do you have for other independent artists coming up in the industry?
Julien: Stick with your city. Make sure you don't discard with your scene, stick with your crowd; try to build something in your own town. Find other artists, whether it's a videographer, photographer, other musicians y'know whatever, create a little hub in your town and try to build something bigger than just you. Your fan base in your city is going to be the biggest fan base you'll ever get and that's going to feed off of everything else. Release your own music, we started our label because we didn't like what other people were doing with music and we wanted to have control, but also to have a family, and now we have one in Montreal.
Marc: Get a team and stick with it. Some people have been working with each other for so long, and sometimes it goes unnoticed, but sticking with people and working and developing something together most of the time leads to something good. Whether you achieve your main goal or not, usually working as a team for it works -- I think.
Pat: Y'know, do what you love and work hard, and keep integrity with yourself whether professionally, or with your music, and just keep at it.
Marc: I think that's the first time you've said integrity in an interview and I love it.
After the interview, the guys dispersed to pack up their gear and head back to their hotel. I mentioned I had a couple of friends who were fans outside, and the guys were happy to step out and say hello. When they did, I expected a couple "hey, how are you's" and that would be that. But as far as Marc was concerned, the night was still young and he invited us to join him and Apashe to get some food at The Halal Guys.
We walked, and chatted some more, Marc gave me some insight on the recording process of the album, talked about some of their favorite cities, and truly made us feel like we were just another part of the crew. After indulging in delicious halal (and enjoying much conversation), it became time to disperse. We said our goodbyes, and headed back to the car. I can't speak enough about how good of a group of people BTSM, Apashe, and Dabin are. They're just a couple of guys making good music and performing with an energy that truly displays how much they love their craft. I highly expect their rise to continue well into the years to come.
Calling all HuffPost superfans!
Sign up for membership to become a founding member and help shape HuffPost's next chapter