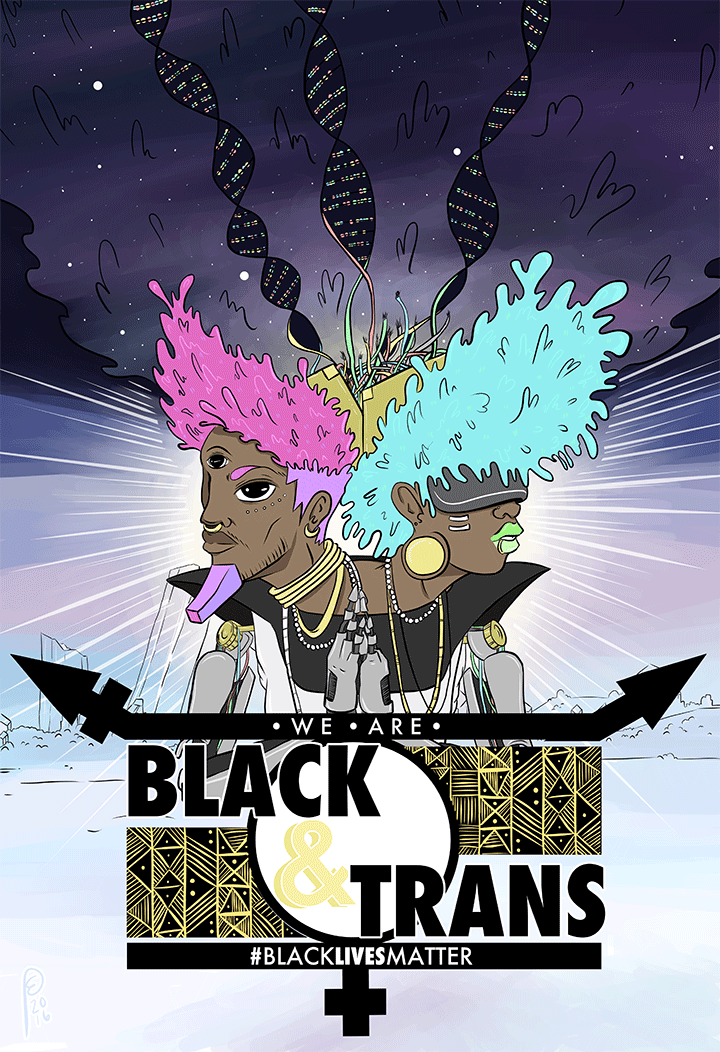 Tragically, 2015 was the deadliest year on record for black trans and gender non conforming women with the total number of murder victims ranging from 21-25. Our average life expectancy is a paltry 35 years, less than half that of the average cisgender woman. The violence against folks like us is occurring at a rate that remains alarmingly high, and contributes to that shortened life expectancy. This unfortunate reality prompted me to join the larger #BlackLivesMatter movement, because we must declare that all black lives matter, including black trans folks.
Many of the causes of death have yet to be released, but from what is known, a majority of the black trans women lynched this year were either shot, burned, or stabbed to death while engaged in the sex trades. As I bear witness to these stories, I've begun contextualizing the violence against folks like us through the lens of Ida B. Wells' A Red Record, a work of investigative journalism that tracked lynchings in the 19th and 20th century. Her legacy empowered me to utilize communication technologies like social media to lift up our stories.
In colonized lands across the globe, there is a war being waged on any black person who would dare to exist outside of the gender binary. But the struggle for our lives doesn't begin and end with these acts of murder. The stigmatization and criminalization of trans people persisting in the law enforcement system, furthers the oppression faced by folks like us. We must continue elevating the conversation around the social and institutional violence and, in doing so, include the ways black trans people are disproportionately and uniquely affected. Also, the media often enables the stigma and discrimination already endured by trans people, by portraying us as less than human. Instead of being honorably covered when targeted by hate or malice, many outlets misgender and slander trans women of color in death, using mug shots, birth names, incorrect pronouns. Even worse, they speculate on so-called justifications for their murders -- such as sex work, homelessness, and drug use, which removes the accountability from where it belongs: on anti-trans violence and oppression.
In order to know where we are going, we have to remember that from which we come; that our history predates the Transatlantic Slave Trade. My whole life was changed when I traveled to Ferguson with the Black Lives Matter freedom rides, in the aftermath of Michael Brown's murder. Witnessing the power and resilience of queer and trans black women especially, gave me hope that this iteration of the movement for black lives would not fail to center our most vulnerable and precious members. I do believe that everyone has a role to play in creating a more just and loving world, I just wish people would stay in their own lanes. Eradicating systemic oppression should be the challenge of those who benefit from it's bounty. In other words, ending racism is the responsibility of white folks.
After a lifetime involved in the movement, I'm convinced that instead of trying to eradicate white supremacy our main focus should be creating the kind of world we want to inhabit. We can no longer afford to hide behind the tenants of non violence and respectability, if those values do not require us to protect black trans girls at all costs. I often think about the resiliency of Eisha Love whom I affectionately named "The Girl Who Lived." Her case was eerily similar to Cece McDonald, who was also charged with a felony crime for surviving a racist and transphobic attack. Whereas every breath a black trans person takes is an act of resistance, our primary objective should be survival by any means necessary.
I dream a world in which all black lives matter. A world where we are not poisoned by the water and genetically modified foods. I dream a world where our black bodies are not criminalized because of sex work or HIV/AIDS. I dream a world where we have complete and total access to the entire universe without barriers or borders. I envision a world without prisons and without police. I envision a world that supplies our basic needs like, housing and medical care for all people. I dream a world centered around black women because the black woman is god and black girls are magic. The role of the black queer and trans prophets leading this struggle for liberation is to usher in a new world order full of love, beauty, compassion and empathy.
Our unique perspective of inhabiting the space between masculine and feminine further equipped us to seek truth and often overlooked perspectives. Before western concepts of gender bankrupted our social capital, we served as the mediators, the healers and the griots. It's my hope that in the future black trans folks will be loved, respected, included, paid, healthy and free. Simply, it's my hope that #BlackTransLivesMatter, too.
Illustration by Ethan Parker
This post is part of the "Black Future Month" series produced by The Huffington Post and Black Lives Matter Network for Black History Month. Each day in February, this series will look at one of 29 different cultural and political issues affecting Black lives, from education to criminal-justice reform. To follow the conversation on Twitter, view #BlackFutureMonth.
Popular in the Community