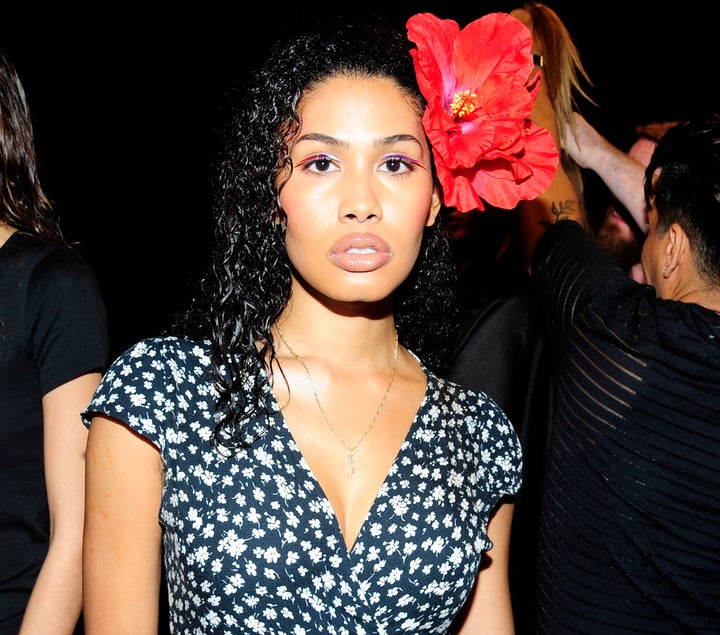 Leyna Bloom has walked the runway at fashion week, appeared in print campaigns and has all the makings of a successful modeling career: Aside from the fact that she can't get a major agency to sign her.
"No major modeling agency in NY & LA will give me a contract," she wrote in a May 22 Instagram post, paraphrasing the explanations she says she's been given. "They said it's too much of a gamble, and they can't take the risk. 'No major brand will work with me cause I am black and trans,' 'The fashion world is not ready for you,' 'come back in six months.'"
Bloom, originally from Chicago, told HuffPost that while she acknowledges rejection is normal for any model, the reasons these agencies give for turning her down are not reflective of lack of experience or talent.
"I've been submitting to different agencies and in New York City and Los Angeles, sending out digitals and e-mails," she said. "The feedback I've been getting right now is that the business is changing, but we're not ready for that change right now. It's kind of a gamble."
She is, of course, referring to the mostly white, mostly cisgender roster of models that repeatedly appear in print spreads and on television and runways. Continual progress is being made ― agencies cast transgender and non-binary models 31 times at fashion week in spring 2018, according to The Fashion Spot's diversity report. But Bloom worries that some brands and agencies see inclusivity as a trend rather than a permanent reflection of changing attitudes.
"They feel like it's a trend, and they don't want to be part of the trend," she said. "They need to realize that humanity is not a trend."
Bloom went viral a few months ago when she launched a social campaign to be the first black transgender model to walk in Victoria's Secret fashion show. She wasn't successful, but she drew attention to the issue of trans representation. Plus-size model Ashley Graham also previously called the brand out for its diversity problem (to date it has not featured a transgender model or a plus-size model on its runway).
It's not like there have not been opportunities for Bloom. She has appeared both on the runways for up-and-coming designers and in print magazines; she has worked with smaller agencies over the course of her career. But, she said, she has worked too hard over the years to build up her brand on her own to settle for anything less than a top agency that will give her more professional opportunities.
Landing a coveted spot with a major modeling agency like IMG often provides a signed model on its roster with the backing of respected industry figures. It can also increase a model's visibility to big brands, big magazines and big endorsements. Gigi Hadid, Alessandra Ambrosio and Ashley Graham sit on its roster, to give you a better idea of its influence.
"Why do I have to settle for something less than I deserve?" she said. "The big models are getting all these campaigns, all these red carpet opportunities. I can't help but wonder if they didn't have representation would they be working as hard as I am? Why am I not getting the same opportunity?"
Her hard work is evident from her power on social media. With over 125,000 followers on Instagram, she told HuffPost that she would receive jobs directly through the platform. Even in those cases, though, she said she is not given the same treatment as "the many people in fashion now who are working as an extension of someone in their family being in the business."
On top of that, she said, brands and publications capitalize on the idea of pushing gender norms but are slow to actually include those people. For example, a 2017 Vogue editorial featuring Zayn Malik and Gigi Hadid came under fire for reducing gender identity to the style of clothing a person wears, completely disregarding what it's actually like to be gender non-conforming.
"They say 'OK, you're new, and we want to give you a platform, but we don't want to pay you because we don't know if what we put on you is going to sell," she said. "So what we'll do is just give you a social media post. If it gets one million views we can invest. But it's like, you're going to go and pay this white girl half a million dollars, but all I get out of this is a few hundred followers. That's where we are at. You steal from us and then tell us to buy it back. It's the whole ecosystem of the fashion world."
Bloom said she would take her time making a decision if an agency approached her now. As far as what it would take for there to be real change in the industry, Bloom said that it's up to her and other people with platforms to maintain their visibility and voice.
"We need a beacon of hope, we need people in these communities that have the voices that can stand their ground and say 'I've had enough,'" she said.
"We're not in that time zone anymore that if you speak up you get blacklisted. Everyone can speak up. We need more people out here saying this is what I want and deserve. Respect me, don't fetishize me, protect me. I think that's where it starts. I'm just going to keep on talking and having these conversations, getting this message out there."
Popular in the Community