Black Twitter has done it's damnedest to combat the heaviness of this past week as we've felt collective sadness over the deaths of Alton Sterling and Philando Castile.
A few hashtags have brought some much-needed joy to an otherwise traumatic week. From videos that show black kids being as carefree as they want to be to GIFs celebrating protesters being released from jail, black people were able to turn their lemons into lemonade.
Since these week-old wounds are still healing and Sterling and Castile's memorial services are on Thursday and Friday, respectively, we've resurfaced some hashtags that can serve as a simple dose of self-care.
1. #CareFreeBlackKids2k16
Created by Heben Nigatu, this hashtag shows black children and teens being unapologetically carefree. The thread includes clips of kids dancing, singing, playing instruments and just being downright happy.
2. #BlackJoy
Though this hashtag has been around for a while (i.e. The Black Joy Project), it's been resurrected this week as black people have been using it as a form of protest. They proclaimed that, despite all of the misfortunes this community faces, the world will not take away their joy. That is a revolutionary act.
3. #BlackGirlMagic
Here's an oldie but goodie. It's the gift that keeps on giving. #BlackGirlMagic, created by CaShawn Thompson, is an everyday celebration of the spirit and excellence of black girls everywhere. And this past week, it has been a positive reminder of how freakin' awesome we are. We saw this firsthand with Serena Williams' win at the Wimbledon on Saturday. 💁🏾
4. #HeyBlackGirl
The account @Hey_BlackGirl routinely shares this hashtag to engage with their followers but the hashtag was especially necessary this past week. The account used the hashtag to check in with their followers' mental and emotional status by asking questions and sharing necessary advice on dealing with injustice.
5. #BlackManJoy
There's something special about seeing a black man's smile when the world expects him to frown. This hashtag, first tweeted in 2012 but revived by Feminista Jones on Friday, is also revolutionary (see number two above). As these men mourn their brothers who were gunned down by police last week, they were able to express their joy as a part of the healing process. Their happiness is vital.
6. #DerayHasBeenReleasedParty
When activist Deray Mckesson got arrested during a protest for Sterling in Baton Rouge, #FreeDeray trended for hours. When he was finally released the next morning, Twitter celebrated in the best way it knows how: throwing a party. Folks tweeted GIFs and clips with this hilarious hashtag to show exactly how they would pull up to the function.
Do yourself a favor and search these hashtags. Your sanity will thank you.
Before You Go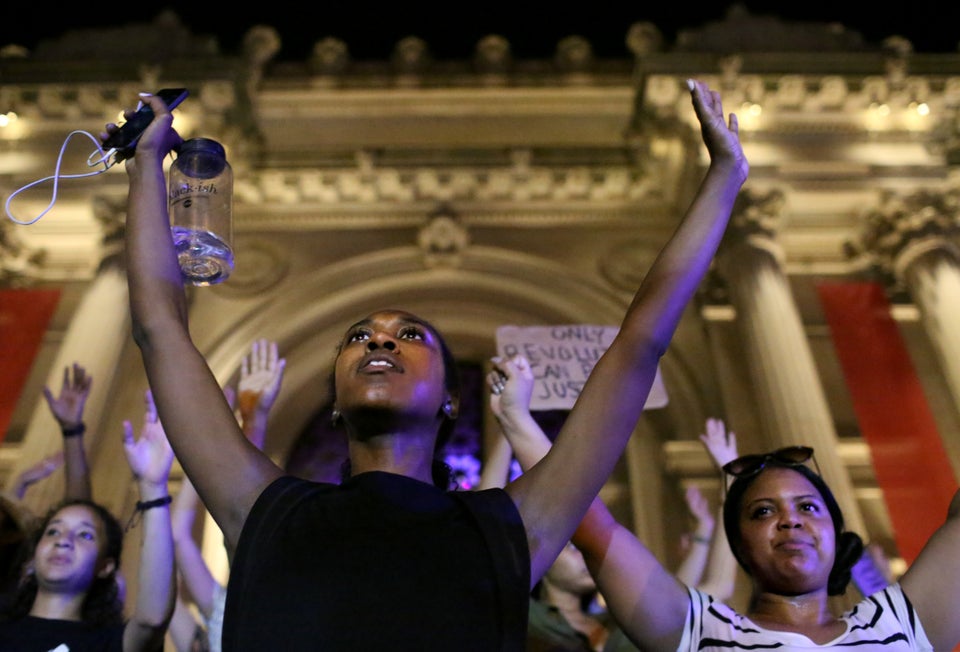 Peaceful Protests Over Alton Sterling and Philando Castile Shootings
Popular in the Community