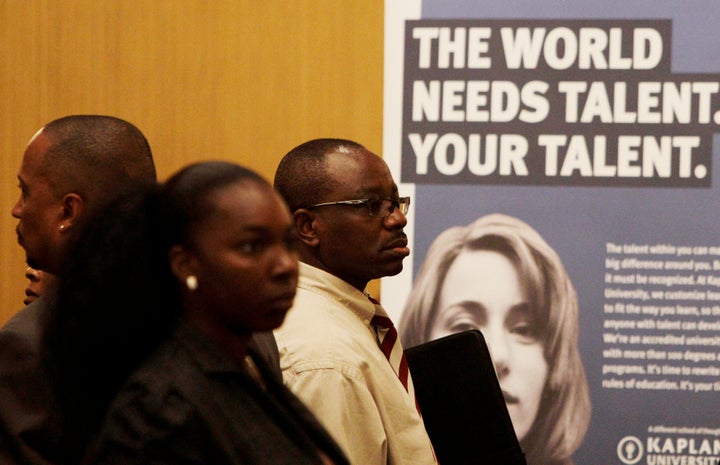 The September jobs report paints an employment picture that is better than expected but still grim. Just over 100,000 people found work and the overall unemployment rate remained unchanged.
Since the recession began, black workers have experienced deeper and more sustained levels of employment than any other set of workers. But with nearly 3 million black Americans still unable to find work, there is little in the September jobs report to celebrate. Black Americans represent about 12 percent of the nation's total population but 21 percent of the unemployed.
"By now, we should all understand the stagnant economic condition in which our country finds itself," said Rep. Emanuel Cleaver (D-Mo.), chairman of the Congressional Black Caucus, in a statement released Friday that also urged Congress to pass President Obama's jobs bill. "The economy will only continue to worsen if we do not act quickly to address it."
The caucus is a bipartisan group of black Congress members, who have collectively introduced more than 50 job creation bills since January. The caucus also hosted a multi-city job fair tour this summer.
It is also unlikely that many women were among of the black workers who found employment. Only about 4,000 of the 103,000 jobs created in September went to women, according to a National Women's Law Center analysis released Friday. Since the recovery began in 2009, women's job gains in the private sector have been offset by large job cuts at federal, state and local government agencies, the report found.
"It's time for policymakers to stop cutting jobs and start creating them for women and men," said Joan Entmacher, Vice President for Family Economic Security at the National Women's Law Center, in a statement.
The September report indicates that while government agencies are cutting jobs, there are also few private companies that are hiring. Employers see little evidence of increased consumer demand for their products and services, said Ken Goldstein, an economist at the Conference Board, a nonprofit economic research agency based in New York.
"Consumers don't care what the egghead economists say. It feels like a recession, and by their definition, that's right," said Goldstein.

The National Bureau of Economic Research, a federal economic research and tracking agency and official arbiter of the economy's status, pronounced the country's most recent recession over in June 2009.

"I think that for the average consumer, if it's Friday night, she doesn't feel like cooking and he says, 'Let's go out for pizza,' and they have the money to do it, then that's not a recession," said Goldstein. "But if she doesn't feel like cooking and he says, 'We don't have the money,' so she says, 'Okay, it's mac-and-cheese tonight,' then that's a recession. It's really that simple. It's not about the ability to go out and buy diamonds."
This story was changed to reflect unemployment rates, rather than employment gains, for demographic groups.