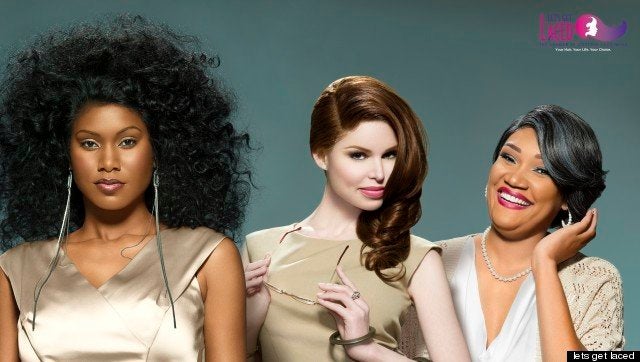 Atlanta has long been an economic and cultural powerhouse in American life. From the city's trade and industrial origins to its growing position as a key exporter of notable cuisine, hair trends and film and TV productions, the city continues to yield undeniable influence over the cultural, political and social trends that take hold across the country.
As part of Black Voices spotlight on Atlanta, we're going to provide you with an inside look at the various industries that are making big growth in the city. Atlantan writer and columnist Ed Adams kicked off the series with a comprehensive breakdown of the city's famous southern cuisine. This week, Ronda Racha Penrice, an editor for Uptown Magazine and author of African American History For Dummies schools us on the city's "hairstory," from naturals to weaves and back.
From Chris Rock's Good Hair to Ludacris's shout-out in "Pimpin' All Over the World," the Bronner Bros. International Hair Show has put Atlanta at the center of the black hair universe. Launched in 1947 at the Butler YMCA, the Bronner Bros. Hair Show, as it was then known, is now celebrating its 65th anniversary. Jackie Robinson, Dr. King, Janet Jackson and Oprah may have all attended over the years but it's the zany hairstyles and personalities for which the hair and beauty convention is most well-known.
As over-the-top as the styles at Bronner Bros. usually are, Derek J. of The Real Housewives of Atlanta, Oxygen's Hair Battle Spectacular and Good Hair fame says, "Atlanta is a trend-follower. They don't really set trends." Still the in-demand stylist, known as much for sporting heels as for head-turning hairstyles is hopeful, noting that "now that they are bringing that whole TV movie situations in, then it may bring that trend element to Atlanta."
For the fall, Derek J, who introduced Kandi Burruss to a longer, softer look, is high on color. "I'm just so excited now that black women are starting to do color now because they were so scared of color. Also, just trying new things, like cutting your hair."
According to the Ohio native, the popularity of weaves has contributed to Atlanta's newly found tress freedom. Latonya Saunderson, founder of The Weave Shop, where $50 sew-ins rule, knows about the power of weaves. "Before I moved to Atlanta [in 2008], I did a variety of hair but, when I did move, women were coming in back to back [for weaves] so I grew to love doing weaves," says the New York-born, Detroit-raised hairpreneur, who has over a dozen locations in Georgia, Illinois, Michigan and New Jersey in less than five years. Jennifer Williams from Basketball Wives is even featured on their website.
Explaining the allure of the weave for Atlanta's black X chromosome, where it's so popular that bandits have taken to stealing hair from beauty supply stores, Saunderson, whose salons store hair in vaults, points to weaves as being "fun and beautiful" as well as "versatile."
Affordability, says Saunderson, who initially moved to Atlanta to pursue a music career, also factors big in Atlanta's rise as the nation's weave capital. Saunderson also says, "it's Black Hollywood here in Atlanta" and "that alone draws people to want to get it done."
Fall trends for weaves, according to Saunderson, point to color, especially on the lower ends of the hair. This summer, Saunderson has noticed that short, curly, wet and wavy weaves have dominated. "People want something convenient where they can just kind of wet it and go," she says. But, in Atlanta, long hair still rules. "With this being Black Hollywood, we service a lot of models and actresses and a lot of them do have long weaves," Saunderson explains.
Natural styles have also found a home in Atlanta. So much so that Salon Soy prides itself as the city's "No.1 Transitional Hair Studio." Owner Soyini Thwaites, better known as Soy, has been helping women transition from relaxed to natural hair since 1999 when she graduated from cosmetology school.
"At first, it was kind of hard to convince people," she admits. "But now we are just in a different place in society where everyone is trying to be healthier . . . we have a huge movement towards people wanting to get rid of the chemicals." And Atlanta, says Soy, has been at the forefront of the natural hair movement in the Southeast. Women transition to natural hair in various ways, according to Soy. "You have some clients that want to just go ahead and instantly transition and they feel like I want to do a big chop . . . and then you have other clients that want to do it gradually, where they grow their hair out to a certain length and then transition."
Those taking the gradual approach can expect to be chemical-free in about six months to a year. Although it's been popular for women to press out the roots instead of relaxing new growth, Soy doesn't recommend that. Instead, she suggests styles like coils, twists, braided extensions and weaves even to give the hair a break from heat as well.
Short, long, straight, curly, weaved, twisted, braided, colored, all the stylists agree that Atlanta is embracing versatility more these days. But, in the end, the way a woman wears her hair truly depends on her.
CORRECTION: An earlier version of this article incorrectly identified Ronda Racha Penrice as Rhonda Penrice.
Calling all HuffPost superfans!
Sign up for membership to become a founding member and help shape HuffPost's next chapter