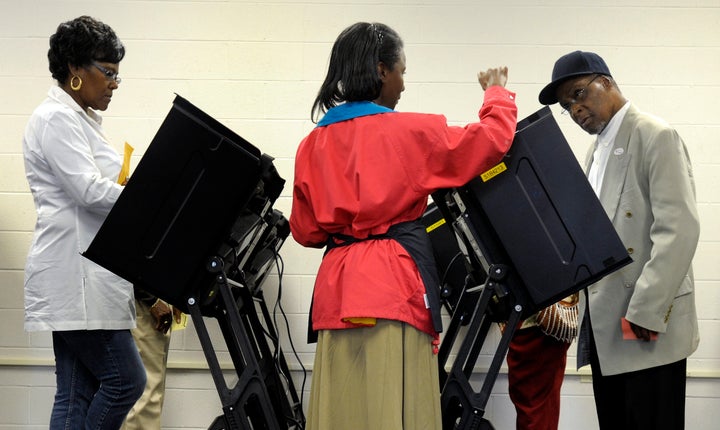 With a week to go before Election Day, over 25 million Americans have already cast their ballots via early voting. If this year is similar to 2012, those early votes will be nearly 20 percent of the final turnout. So it could be a big deal that black voters aren't opting for early voting as much as they did four years ago, especially in key swing states like Florida, North Carolina and Ohio.
Low turnout among African-Americans could hurt Hillary Clinton. In most polls, more than 90 percent of black voters support her over Donald Trump.
North Carolina is seeing fewer black voters casting their ballots early this year, The New York Times reports. They accounted for just 22 percent of early voters as of Monday, compared to 27.3 percent of early voters in 2012. Although there's still a week left for that proportion to increase, the decline is concerning for Democrats, who expect to receive nearly all of those votes.
Black voters were likely more enthusiastic about casting a ballot for President Barack Obama four years ago than for Clinton today, but that may not be the entire explanation. In North Carolina, Republican lawmakers and officials have engaged in a concerted effort to reduce turnout among African-Americans.
A legal battle over early voting in the state led to a court order that polling places must be open the same number of days this year as in 2012, but the order didn't specify how many polling places had to be open. So the state GOP chair urged local election boards, which are generally controlled by Republicans, to limit early voting opportunities in other ways.
Another party official went even further, encouraging local Republican election officials to open only one polling place in their counties, The News & Observer reports. "We will never discourage anyone from voting but none of us have any obligation in any shape, form or fashion to do anything to help the Democrats win this election," Garry Terry, the 1st Congressional District chairman for the state GOP, wrote in an email. "Left unchecked, they would have early voting sites at every large gathering place for Democrats."
Among the most conspicuous counties was Guilford (Greensboro), which had 16 in-person early voting locations for [the] duration of early voting in 2012, but opened only one for the first week [of early voting in 2016], and did not open its single office on either the first Saturday or Sunday. ... Guilford is a county that Obama won with 58% of the vote and about a third of its population is African-American. Add to this that Democrats prefer in-person early voting over mail balloting, [and] a partisan effect is expected from Guilford and other counties reducing the number of in-person early voting polling locations.

Mecklenburg, where the state's largest city Charlotte is located and a county Obama won with 61 percent of the vote, decreased their number of polling locations from 22 to 10.
The negative effects might not persist as more polling places are opened. McDonald noted in a HuffPost blog:
Since the opening of all sixteen polling places [in Guilford County], from Thursday to Saturday, in-person early voting is running at a much higher clip, with 54,574 in-person early voters. During this same period in 2012, 24,312 people voted in-person. Many North Carolina counties will expand their in-person early voting polling locations the week before the election. ... In the past, the volume of early voting has increased as the election nears, so these actions to reduce turnout may not be entirely effective.
It's not just North Carolina, however, that is seeing reduced turnout among African-Americans. Lower numbers of black voters have been reported in Ohio and Florida as well.
The news from Ohio looks more like 2008 than 2012, but with better numbers for Trump than for the Republican presidential nominees in those earlier contests. However, that report came before Sunday's "souls to the polls" day, in which many black churches provide transportation to and from early voting locations after services.
In Florida, black voter turnout is down from 25 percent at this point in 2012 to 16 percent now. However, Latino turnout is up ― as of Monday morning, it was already at 97 percent of the 2012 early voting total ― and more than 60 percent of that group is expected to vote for Clinton.
All of this makes for a very uncertain picture of how early voting will affect the election's outcome. But one thing has been clear all along: Clinton needs black voters in these swing states ― and Republicans know it.
HUFFPOST READERS: What's happening in your state or district? The Huffington Post wants to know about all the campaign ads, mailers, robocalls, candidate appearances and other interesting campaign news happening by you. Email any tips, videos, audio files or photos to scoops@huffingtonpost.com.
Support HuffPost
The Stakes Have Never Been Higher
Popular in the Community