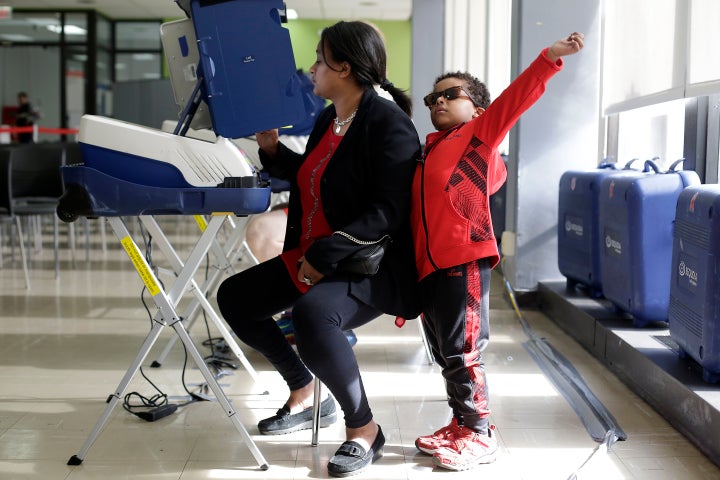 WASHINGTON ― African-Americans aren't happy about the presidential election, but then again, who is? Enthusiasm among black voters has dropped 34 points from 2012, according to new polling released Friday.
But 56 percent of African-Americans across the country say voting in 2016 is more important than it was in 2012, when President Barack Obama ran for his second term.
The collaborative ― an organization of pollsters, scholars and researchers working to provide a more accurate understanding of African-American civic engagement ― surveyed 1,200 African-Americans. They oversampled in Georgia, Pennsylvania and Nevada to provide a more detailed look at various African-American populations in those states. Broken down, 300 people answered the 20-minute poll across the U.S., and 300 people responded in each of the three states that were oversampled.
The poll, which was conducted Oct. 25 to Nov. 2, follows reports that early voting among African-Americans is down from 2012 in key states like North Carolina and Florida ― an unwelcome sign for Clinton.
Roger Vann, executive director of the nonpartisan civic engagement organization State Voices, attributed the low turnout in states like North Carolina mostly to newly passed laws that impede voters of color and a clampdown on early voting sites.
"People understand the critical moment that we are in," Vann told The Huffington Post. "Even though we don't have an African-American at the top of ticket, African-Americans are embracing the moment like other Americans, and that is very encouraging."
"There are still significant challenges around turnout for African-Americans in early voting," Vann continued, pointing to voter suppression substantiated through the legal process. "What this poll shows is that, on average, African-Americans are participating in high rates and planning to vote on Tuesday."
"People understand the critical moment that we are in. Even though we don't have an African-American at the top of ticket, African-Americans are embracing the moment like other Americans."
The AARC poll also found that 86 percent of African-Americans surveyed nationally are "absolutely certain" to vote, and 22 percent have voted already. Of the 300 people surveyed in Pennsylvania ― where African-Americans make up 10 percent of the population ― 91 percent said they are "absolutely certain" to vote this year.
Henry Fernandez, who has advised political and advocacy campaigns for three decades and helped with data collection for the poll, pointed to the difference between how important voting is to respondents this cycle versus how enthusiastic they are about it.
"As the race becomes more negative, both candidates become less popular," Fernandez said in an interview. "But we distinguish that from the importance of the vote."
Fifty-four percent of those surveyed said they were more enthusiastic about voting in 2012, and the primary reason is because they don't like either presidential candidate. Still, 70 percent of African-Americans questioned in Pennsylvania say casting a ballot is more important this year than in 2012, compared to 67 percent in Nevada and 62 percent in Georgia.
"That's pretty striking, if you think about it," Fernandez said. "[It means] the negative nature of campaigns and perception of candidates may not have nearly the kind of effect on actual turnout we think it would."
The survey also questioned respondents about the criminal justice system, immigration reform and marriage equality. An overwhelming majority of respondents nationally (93 percent) said they perceive the criminal justice system to be unfair to minorities. Support for marriage equality increased to 61 percent from 50 percent in 2012. Additionally, 89 percent of black voters are in favor of comprehensive immigration reform.
"African-Americans are increasingly rock-steady in support of progressive policy issues," Fernandez said. "In the past, there have been efforts to try to convince the African-American community that theses issues are not in their interest, and what we're seeing in this poll are that African-Americans are very, very supportive of LGBTQ rights and very supportive of the rights of immigrants ― more so than the population at large and at levels that we see among Latinos."
The sample was gathered based on Catalist VoteProp v2 scores greater than 30 and includes post 2012 registrants. People were questioned via landline, mobile phone and online to ensure wide coverage and a sufficient sample of millennials. The margin of error for the entire sample of 1,200 blacks is +/- 2.8 percent. The margin of error for each state and the national sample is +/- 5.8 percent, respectively.
This story has been updated with additional comment from Henry Fernandez.
HUFFPOST READERS: What's happening in your state or district? The Huffington Post wants to know about all the campaign ads, mailers, robocalls, candidate appearances and other interesting campaign news happening by you. Email any tips, videos, audio files or photos to scoops@huffingtonpost.com.
Popular in the Community