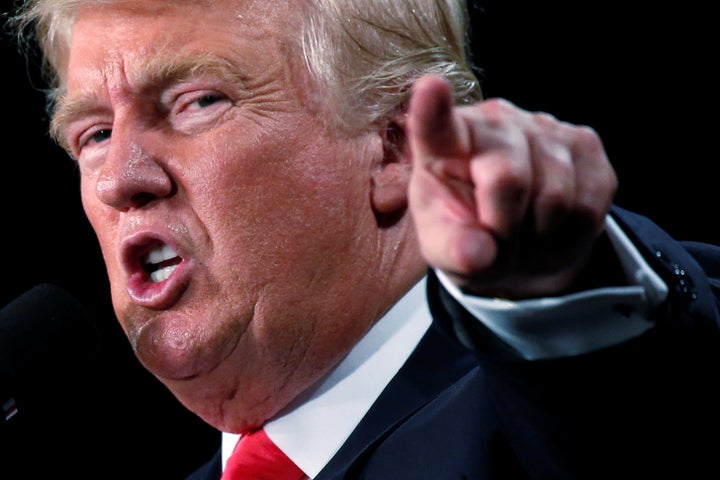 WASHINGTON ― Rounding out one of the worst weeks in his presidential campaign, Donald Trump faces yet another sad reality. According to new NBC/Wall Street Journal polling released Thursday, only 1 percent of black voters nationally support the Republican nominee.
This abysmally low level of support reflects a sentiment already present among black voters in swing states. Trump also suffers among Hispanic voters, garnering just 26 percent of their vote, according to an Economist/YouGov poll released earlier this week.
Generating support among voters of color ― whom Trump's rhetoric habitually alienates ― is key to winning the general election. People of color constitute nearly one-third of eligible voters, making the 2016 electorate the most diverse in U.S. history. This renders it essential for Trump to secure higher numbers of those votes in order to win. President Barack Obama won 93 percent of the black vote and 71 percent of the Hispanic vote nationally in 2012; in 2008, he won over 95 and 67 percent, respectively. The most recent Republican president, George W. Bush, won over 11 percent of African-Americans and 44 percent of Hispanics support in 2004; in 2000 he won 9 and 35 percent, respectively.
The NBC/WSJ poll also shows Democratic nominee Hillary Clinton with a significant advantage among women, all non-white voters, millennials and white voters with a college degree. Trump pulls ahead more narrowly among all white voters, seniors, independents and white voters without a college degree.
In the wake of the two major party conventions, results this week suggest that Clinton's polling bounce is more sustainable than Trump's. Not only did she receive a higher bounce in poll numbers, but viewers received Clinton's acceptance much more positively than they did Trump's. Post-convention bounces also tend to be more stable when they unify the party, and in the wake of Sen. Bernie Sanders' (I-Vt.) endorsement, polls indicate that the Democratic Party is more unified than ever before.
Clinton has now reached the level of support she enjoyed before public scrutiny into her use of a private email server. According to our HuffPost Pollster model, which aggregates publicly available polling data, Clinton enjoys an average 9 point lead with third-party candidate Gary Johnson in the race and a 7 point lead in a two-way race.
Trump's disastrous polling week evinces the broader problems his campaign faces. This week alone, he sparked outrage by igniting a social media war against Khizr and Ghazala Khan, whose son, a U.S. Army captain, was killed in Iraq defending his unit in 2004 (a year that, despite what Trump might believe, was not during Obama's presidency). He refused to endorse House Speaker Paul Ryan (R-Wis.), Sen. John McCain (R-Ariz.) or Rep. Kelly Ayotte (R-N.H.) in their respective re-election bids, despite their endorsements of his campaign. He defended Roger Ailes against sexual harassment charges and brushed aside sexual harassment as a serious issue. Trump was also eviscerated Friday morning by former CIA director Michael Morell, who went on to endorse Clinton.
Popular in the Community