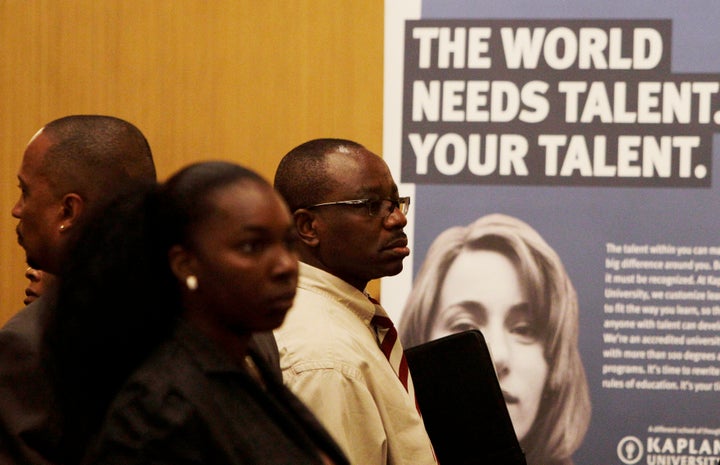 For nearly two decades, the expected life spans of black and white Americans steadily narrowed, offering a hopeful indication of both racial progress and medical success: Everyone was living longer, and the gap was closing.
Then came 2009. For all Americans, the average life expectancy again nudged up for the year, reaching 78 years and two months according to preliminary figures from the Centers for Disease Control. But black Americans saw no improvement in life expectancy, remaining at 74 years and three months.
Some experts construe this unanticipated widening of the black-white life expectancy gap as a product of the Great Recession. The recession extracted brutal economic costs from nearly every slice of American society, particularly from African Americans. Nearly two years after the recession's official end, black unemployment remains at 16.1 percent compared to the 8 percent of white Americans unable to find work. And it's the stress that can come with a job loss that some experts say may explain the new size of the life expectancy gap.
"We should regard this one year data as an alarm," said Kofi Kondwani, an assistant professor in community health and preventative medicine at the Morehouse School of Medicine. "In a country where there are already multiple measures of health that show vast differences between the black and white population, any increase in the life expectancy gap may be an indicator that our efforts to deal with health disparities may not be working."
The federal researchers who compile the data reacted more cautiously, noting that one year's change in the data might eventually be explained by myriad factors not related to black unemployment. Still, they said they were eager to see the data for 2010 and would focus on the again-widening black-white gap.
"If we did see the black white life expectancy gap widen in a second year then we are going to be very concerned," said Bob Anderson, the CDC's chief of death data. "Freak out is probably not the right term but that would definitely set some priorities around here."
Looking at data along demographic lines can reveal some of the factors that affect life expectancy. Suicide is more common among the white population, and homicide is more common among the black population, said Kondwani. Thus social forces associated with a recession -- such as the disproportionate share of black and Latino workers who remain unemployed or who have lost homes to foreclosure -- could reasonably be assumed to affect different slices of the population in particular ways, he said.
Those inclined to pin the blame for the widening life expectancy gap on the recession point to one key factor that generally accompanies unemployment or worries about the ability to pay the bills: stress.
When people experience stress, the body produces hormones such as adrenaline and cortisol that produce short bursts of energy useful in weathering a crisis. When stress is sustained, the body continues producing these hormones, which tend to be associated with medical problems such as depression, high blood pressure, heart disease and strokes, said Uma Rao, a Professor of Psychiatry and Behavioral Health Sciences at Meharry Medical College.
"You have heard the expression fight or flight," said Rao. "Well, what happens to the body when it senses it must fight and can not flee for a long period of time is just as real. And it can be ugly."
All of that sounds uncomfortably familiar to Bernadette Lacy. At 45, she is looking for a job that will replace her once enviable income and career. She is a heart attack survivor.
Through most of the last two decades, Lacy made a good living working for political marketing companies and then government contractors. She loved the challenges that her work brought. She earned more than she ever expected as a woman without a bachelor's degree.
"I got pretty successful," said Lacy, who is black. "I went from earning maybe $12 an hour as a temp to earning $80,000 a year at my main job."
Lacy is a single mother who says she has never received child support. So, even as she was thriving at her full-time job, she worked a second job -- mostly in retail --so she could manage the things she felt her son deserved, such as the fees required for him to play football and the savings she stashed in his college fund. Her second job helped to ease the cost of renting an apartment in Montgomery County, a Maryland suburb outside Washington, DC. She worked so much that she missed every one of her son's freshman year football games.
About six years ago, Lacy embarked on a particularly arduous project, managing electronic medical records for the Navy.
"It was a very, very stressful environment," Lacy recalled.
Her doctor eventually diagnosed her with high blood pressure and ordered her to sharply curtail her work schedule. Either that, or she might not live long enough to see her son into adulthood.
These were the factors that prompted her to temporarily stop working in late 2008 amid the worst economic downturn since the Depression.
She felt confident she would be able to resume work once she was healthy. She had a stellar record and intact security clearances, which made her eligible for a host of government work. She never had difficulty finding a job.
Less than two months later, in January 2009, Lacy's blood pressure was under control, but everything in the working world seemed to have changed. The financial crisis has brought hiring to a virtual standstill. Food and gas prices were soaring, slicing through Lacy's savings at a faster pace than she had anticipated.
"It seemed like, six weeks earlier there had been so many jobs I could have had my pick of the litter," said Lacy. "That dried up so fast it was astonishing."
At the peak of her job search, Lacy says she sent out 35 to 40 resumes every day. She worked with headhunters. She called old contacts.
"I was applying for all sorts of stuff, everything from the fields where I had worked to scrubbing floors," She said. She cashed out her retirement savings and used it to pay the bills. " I was really just trying to maintain some normalcy for my son," she said.
In the spring of 2010, Lacy was granted an interview with another government contractor. But all the worrying about money, work and daily rejections had rattled her nerves and her confidence. During a group interview, one person asked Lacy a question about her approach to managing others. Lacy's mind went blank, she said.
"I could hear myself saying 'uh, uh.' Then I think I made some little joke and nobody laughed," Lacy said. "Honestly, I can say I blew it. That was truly embarrassing because I have high expectations for myself, just some standards for how I want to perform."
What was happening to Lacy is not unique, said Sherman James, an epidemiologist and public policy professor at Duke University in North Carolina. Sustained adversity can lead to medical problems, he said.
James and other epidemiologists have found evidence that such problems are particularly acute among African Americans. He suggested many are so aware of negative racial stereotypes that they labor extra hard and worry exceedingly about their performance in an effort to counter damaging generalizations.
Some academics call this "high-effort coping." Sherman prefers the term "John Henryism," a reference to an American folk legend. As the story goes, John Henry worked building railroads, and his employer decided to try to replace him with a machine. Henry was so determined to demonstrate the unique abilities of humans that he agreed to face the machine in a contest. He beat the machine but then died of exhaustion.
Workers who have lost jobs though no fault of their own are extra prone to develop health problems, according to a 2009 State University of New York-Albany study. The study found that 83 percent of people who were healthy when they lost their jobs reported some sort of health problem one year later.
Lacy thought her job was stressful. But struggling to overcome unemployment was even worse, she said.
In May 2009, she used some of her savings to visit her doctor. Before the doctor took her blood pressure, she knew it was elevated. Inside an exam room, Lacy was asked to remove her shoes. She bent over to untie them and developed a massive headache.
Before she left the office, Lacy's doctor warned her again in stern and serious tones that she needed to bring her blood pressure down.
But for Lacy, a bigger concern was finding a job. Many night she sometimes herself crying.
"There were a lot of lonely days and a lot of lonely nights," Lacy said.
Lacy soon developed sciatica, a painful nerve condition associated with stress. Lacy thought she could just improve her diet and exercise, but her doctor told her she would also need to limit her stress, or she would run the risk of a heart attack.
She continue to pursue job interviews, and she refused to take her prescribed painkillers so her mind could stay sharp for them.
As last summer gave way to fall, Lacy realized she would soon have to give up her apartment for lack of rent money. She sent her son to live with his godfather so that he could continue attending his suburban school. Lacy moved in with an aunt in Washington, D.C.
"Being separated from my son for economic reasons, that really tore me apart," Lacy said. "Every Sunday when I would drop him off I would just feel so low because I knew we wouldn't be in this situation if I had a job."
Some experts argue that a weak economy perversely lowers the death rate, because people out of work are less likely to engage in certain high-risk activities.
"The reality is that traffic accidents go up when the economy improves and go down when it is bad," said Christopher Rhum, a health and labor at the University of Virginia Charlottesville. "People drive less, drink less and exercise more."
But Rhum acknowledged a link between the recession and elevated rates of depression and anxiety.
The CDC last month released a study that found suicides appeared to increase during the Great Recession, the Great Depression and other recessions in between. In 2009 suicide increased slightly but just enough to move self-inflicted harm into the top 10 causes of death.
Lacy feels certain that unemployment and searching for work made her health much worse.
About three weeks into her family's new living arrangement, lacy had a heart attack.
She was 43 years old and lying in the emergency room.
"I noticed that they seemed to be wheeling in more and more machines," said Lacy. "The doctor comes over to me and very gently, very kindly says, 'Ms. Lacy, I am sorry to tell you this but you are having a heart attack', " said Lacy. "I knew exactly how stressed out I was."
Since then, she has changed her diet and lost 15 pounds. She is eating more salad and preparing her meals at home. And she is eligible for Medicare because of her health.
She is still searching for full time work while working part-time in retail, the pursuit of an ample paycheck still gnawing at her peace of mind.

Support HuffPost
The Stakes Have Never Been Higher
Related
Popular in the Community