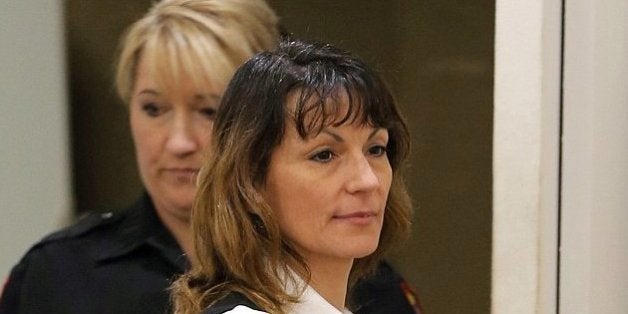 FORT WORTH, Texas, Sept 29 (Reuters) - A Texas jury in what has been dubbed a "black widow" trial convicted a 45-year-old mother of four of murder and evidence tampering on Monday for shooting to death her husband in a 2011 plot to collect insurance money, an official said.
Michele Williams was acquitted of a second count of tampering that related to her husband's corpse, Melody McDonald, a spokeswoman for the Tarrant County district attorney's office, said in an email.
Williams, who prosecutors say tried to frame someone else for the 2011 killing of her husband Greg Williams in their home in an exclusive neighborhood in the Fort Worth suburb of Keller, faces up to life in prison when she is sentenced in the penalty phase of the trial scheduled to begin on Tuesday.
The jury deliberated for about seven hours before returning its verdict finding Williams guilty of murder and tampering with evidence in the form of the firearm used in the killing.
Prosecutors have said Williams wiped down the gun.
Lawyers for Williams said in closing arguments there was no murder and Greg Williams committed suicide because he was depressed due to debt and the recent deaths of his best friend and grandmother.
Prosecutor Sheila Wynn called Michele Williams a habitual liar who continually changed her version of events.
"Who does this?" Wynn said in comments to the jury. "Someone who is trying to blame everyone else, someone who is trying to get away with murder."
Prosecutors said Williams was motivated by greed and stood to be the beneficiary of hundreds of thousands of dollars from insurance money.
Ahead of what the media dubbed a "black widow" trial, Williams had entered a guilty plea for a reduced charge of deadly conduct and tampering with evidence. Just before she was due to be sentenced to 18 years in prison, she withdrew her plea and told the judge she was innocent.
Her 26-year-old son, Andrew O'Brien, testified that she asked him to help her frame Greg Williams' ex-wife for the murder.
Defense attorney Clay Graham said Williams lied to police so their 4-year-old daughter would not think her father killed himself.
"She panicked trying to protect her baby girl," Graham told jurors.
Forensic evidence presented during the trial showed the gun was fired at least 6 inches from the victim's head. (Writing by Alex Dobuzinskis; Editing by Mohammad Zargham)
REAL LIFE. REAL NEWS. REAL VOICES.
Help us tell more of the stories that matter from voices that too often remain unheard.