The pop culture landscape is littered with lazy images of black women ― the nurturer, the hussy, the angry bitch. Hovering around the all-encompassing myth of the "strong black woman," those paper-thin characterizations fail to represent real women in all their complexity and vulnerability.
Despite the monolithic representations that appear so often in TV series, advertisements, films and the imaginations of those who digest them, artists have long worked to provide images that speak to the depth and sweet fallibility of all human beings ― black women included.
An exhibition at the Alexandria Museum of Art, titled "Beyond Mammy, Jezebel, & Sapphire: Reclaiming Images of Black Women," deconstructs the limiting categorizations mainstream culture allows black women. The artists on view reveal the shoddy nature of the stereotypes in favor of challenging, poetic and thorough visualizations of black culture ― the myth, the archetype, the self-portrait and beyond.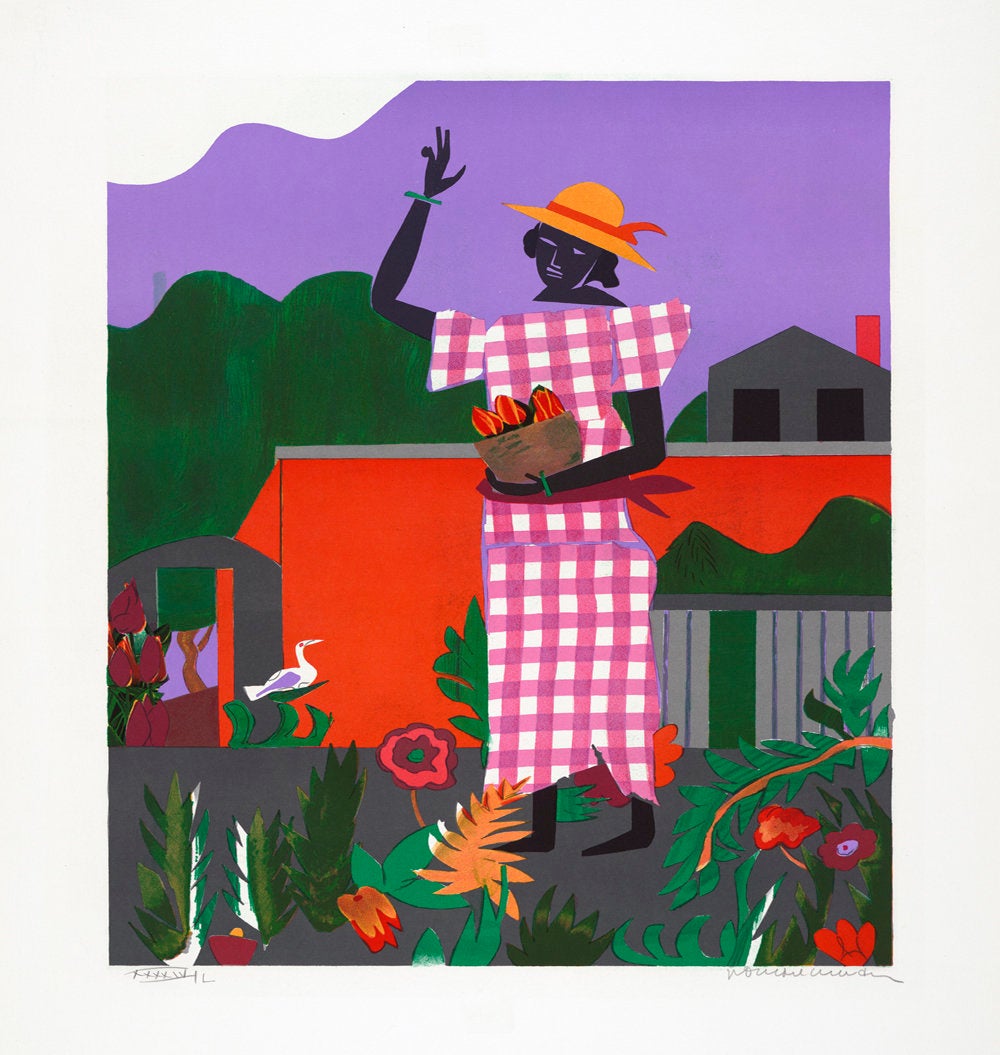 Characterizations commonly ascribed to black women in America are both historical and insidious. The Mammy ― a big-bosomed, jolly mother figure ― was written fictitiously into history to make slavery appear more humane. Her illusory existence suggested that there could, in fact, be such a thing as a happy slave. Today, the Mammy is often framed as a sexless, selfless nurturer.
Then there's the Jezebel ― an overly sexualized, promiscuous black woman ― with a similarly atrocious origin story: her image was used to justify the sexual violence systematically inflicted upon black women in the antebellum South. Its influence persists to this day, making it more difficult for rape allegations by black women to be taken seriously.
And finally, the show addresses the image of Sapphire, named for the one-dimensional character on the radio and TV show "Amos 'n' Andy" ― an angry black woman. This cultural generalization, too, is a corollary of slavery and oppression. It calls back to a time when history overlooked the atrocities committed against black families and suggests instead that black women are inherently hostile, a foil to the delicate femininity of white women.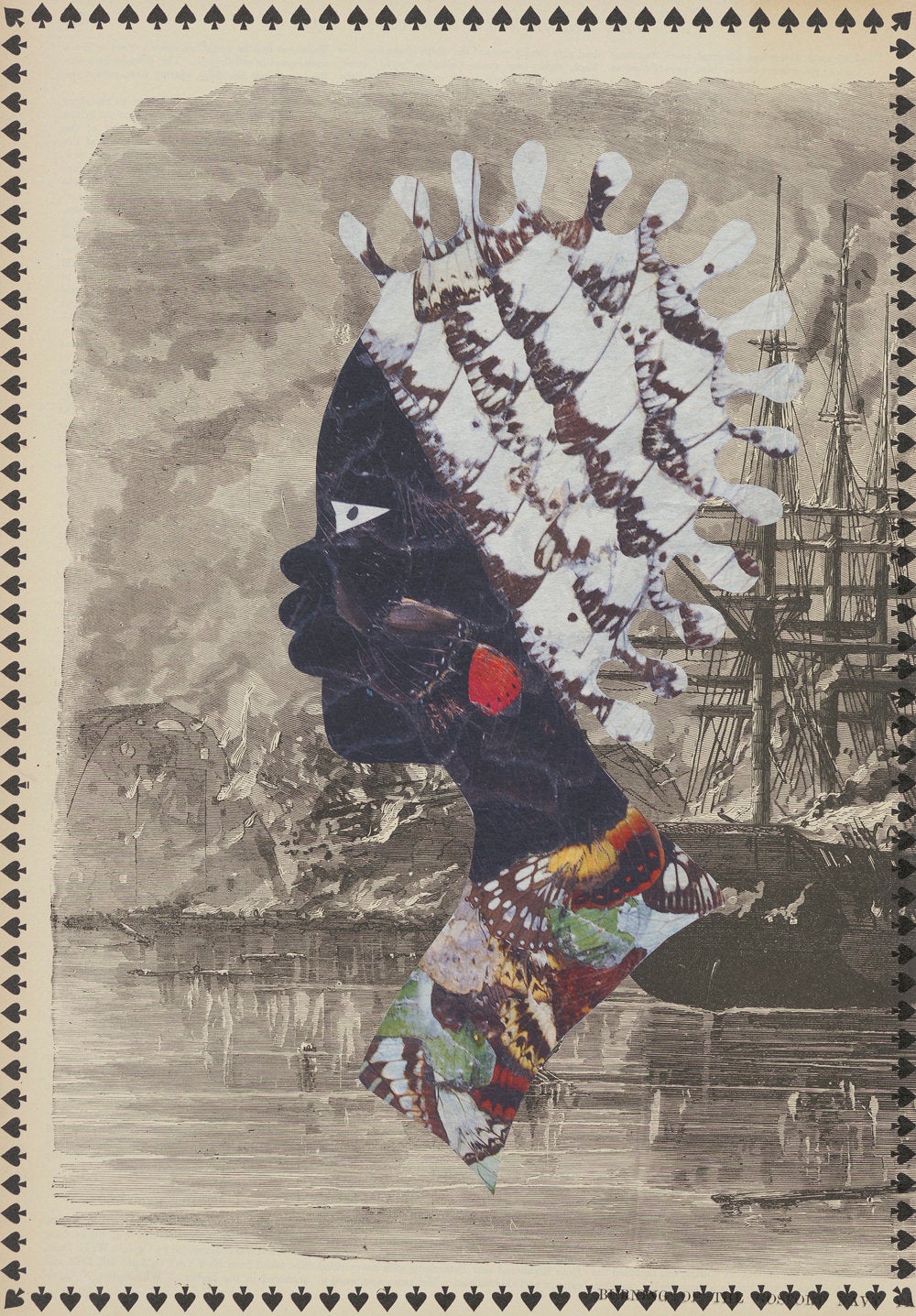 Though their roots trace back centuries, all of these generalizations still exist today ― from the image of Aunt Jemima on syrup bottles to the sexualized backup dancers in hip-hop videos. Such caricatured representations leave no space for complexity or deviation for black women and girls. And, being so often further simplified, lumped into images of the "strong black woman," they leave especially little room for weakness, vulnerability, and the most human of all experiences, failure.
The artists on view at the Alexandria Museum of Art depict black women in pen, paper and paint. Women who are soft and glamorous. Women who are shy, poised, silly, broken and struggling. Women flattened into sharp-edged shapes, collaged from butterfly wings, carved coarsely into a woodcut print, decked out in glitter. Women as warriors and ingenues and free spirits ― women who occupy multitudes, not single definitions.
One work on view is Lorna Simpson's 1991 "C-Rations," which combines text and black-and-white imagery to expose the gross prejudice dolled up in a visual language usually associated with elegance and luxury. On one side, a white plate floats against a black backdrop, the words "not good enough" filling up the empty space.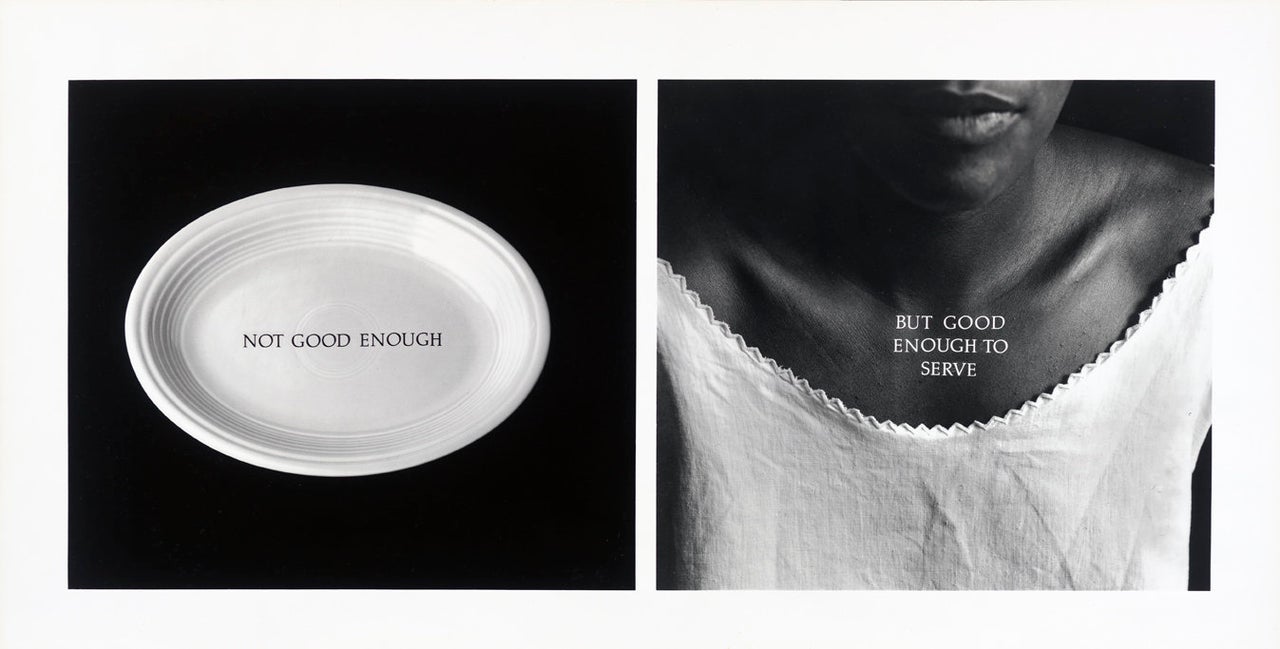 The surreal depiction of the domestic object hovers between an advertisement and a warning. On the right, the cropped image of a black woman's neck appears alongside the words "but good enough to serve." Simpson focuses on women's necks throughout her series "Necklines," body parts that immediately recall beauty and sensuality, yet echo a brutal history of racism and violence by stopping short of the face.
And then there's the work of Allison Saar ― daughter of iconic assemblage artist Betye Saar. Her blunt yet cryptic woodcuts blend the self-portrait and the mythical archetype. Sprinkling Afro-Caribbean and Christian symbols into minimalist carvings of black women in domestic spaces, Saar connects the personal and the universal, alluding to the cosmic potential embedded within the home and the woman.
In "Cotton Eater," a 2014 woodcut on a found sugar sack quilt, Saar renders a black woman in a cotton field, her nude figure barely concealed by her gauzy, sheer dress. The work hints at the lack of black female bodies represented in art history, offering a depiction that is at once strong and soft. Immersed in a dreamlike cotton field wrought with a painful history, the subject's eye sockets remain empty ― suggesting, perhaps, the objectification of women who are seen without seeing themselves. Or even evoking a greater understanding of seeing ― one that is clairvoyant, transcendent.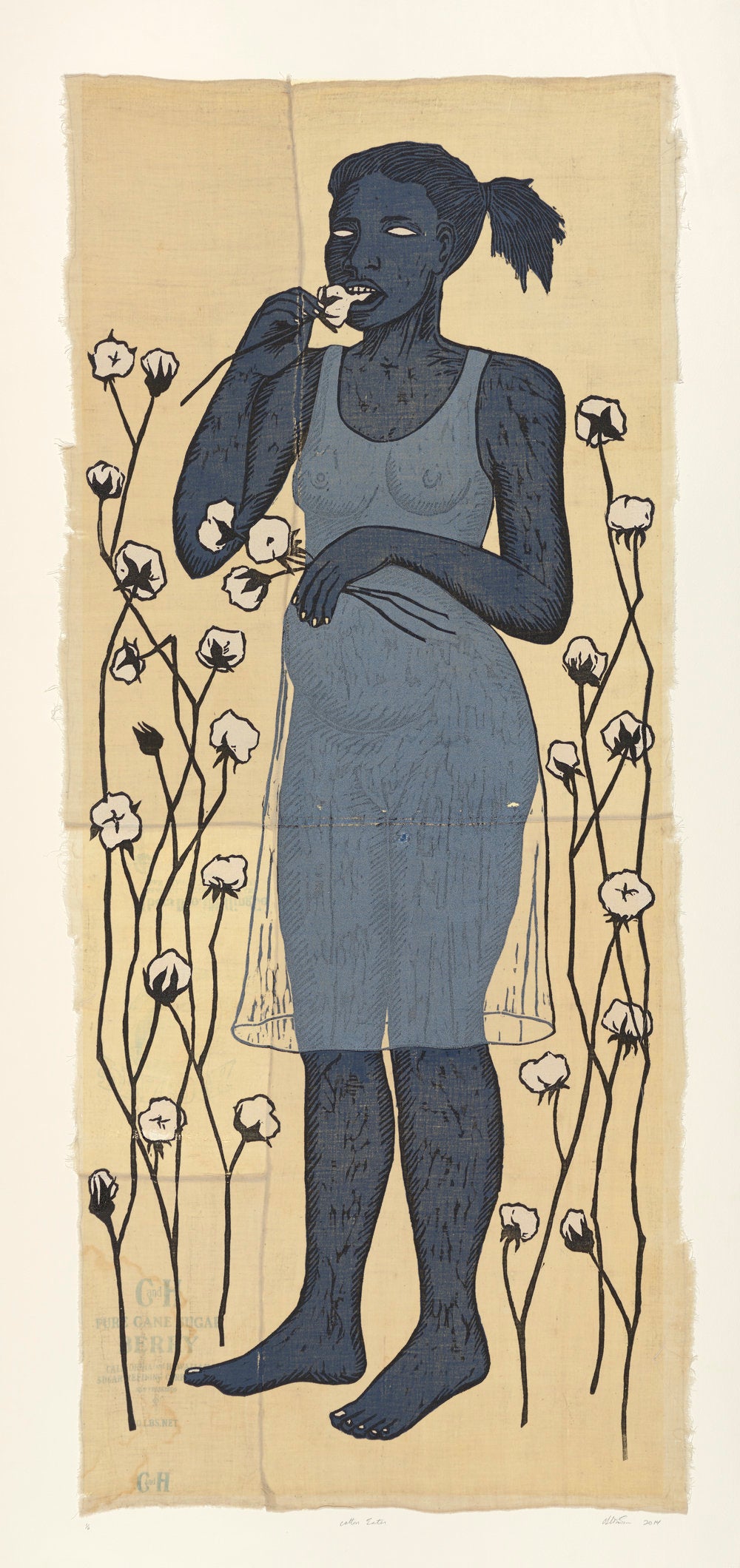 This necessary exhibition is one of many recent shows attempting to overwrite the stale stereotypes that restrict black women in media and culture. In the U.K., an exhibition called "Unmasked Women" investigated the relationship between black women and mental health, specifically how the hackneyed idea of the "strong black woman" prevents women from seeking help for physical and mental maladies.
One artist featured in the exhibition, Heather Agyepong, described her hope that art could help black women exist, lifted of stigmas and ignorant expectations. "We need to dig ourselves out of these boxes as black women," she told The Huffington Post earlier this year, "because, as someone who has come out from the other side of mental health issues, I feel that I owe it to them to speak up for the women who are still suffering in silence. I just want to leave the viewer empowered in whatever way I can; to feel release, ease, a sigh of relief."
Kerry James Marshall's stellar retrospective, now on view at The Met, also works to repair art history's longstanding racial bias, filling the storied museum's halls with depictions of black women ― naked, powerful and in love ― as well as black women artists.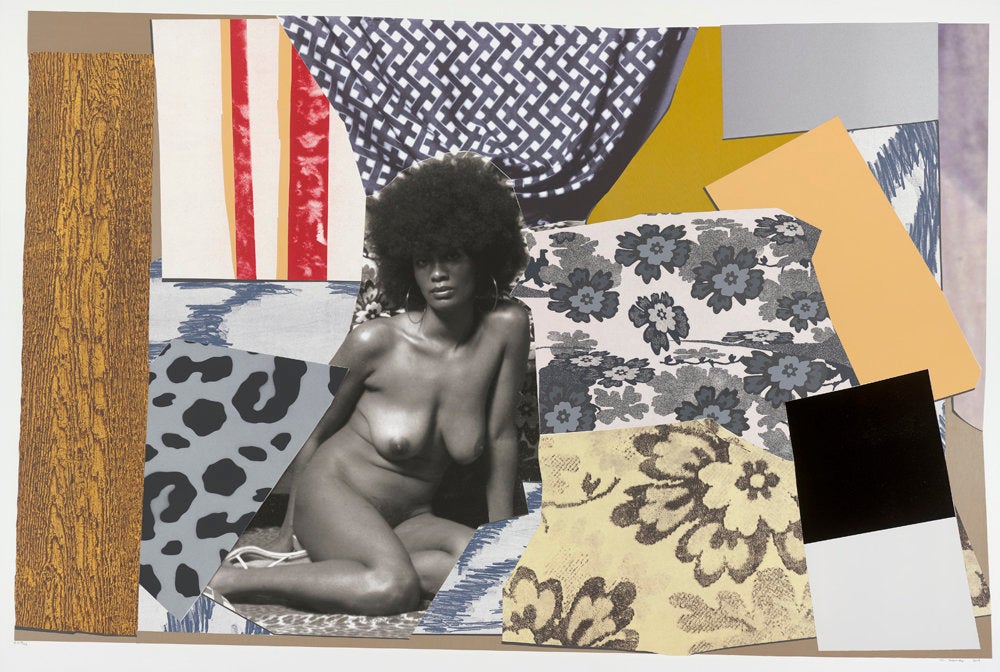 Artist Simone Leigh's "The Waiting Room," on view this summer at The New Museum, offered black women remedies for the oppression they are forced to endure on a daily basis, imagining a reworked healthcare system modeled off black women's historic means of survival.
These are just some of the recent museum shows working to undo years of discriminatory practices in the art world and far beyond, illuminating the pressing necessity of our culture to do better.
The Alexandria Museum of Art gathered the most gifted artists of our time to challenge and celebrate the image of the black woman. Its exhibition is comprised entirely of work from the Jordan Schnitzer Family Foundation ― including images by Kara Walker, Wangechi Mutu, Romare Bearden, Lorna Simpson, Alison Saar, Ellen Gallagher, Robert H. Colescott and Mickalene Thomas.
Ultimately, the show underscores the fallacious nature of stereotyped images ― and the thunderous power of myth, archetype, detail, metaphor, self-portrait, collage, and, most importantly, black women artists, to overcome them.
Curated jointly by the InterDisciplinary Experimental Arts Space at Colorado College and the Alexandria Museum of Art from the Jordan Schnitzer Family Foundation, "Beyond Mammy, Jezebel, & Sapphire: Reclaiming Images of Black Women" runs from Dec. 2 until Feb. 18 at the Alexandria Museum of Art. The exhibition will travel to the InterDisciplinary Experimental Arts Space at Colorado College in March 2017.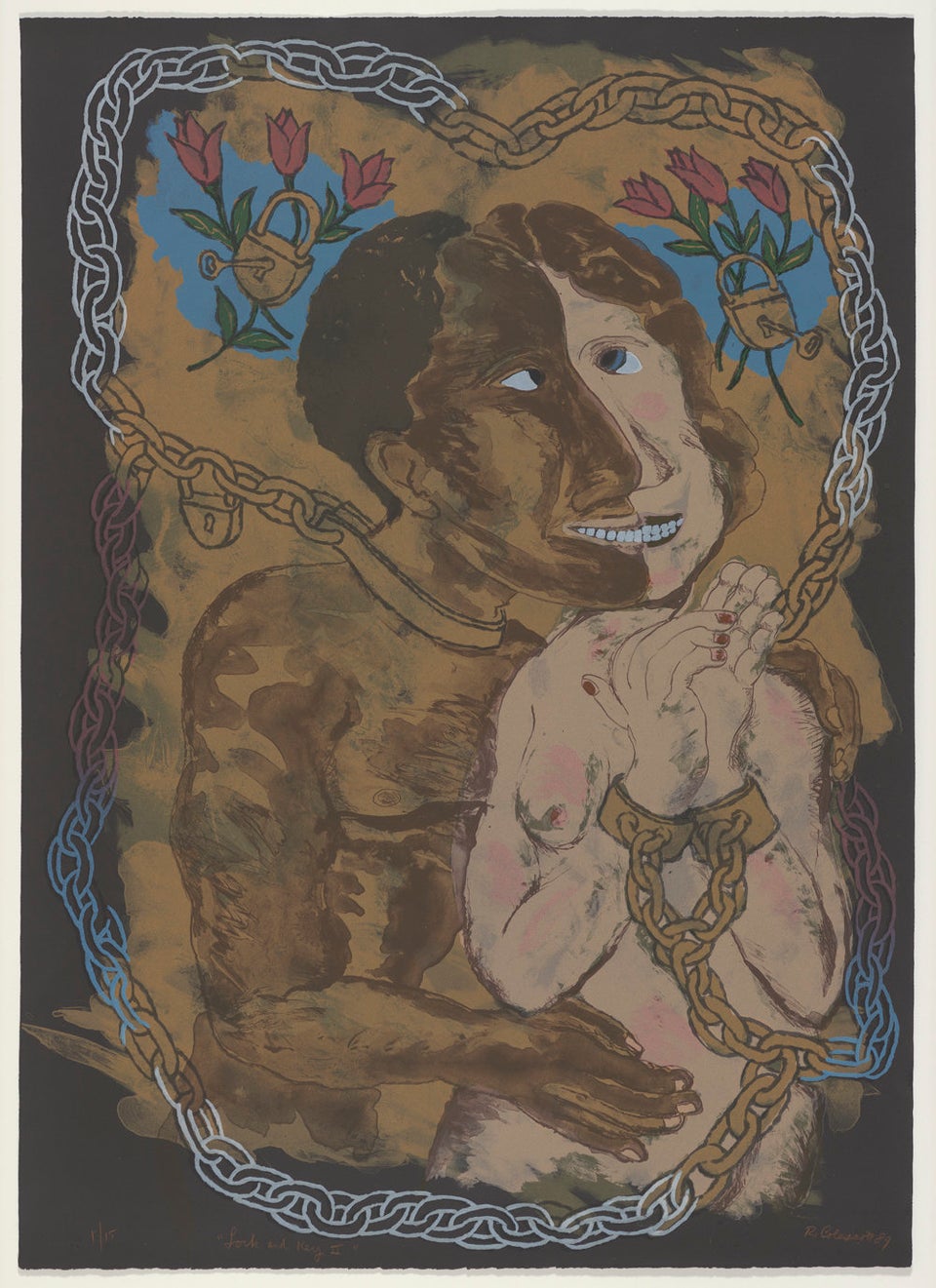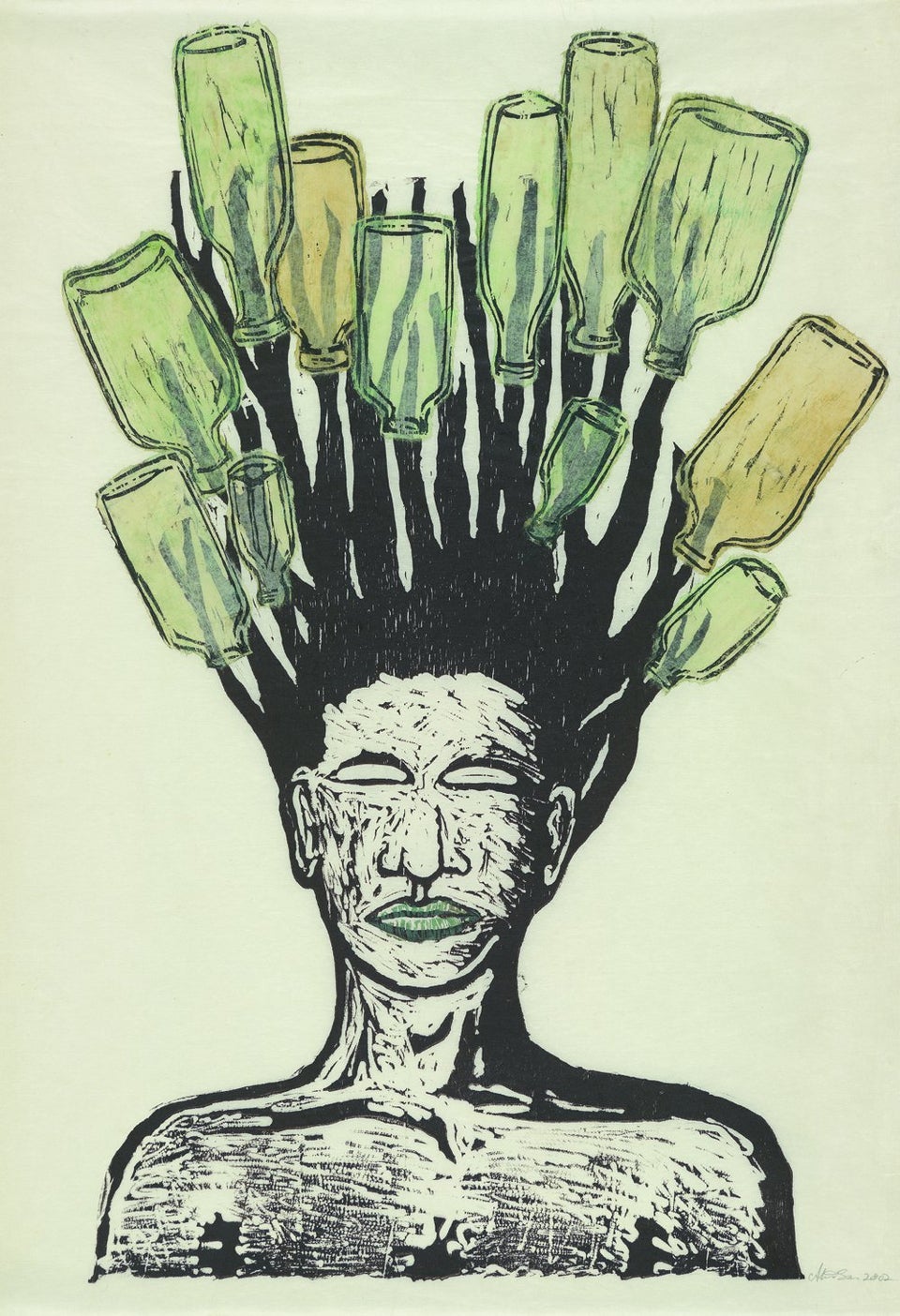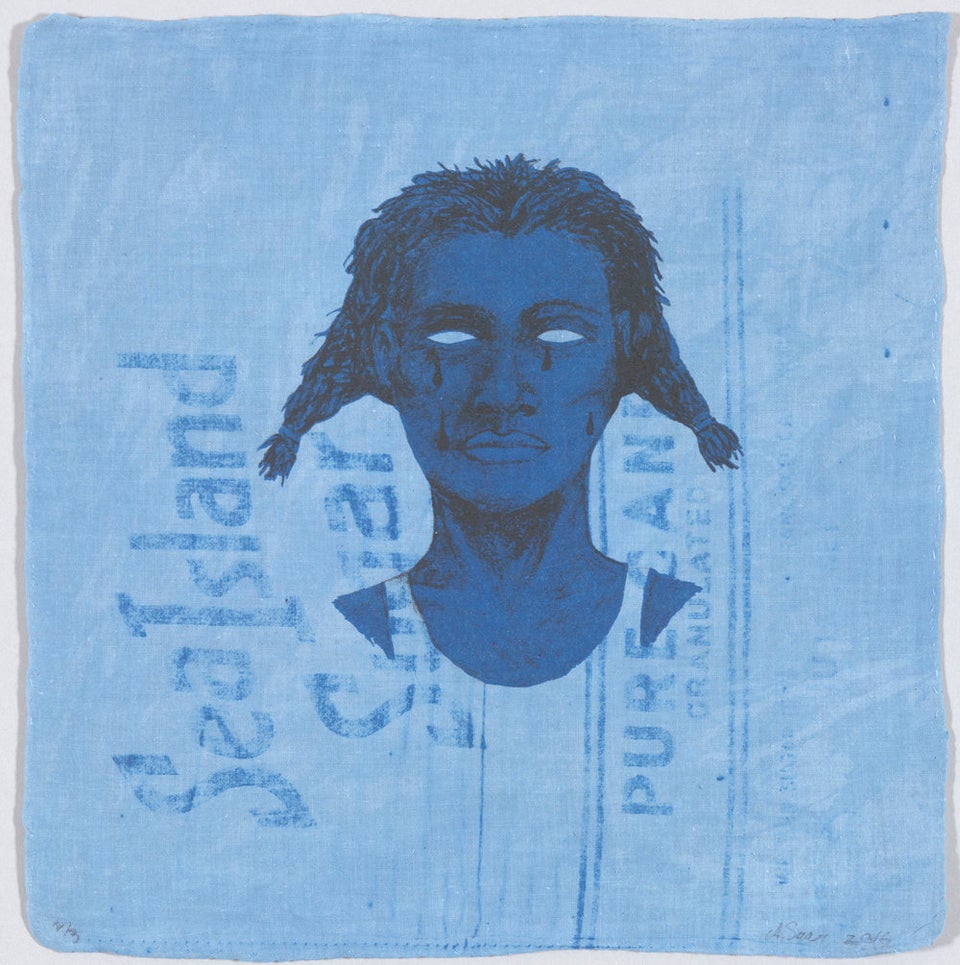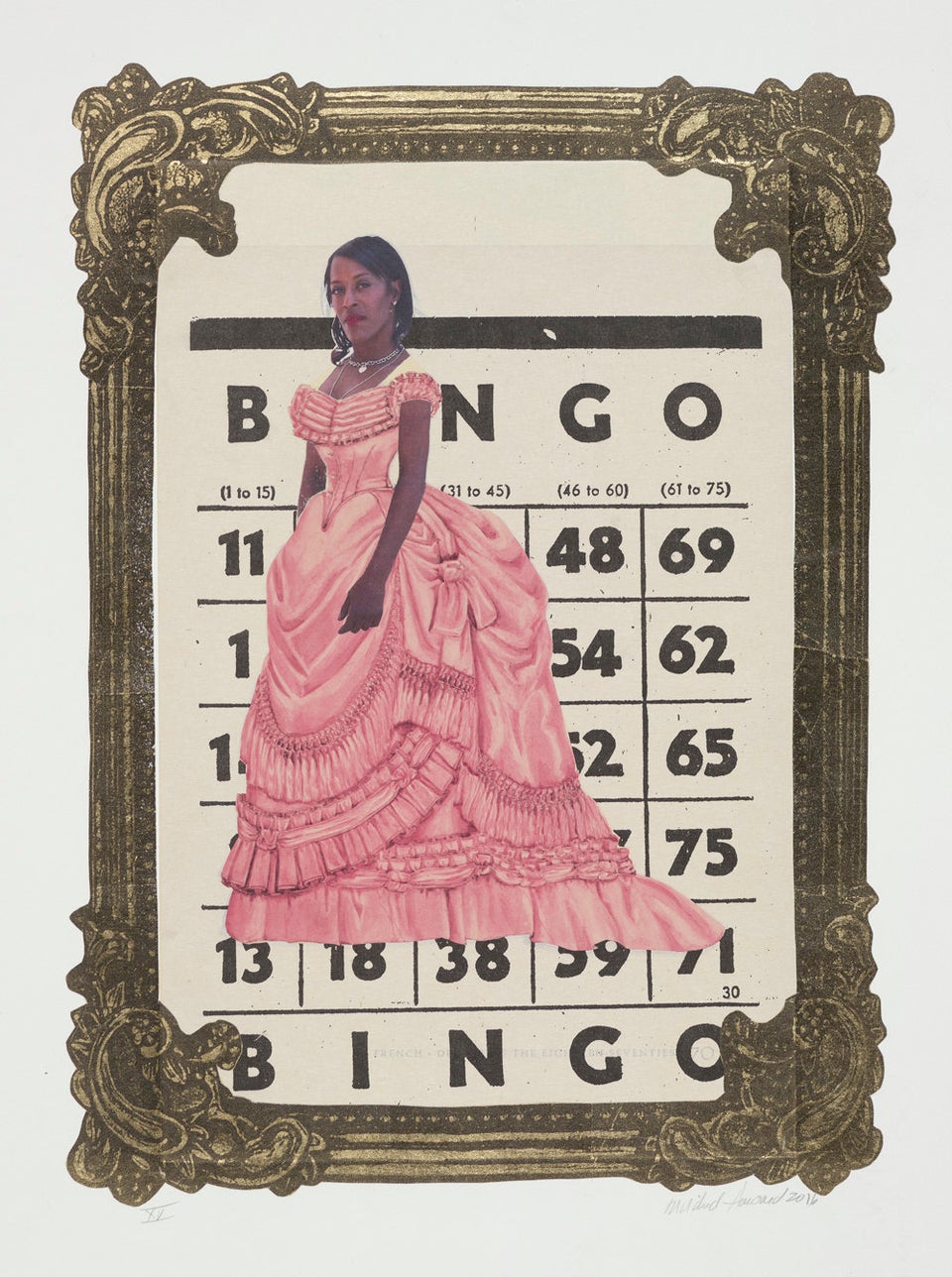 Support HuffPost
The Stakes Have Never Been Higher
Related
Before You Go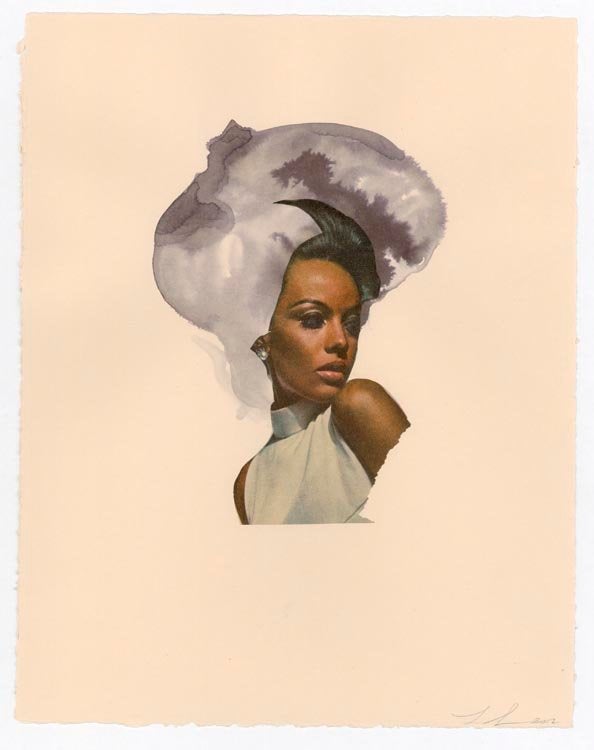 Lorna Simpson Collages: Unexpected Style Inspiration
Popular in the Community