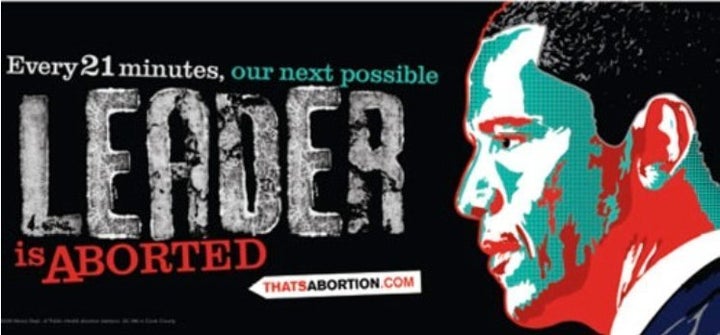 On March 29, Texas-based anti-abortion group Life Always launched a billboard campaign on the South Side of Chicago that features a picture of President Obama's face alongside the words, "Every 21 minutes, our next possible leader is aborted." Less than a week after the 30 billboards went up, community members covered most of them with fabric banners that featured angry messages written in red paint.
"There is no place for those billboards in the discourse," Hilary Shelton, director of the NAACP's Washington bureau, told HuffPost. "They were offensive because they focused on African American women and their wombs being somehow dangerous, and they raised major concerns in our community. The really underhanded attack on the president was also seen as being unfounded and unfair."
Rev. Derek McCoy, the public face of the Life Always billboard campaign, has not been deterred by the outcry. He said Life Always is planning on expanding its black-targeted anti-abortion campaign into new cities, including Atlanta, Los Angeles and Houston. He is confused by the African American community's outrage.
"I know I've punched my African American card, so to speak, so when folks tell me, 'Hey, this is a racist plot,' I think that's absolutely ludicrous," said McCoy, an outspoken Maryland pastor who sits on the board of directors at Life Always. "I'm not sold out to any particular party in terms of Democrat or Republican -- matter of fact, I'm Independent. But if I take a step back and look at this issue objectively and say, where are the majority of their abortion clinics? They're in urban and African American communities, hands down."
The "positive message" McCoy says he is trying send with the Obama billboard and others, including one in New York City featuring a picture of a young African American girl next to a pro-life message, is that the disproportionately high incidence of abortions among black women -- who currently account for 30 percent of all U.S. abortions but only about 12 percent of the population -- is decimating the black community and killing off potential black leaders.
But further examination reveals that economic circumstances account for the disparity much more than race does. According to the most recent census data, African Americans made up nearly a quarter of the population living below the poverty line in 2009, and 42 percent of women who seek abortions are poor. Moreover, poor women are more likely to have unintended pregnancies. The Guttmacher Institute estimates that among women below the poverty line, 62 percent of pregnancies are unintended. Sixty-nine percent of pregnancies among black women are unintended, compared with 40 percent of pregnancies among whites.
Despite these numbers, the pro-life movement has made a series of attempts over the past several months to tie race issues into the abortion debate, and the sentiment has seeped into legislation. Arizona recently passed -- and Kansas is currently considering -- a bill that outlaws abortions that women want performed on the basis of the race or gender of the fetus, although state lawmakers could not point to any evidence that such abortions are occurring in the U.S.
Rep. Steve Montenegro (R-Litchfield Park), the sponsor of the Arizona bill, pointed to a 2010 article in The Economist on "gendercide" as the source of his concern. "This is not hearsay," he said, "This is happening."
The Economist article on which Montenegro based his legislation discusses the problem of gender-motivated abortions in India and China, but mentions nothing about abortions performed on the basis of race -- or, for that matter, any kind of abortions performed in the United States.
"That's just not the reality in our country," said Dr. Willie J. Parker, the medical director of Planned Parenthood of Metropolitan Washington. Parker performs 10 to 15 abortions a day, two or three times a week at a Washington, D.C., clinic, and he said he has never encountered a patient with a racially-motivated agenda. "To have a law against something nobody's doing is part of a strategy, rather than addressing a real need," he said.
Republicans have long used social issues as a wedge to divide the black community, which has historically leaned conservative on some social issues, while identifying with Democrats on economic and civil rights concerns. While 96 percent of black voters supported Obama in the 2008 elections, the black community in California voted overwhelmingly with Republicans for the Proposition 8 ballot initiative to repeal a court ruling in favor of gay marriage. In 2010, conservatives received another boost from the black community in the vote against the Proposition 19 ballot initiative to legalize marijuana.
African Americans are slightly more divided on the issue of abortion rights, Shelton said. Considering their own history of oppression, they are very sensitive to individuals having the freedom and right to control their own bodies, but many are also morally opposed to abortion itself.
Into this ambivalence stepped Life Always, a subsidiary of controversial anti-abortion group Heroic Media, whose mission is to reduce the number of abortions by referring women to faith-based "crisis pregnancy resource centers." Heroic Media was founded by Brian Follett, a white, conservative business owner with close ties to Sarah Palin and Mike Huckabee who came under fire when he likened family planning to genocide in the December 2010 campaign, "Planned Parenthood Aborts African Americans."
While Derek McCoy and Stephen Broden, both black pastors, have stepped out as the face of Life Always and its billboard campaign, the organization is actually registered under Follett's name. Opponents of the billboard campaign find it problematic that a white Republican man is targeting black women in his campaign and purporting to care about the future of black leadership.
"He uses President Obama's face on his billboards, but he is holding fundraisers for Sarah Palin, so where are his real political sympathies?" said Loretta Ross, national coordinator of the Sister Song Women of Color Reproductive Justice Collective.
Rev. McCoy acknowledged that Life Always is trying to downplay Follett's role in the billboard campaign.
"[Life Always is] registered under his name, and we're straight about that," he told HuffPost. "It's not like we're just his pawns -- that is so far from the truth. We have our own voice and our own individuality. But we have not cast him too hard with, hey, you need to come out and speak out on these issues, because we understand, let's be honest, an ultra-conservative, white, right-wing guy can't speak to some of the issues in African American communities."
Despite the controversy over its leadership, Life Always is continuing to push Heroic Media's agenda with a new television ad campaign aimed at Planned Parenthood, which it believes is deliberately targeting blacks and minorities through the placement of its clinics.
"I wouldn't say a person that got hired last week [at Planned Parenthood] went with a predetermined motive to kill off the black race," McCoy said. "I do think, though, they are following a strategic plan which was put in place many years ago."
Anti-abortion activists have long tried to win over the black community by associating abortion with Planned Parenthood founder Margaret Sanger and the eugenics movement. In fact, less than one in ten abortion clinics, including Planned Parenthood clinics, are located in predominantly African American communities, according to a 2008 study by the Guttmacher Institute. And a Planned Parenthood spokesperson said the demographic breakdown of its patients speaks for itself.
"Thirteen percent of Planned Parenthood's clients are African American. The percentage is nearly identical to the percentage of African Americans in the U.S.," said Dr. Vanessa Cullins, vice president for medical affairs at Planned Parenthood Federation of America. "The cloaking of abortion issues in racism and civil rights is just a ruse, it's a harmful ruse deigned to trick African Americans and other minorities into believing that there is this grand conspiracy against us."
Yet despite the facts, some remain concerned that the pro-life movement's appropriation of civil rights issues is having an effect on the black community.
"The billboards are exacerbating sexist tensions in the black community, because a lot of black men are drinking the kool-aid, thinking that suddenly the black community is disappearing because of family planning," said Loretta Ross. "The logic of fighting oppression by oppressing ourselves -- well, I just don't get it."