There's a new website that's motivating black women to take ownership of their wellness, and it's sparking a movement. Noire Care, created by graphic designer and tech consultant Tina Shoulders, is a digital space where black women can cultivate the tools they need for practicing self care, the intentional act of maintaining your physical and emotional well-being. 
Shoulders says the idea for Noire Care was inspired by a hectic and taxing 2015, in which she took care of a sick parent, a toddler and a teen while also consulting for the Teen Health Center in Bronx, New York. On top of the daily stresses of life, Shoulders couldn't help but also be affected by the racial climate in the country. The deaths of countless black men and women at the hands of police made her fear for the life of her 17-year-old son, and she wanted to do something to fight back. 
"I was noticing how many of my friends were dealing with mental health issues," Shoulders told The Huffington Post.
"All of my close friends were struggling to find some 'me time' and, so, one day I did a survey and asked friends on Facebook and Twitter to tell me what they were doing for self care. The answers from the survey actually designed this platform." 
On the site, visitors can read or submit "Care Chronicles," stories from accomplished black women like Luvvie Ajayi who candidly share tips and tricks on self care amidst the everyday stresses of life as a black woman. Suggested acts of self care include yoga, painting, and fellowship and laughter with other black women.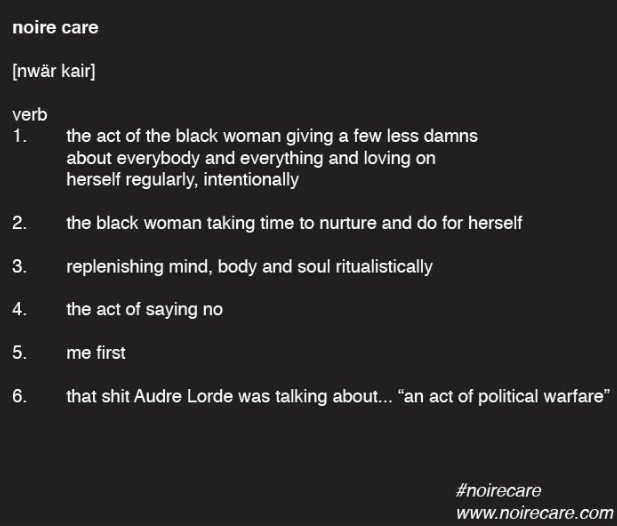 The Noire Care slogan is: "What have you done for you lately?" It's a question that gets to the heart of the burden of being a "strong" black woman, a trope which has been harmful to so many black women because they often take on the mantle of caretakers within their communities, in addition to other demanding roles in society. For Shoulders, the aim of Noire Care is to empower black women to break free from the expectation of strength, so that all kinds of black women can have access to the tools of self care.  
"When Audre Lord proclaimed self care as an act of political warfare, it helped me to focus on the fact that all black women need to practice a form of self care," Shoulders says.  
"That goes from the sis that works at the strip club, sis in the projects, mama with 'all the kids with different daddies,' to the teachers, lawyers, authors, CEOs and execs. We need to define self care as a community that leaves no woman behind regardless of economics or social norms. We need to share resources, affirmations, free yoga workshops, free apps, hair tips, books and conversation around giving ourselves permission to take time for ourselves."
The response to Noire Care has been overwhelmingly positive, according to Shoulders. As interest and engagement in the site grows online, Shoulders already has plans to expand the conversation offline. The future of Noire Care will include meetups, self care workshops and a Support Network where visitors can register and share resources and information with each other. Ultimately, Shoulders said she is hopeful that Noire Care is just the beginning of a global crusade for black women: 
"We are taking over the world running on fumes right now. Imagine how powerful and strong our community will be once everyone gets intentional about taking care of themselves." 
Calling all HuffPost superfans!
Sign up for membership to become a founding member and help shape HuffPost's next chapter
BEFORE YOU GO
PHOTO GALLERY
A Guide On Self Care