 While the contention over Olympian Gabby Douglas' updo has continued to simmer, another battle heated up on the topic of black women and their hair this weekend -- the annual "Hair Fitness" competition at the Bronner Brothers Mid-Summer 2012 International Hair Show.
In its third year, the competition is a collaboration between Bronner Bros. and UnitedHealthcare, aimed to quell the conflict between black women and their hair -- and to address the alarming rate of obesity that some say is rising as a result.
"When we started to really look deeply at the obesity statistics -- which are terrible for America -- they are particularly frightening for the African-American women," Dr. Reed Tuckson, former Public Health Commissioner for the District of Columbia and executive vice president and chief of medical affairs at UnitedHealth Group, told The Huffington Post.
Tuckson points to both mounting research and personal experience in an effort to understand the reasons for this phenomenon. "We're finding that there are a significant number of people who are more concerned with how they look than whether they are healthy ... That's got to be addressed," he said, explaining how the "Hair Fitness" competition came about.
Tuckson is quick to preface his position, however. "This is not a finger-pointing [effort] or a denigration of black women. It's a celebration and a love of black women that sort of says, 'Look, we've gotta help you overcome this challenge,'" he said.
To that end, he and a Bronner Bros. team, which included Dr. Benjamin, put beauticians to the test, challenging them to create attractive hairstyles that are conducive to exercise and don't pose a barrier to weight loss success, which may include time, cost and complexity.
The result, Tuckson says, isn't only aesthetic. "What happens is we're teaching the hairstylists about how to conduct exercise-friendly hairstyles, but also, what's really happening is, the hairstylists are being recruited as deputies into the fight for healthy African-American communities."
Benjamin, whose mother was a hairstylist, noted that enlisting the help of that professional community was a particularly successful strategy among blacks, citing studies that show black men and women are more likely to see a doctor and pay attention to their health when prodded by their barbers and hairdressers.
"When they have that customer in their chair, they build up a rapport with them, they build up a trust," Benjamin told The New York Times.
In Wisconsin, Tuckson and his colleagues have tested this approach through a program called "Styling Healthier Futures." The course, which is sponsored by UnitedHealthcare and featured at the Bronner Bros. convention this year, helps beauticians better understand some of the fundamental issues around health and well-being, along with the challenges faced by the African-American community. In addition, stylists are taught techniques for providing healthy hairstyles and certified as a "healthy hair salon," Tuckson said.
If the course proves successful, pilot programs are slated to roll out to other states to provide customers with discounted services at healthy hair certified salons, Tuckson said. "Once we've got that model down, then what we can do is connect that back to doctors ... and prove to [them] that this concept can be a reasonable adjunct to their clinical message," he explained, speaking to how to bridge the gap between the medical community and grassroots beauty salon initiatives like his.
Back at the Bronner Bros. show, celebrity hair stylist Elgin Charles, known as the "Emperor of Hair" and star of VH1's "Beverly Hills Fabulous," is helping to lead the charge.
Under Charles' direction, stylists in the Hair Fitness competition were judged on the technical execution of the styles, suitability and head contour, as well as originality. Contest categories included: low-impact workout, which involves little to no sweat and requires only one shampoo/condition per week; moderate-impact workout, which involves modest sweat and requires 1-2 shampoos and conditions per week; and high-impact, which involves profuse sweating and requires 2-3 shampoo/conditions per week.
Check out the winning style and other competitors below.
Before You Go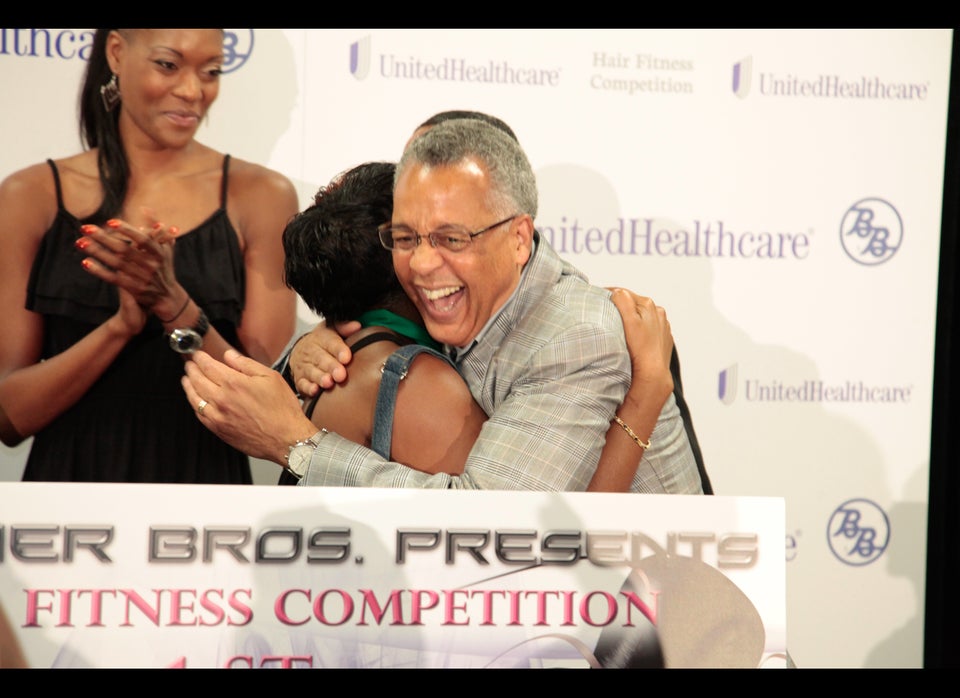 Bronner Bros. 2012 "Hair Fitness" Competition
Popular in the Community