A week without violence, seems far fetched
When the resources available have been thinly stretched
You couldn't even fathom what I have gone through
Because I have to be "strong", yet these emotions brew
You get to be the face of a "true" American and womanhood too
While I sit in the shadows and quietly stew
What you say is believed and taken as fact
While I have my femininity policed and behavior attacked
An issue that is very personal to me
Will remain covered up for no one to see
It is painfully obvious that research has forgotten about us
If not in America, then who can we trust?
When will my pleas be seen as a cry for help?
Why must I be forgotten and placed on a shelf?
I'm three times as likely to die by my abuser
But no one cares because I look like my accuser
Black, poor, and infinitely oppressed
When will the violence in my home be addressed?
I'm less likely to report the abuse I face
I don't want to seek help in an all white space
Our love for our men shouldn't be a flaw
Who would put a black man in the hands of the law?
That responsibility I cannot bear
But I can't seek help if the resources aren't there
I'm afraid there will never be help for me
Until you begin to look at my life, intersectionally
Remedies for my pain, will be just chatter
Until you wake up and see that BLACK WOMEN MATTER.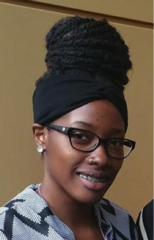 Raven Davidson is a Graduate student at Illinois State University in the School of Social Work and Women and Gender Studies. Raven currently interns at Stepping Stones and Labyrinth Outreach in Bloomington, Illinois. She is a proud Queer Woman of Color who believes that BLACK WOMEN MATTER.
YWCA's Week Without Violence is an annual campaign that takes place nationally and in communities across the country to end violence in all of its form, wherever it occurs. As the largest network of domestic service providers in the United States, YWCA is focusing our efforts on ending domestic violence - NOW. Everyday YWCA addresses the root causes and immediate needs associated with domestic violence. As we mark our 20th annual Week Without Violence, we invite you to join us. To learn more visit www.ywca.org/wwv and join the conversation with #endDVnow. Read more great Week Without Violence blogs!
Popular in the Community