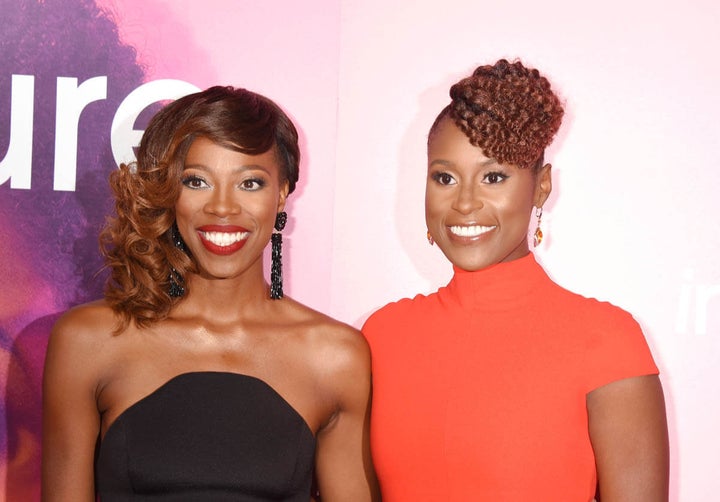 Up until several years ago, the daily rhythms and inner life of black women were rarely examined on television in the 21st Century. Thanks to the creative genius and tenacity of Oprah, Shonda Rhimes, Ava DuVernay, and now Issa Rae black women behind the scenes are sharing stories that finally do us justice. So after many years of one dimensional representation, we are living fully on the small screen again.
Like every 30-something black woman I know, I was watching HBO's Insecure Sunday night. I watch it so I can see myself living. How simple is that. White women never have to think: "Where can I see myself living?" For us, softer though still challenging subjects of friendship, companionship, therapy, office dynamics, or simply hanging out at a bar are rarely depicted. We're often fighting, struggling, enduring, or transcending. To be fair some really good black television is shaped by the adversity of their principal characters like HBO's The Immortal Life of Henrietta Lacks or ABC's Scandal. And like the Henrietta Lacks story, which is true and very upsetting, there was and is real strife in being a black woman. Yet, there is something surprisingly radical in showing black women smiling freely or laughing at a joke or just hanging with her girls amidst life's ups and downs.
Growing up in the 1990s I used to see myself on screen more often thanks to Queen Latifah and Living Single (woot, woot!) or A Different World or even Sister Sister and Brandy's Moesha. These shows were traditional television sitcoms, but they had some depth, plus a sense of responsibility in representing black women and girls. After the 1990s I rarely saw black girls or women reflected substantively, until recently. In the diversity desert of the early 2000s, shows like That's So Raven are what passed for representation. A show helmed by a black woman, Raven Symone, who doesn't even identify as black and says she wouldn't hire anyone with a "black" sounding name. Please.
As hip-hop became as mainstream as rock and roll, black men though not ubiquitous throughout the arts, were seen, their words were heard. But for us, like Lauryn Hill or the entire R&B industry, we were MIA for a cool minute. Well, there was Girlfriends, which was fun, but never really hit me in the gut perhaps because it was black womanhood in a very white Los Angeles. Kelsey Grammer executive produced the hit show starring the wonderful Tracee Ellis-Ross, but like many things black back then, there was always a feeling that blackness had to first, be accessible to whites and for us second. Only loose curls, brunch anecdotes and stilettos allowed.
There's something about black women living that irritates people and I'm not here for it because my joy is not yours to sanctify. I remember reading about a now viral saga involving ten black women in the same book club, taking a scenic trip on the Napa Valley Wine Train. The entire book club, 11 people total, were kicked off the three hour trip after two hours for laughing too loudly. They were paraded through 6 cars, left at the next train station and police were called. Less than a year later those sisters were laughing all the way to the bank reaching an $11 million dollar settlement. I mention this because these women, all professionals and poised, were literally criminalized for laughing. Just as I know white women feel no need to query about 'living' on screen, they would never imagine being criminalized for laughing.
Consider that during the entire eight years of the Obama presidency through to today there is a concerted effort to demonize his daughters as "wild" and "out of control", like many tried to paint Michelle Obama as "the angry black woman." It's seeing them live through stories and pictures of travel, college visits, work or formal events year after year that drives their detractors crazy. The former First Lady, recently expressed the hurt of racism and sexism she endured during her tenure, saying, "Women, we endure those cuts in so many ways that we don't even notice we're cut. We are living with small tiny cuts, and we are bleeding every single day. And we're still getting up." That's what living as a black woman is like: you're living your life, striving for your best self despite the haters, despite the sexism, despite the racism and so on; because for us these are constant obstructions that must be acknowledged, yet moved aside. When we think about Michelle Obama now, most people don't think "angry black woman" because she kept living and laughing despite it all so what remains is the impression of an elegant woman who never minces words, but one that lives honestly and courageously.
This is why black girls and women being seen as living and laughing is so important. This is why I produce comedy that centers black women's stories through my ongoing stand up showcase Sisters of Comedy. Black women living trumps white supremacy one giggle at a time. Tonight there was a scene in Insecure with Issa (Issa Rae) and her best friend Molly (Yvonne Orji) out at a bar or lounge filled with black men and women of all types just hanging out. Issa is on the rebound and looking to hook up, very unsuccessfully because she has zero game and Molly is trying to help her. At one point they see two guys across the room and Molly suggests they approach. Issa is doing the absolute most (ehem, ZERO game) so walks in slow motion as if in a Michael Bay movie cooly escaping an explosion with plumes of smoke wafting in the background. They lose their prey to two women who walk normally. The scene is hilarious because it's simple and it's life.
Like a MJ comeback in the 4th quarter (I'm shaped by the '90s so back off) television is the the middle of a creative renaissance. Shows centering black women are artfully growing in number and no longer pandering to white America but embracing images black women make for each other, that most folks can relate to because, duh, we're people too.
Agunda Okeyo is a writer, producer and activist. She produces the ongoing showcase "Sisters of Comedy" housed at Carolines on Broadway that features a who's who of black women comedy. The next showcase is Wednesday August 9th at 7:30pm with an all-star lineup of talent including HBO's Insecure comedian and actress Yvonne Orji. This showcase Is co-sponsored by Black Lives Matter NYC (BLM NYC). Partial proceeds to the #BlackLivesMatter local chapter.
REAL LIFE. REAL NEWS. REAL VOICES.
Help us tell more of the stories that matter from voices that too often remain unheard.