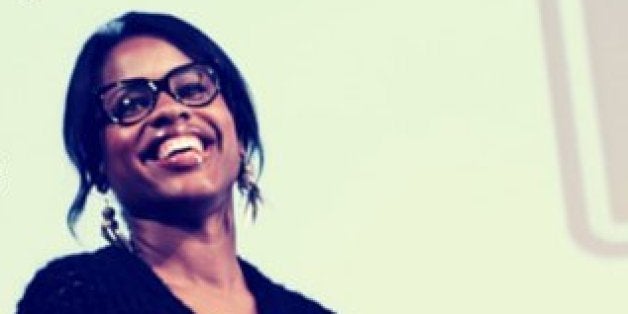 Now, some activists are trying to bring more minorities into the industry by telling stories about minority entrepreneurs' success -- and failure -- so that more minority role models are elevated in the tech industry and the media. That's the big idea behind Project Diane, a storytelling undertaking that blogger Kathryn Finney launched in February 2015.
Finney, who's also a social entrepreneur and trained epidemiologist, expanded on the project this month by co-creating a Kickstarter campaign to crowdfund a documentary about the "intersection of race and gender in tech," specifically on the experiences of black women.
Dubbed #RewriteTheCode, the campaign hit its goal of $25,000 in less than two days, receiving support from 216 backers with no media coverage.
"When we initially started, we didn't know the strength of the network," Finney told The Huffington Post. "We underestimated its power. People do care. People do want to hear our story. It's given people something to believe, particularly women of color, who were starting to feel almost abused by the tech world. They were really feeling like there was no hope, and nothing we could do."
She says that 95 percent of those first donors were from outside of Silicon Valley.
On Thursday, day 11, the campaign passed the $40,000 mark, with 370 backers and climbing.
Prior to Project Diane, Finney founded Digitalundivided, an incubator for tech startups, in 2012 to train more diverse founders and integrate the tech industry. She's part of a movement to disrupt tech's diversity problem, and the effort is getting more traction in the context of broader societal discussions about race and inequality.
Finney hopes to get to 500 Kickstarter backers by the end of June. "We don't care about the size of the donation," she said. "We want to put an exclamation on what we're doing. The issue for Silicon Valley is that it's such an insular community. They're not seeing how their customers want to interact with technology. For us, having 500 people would show how many people want to do this and want something to change."
I asked her what kind of long-term change she'd like to see in the industry, as a result of her project. How would the world change if the people in the documentary inspire others to code, create apps, build businesses, ship products and become entrepreneurs?
"I want more opportunities," said Finney. "I just want to see outside groups be treated normally. I don't want extra help. I want to be judged by my ideas, rather than on some crazy social, racial or gender issue. I think we're getting there."
As my colleague Emily Peck wrote this week, technology companies are doing more to encourage diversity in the industry. Complex problems require complex solutions. Finney's documentary could be one more piece of the puzzle.