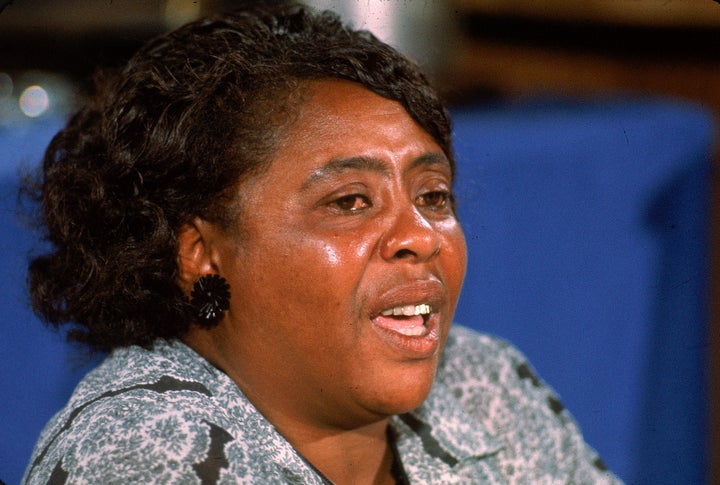 Friday marks the 100th birthday of late civil rights activist Fannie Lou Hamer. 
To celebrate Hamer's life and honor her contributions, nonprofit GirlTrek has organized a series of walks across the country. More than 300 black women, aptly dubbed #FanniesArmy, will lead 100 marches in various U.S. cities at sunset on Friday.
Hamer, who died at age 59 in 1977, was a pivotal figure in the fight for black rights. She co-founded the Mississippi Freedom Democratic Party and tirelessly worked to encourage black people to register to vote at a time when voter suppression was overt. She was a fierce, outspoken force who dedicated her life to fighting for her people. 
"In the iconic words of Fannie Lou Hamer, we're 'sick and tired of being sick and tired,'" co-founder T. Morgan Dixon said in a press release. "She died too soon putting her body on the line for our freedom and we want to celebrate her life in a big way. In her honor, we are going to raise an army of sisters, #FanniesArmy, who will lead 100 walks across America at sunset on October 6th."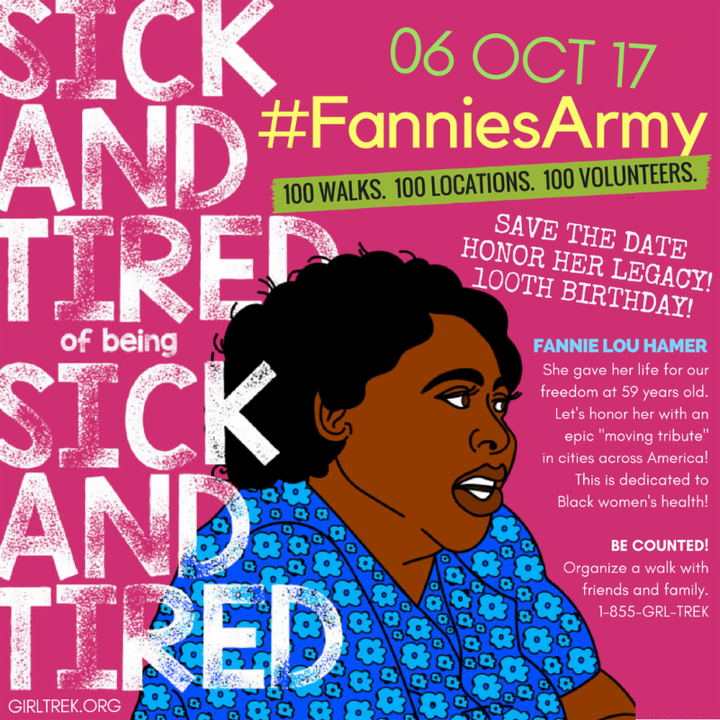 Dixon and Vanessa Garrison, who founded GirlTrek as a national health movement for black women, will travel to Hamer's hometown of Ruleville, Mississippi, on her birthday to walk with the community to the civil right icon's memorial and hold a ceremony.
"While the country reels from conflict in Charlottesville, this is an opportunity to herald the legacy of an American hero who brought us together," Dixon said. "Fannie Lou Hamer died too early at 59, her body riddled with heart disease and cancer. I'm reminded of the words of R. Boylorn, [Hamer] 'never saw death coming because she was too busy taking care of others.' She worked tirelessly in field offices and late hours registering people to vote. When pain rendered her homebound, she taught Freedom Riders the ways of resistance in her night gown from her front porch."
Jewel Bush, GirlTrek's national director of communications, told HuffPost that they're anticipating thousands of participants in cities including New York, Atlanta, New Orleans and Columbus, Ohio.
"One of the things that's important to GirlTrek is acknowledging and uplifting our ancestors, our black women ancestors," Bush said. "From Harriet Tubman, from Ella Baker, from Rosa Parks, Septima Clark and to Fannie Lou Hamer, we want people to know that women were at the forefront and continue to be at the forefront for creating change. And we always say when black women walk, things change."
Friday's walks begin roughly at 5:15 p.m. local time. Learn more over at GirlTrek. 
Calling all HuffPost superfans!
Sign up for membership to become a founding member and help shape HuffPost's next chapter
BEFORE YOU GO
PHOTO GALLERY
35 Queens Of Black History Who Deserve Much More Glory