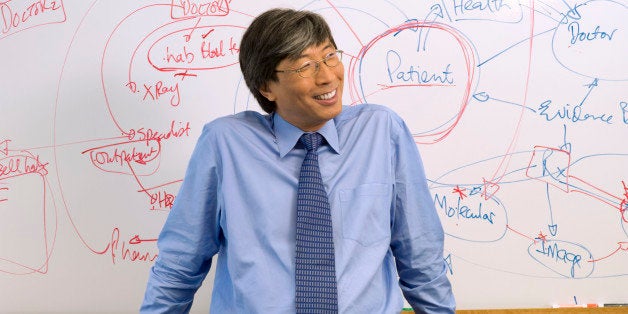 Soon-Shiong and BlackBerry's plans are ambitious, to say the least. By the end of the year, they hope to deliver a new BlackBerry smartphone with two features largely unknown to the general public: NantHealth's Clinical Operating System (cOS), which aims to improve doctor and patient access to patient health data, and NantMobile's iD Browser, a system for scanning and searching the "real world" via smartphone camera.
The Clinical Operating System was built to slurp up most types of medical data. Currently cOS can grab info directly from 1600 types of medical device, including ventilators, glucose monitors and IV drips. It can also mine and integrate most forms of electronic medical records, meaning that, for example, a physician will be able to see a patient's clinical history, their co-pay data and notes from previous visits, all in one place.
Right now, Soon-Shiong told The Huffington Post, the healthcare industry keeps a lot of important information divided up in ways that don't always make sense. Real-time data, month-old data and "data from five years ago," he said, are more often than not stored in "separate warehouses that don't talk to each other."
For physicians, being able to quickly access and parse large amounts of patient data will almost certainly allow for more tailored, less erroneous treatment. Laypeople with access to cOS will be able to monitor their health in real time, engaging in checkups more rigorous and informative than anything provided by a "quantified self" app. Soon-Shiong believes that cOS access will help patients talk more knowledgeably with their doctors, instead of treating the physician's art -- and their own health -- as something inscrutable and arcane.
If NantHealth's cOS is meant to take the mystery out of medical science, NantMobile's iD Browser aims to take the mystery out of everything else. An iD Browser works with a smartphone's camera. Point a phone equipped with iD at a movie poster, and the phone displays movie trailers, reviews and the option to buy tickets. Similar things happen with sports logos and popular retail products.
The combination of the iD Browser and the cOS in a smartphone will certainly make for a device unlike any other. The lingering question, of course, is why Soon-Shiong chose to partner with BlackBerry over more prominent smartphone makers like Apple or Samsung.
The answer, says Soon-Shiong, is that BlackBerry excels at security. Even in these iOS- and Android-heavy days, BlackBerry is still the smartphone of choice for the U.S. Defense Department for that reason. For health care workers, never mind patients who want to look at their own information, complying with medical privacy laws would be far easier on a BlackBerry device than any other smartphone.
A BlackBerry press release regarding the company's collaboration with Soon-Shiong doesn't mention plans to build a new smartphone. However, the release emphasizes BlackBerry's focus on reliability and security, with CEO John Chen noting, "Healthcare is one of the key industries in which we have unique advantages and this investment reflects our commitment to maximize our opportunities there."

Related
Popular in the Community