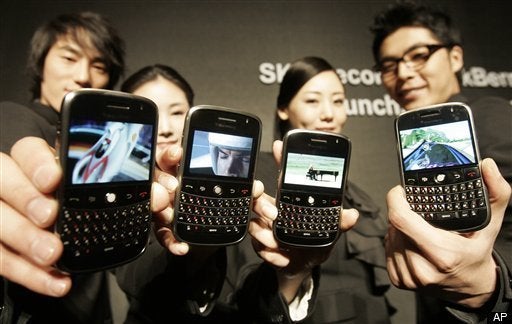 UPDATE 12/23/09: Blackberry users reported a second Blackberry outage December 22, 2009. For details on this event, which also involved delayed email delivery, see the Huffington Post's coverage of the December 22 Blackberry outage.

* * * *
UPDATE 2:41PM ET:Research In Motion has issued a statement confirming the email outage, although without an explanation of why email service had been interrupted.
Technicians are working on the outage, the Waterloo, Ontario-based company said in an e-mailed statement today. Phone service and Web browsing aren't affected, RIM said.
Many users are still reporting troubles with their email, and it appears the outage has not been completely resolved.
UPDATE 12:39PM ET: The Blackberry outage seems to have been resolved, with users reporting that email function and capabilities have returned.
Follow the Twitter feed below for real-time updates on the network's status.
Blackberry users on several networks are reporting a possible Blackberry outage, noting that they have had problems sending and receiving emails.

After the Sprint Error 2112 which cause a SMS outage among the carrier's subscribers, now we have a BlackBerry outage across America. Lots of users reports issues with their BlackBerry Internet Service and RIM officially acknowledged the problem saying that this is their fault not the carriers' fault. BIS users from all over North and South America are now experiencing problems in receiving emails on their handsets, however, phone, data and other services work fine.

Twitter users have reported that Blackberry users on Verizon and AT&T networks have been affected.
Let us know if you have any information on the Blackberry email problems by commenting below!
Follow the live Twitter feed below for real-time updates on the status of the Blackberry outage.
Calling all HuffPost superfans!
Sign up for membership to become a founding member and help shape HuffPost's next chapter