If you're tired of rectangular smartphones for some reason, you're in luck: on Wednesday, BlackBerry released the 4.5-inch, very square BlackBerry Passport to the public.
The new device, which has a physical keyboard that overlays a touchscreen, is currently available through ShopBlackberry.com and Amazon for $599 as unlocked phones that must then be taken to wireless carriers. So far, only AT&T has signed on as an official carrier, though BlackBerry anticipates others will follow suit by the end of the year. AT&T has yet to reveal when it will start offering the phone or at what price, but BlackBerry expects carriers to sell the Passport for about $249 with a new contract.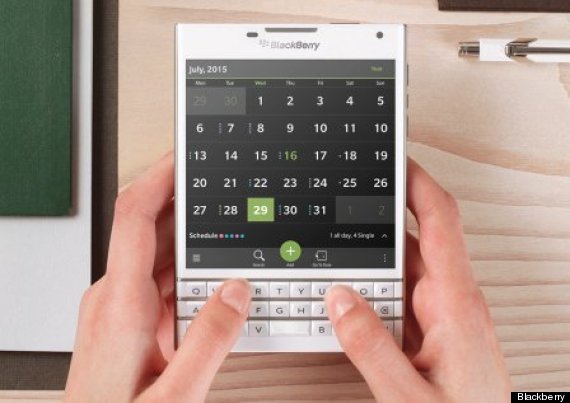 The BlackBerry Passport will come in white and black.
The phone's square shape might be hard to get used to at first, but it's pretty similar in size to other "phablets" on the market. In fact, it's actually more compact than the 5.5-inch iPhone 6 Plus. The Passport also boasts a 30-hour battery life (the iPhone lasts about 10 hours) and a screen that fits 60 characters per line (the iPhone fits 40 characters).
BlackBerry chief executive John Chen took a shot at the new iPhones Apple released last week, noting at a media event on Wednesday that the Passport doesn't bend. iPhone users have complained that their glitzy new devices were permanently damaged by bending in their pockets. On Tuesday, a gadget reviewer uploaded a video to YouTube that showed him bending an iPhone 6 Plus with his bare hands.
"I challenge you to bend the Passport," said Chen.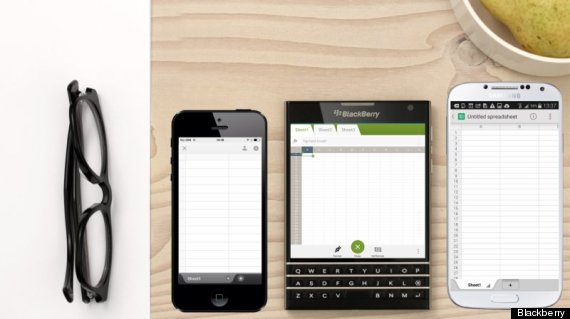 From left to right: A 4-inch iPhone 4S, 4.5-inch BlackBerry Passport and 5-inch Samsung Galaxy.
The square style was inspired by actual passports, a designer said. According to BlackBerry's official blog, the new phone is meant for "the working professional," and mentions uses for architects, mortgage brokers, doctors, investment bankers and writers. In BlackBerry's view, a square model makes sense for those who spend their days typing emails and viewing spreadsheets.
"The BlackBerry Passport will take you to new places on the best business trip you've ever had," the company proclaimed in the blog post.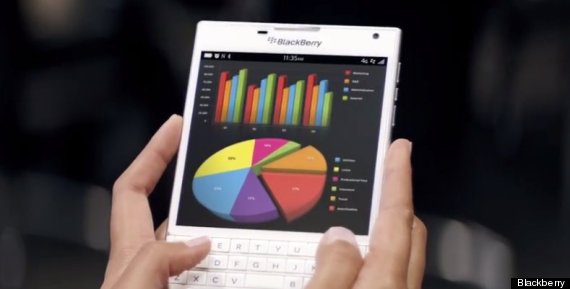 BlackBerry says the square screen is perfect for the business community.
At the event, BlackBerry said users type four times more accurately with the Passport than users with Blackberry 10 devices that had touchscreen keyboards. The Passport's keyboard is wider and has enlarged keys compared to previous models.
"We designed it for somebody who's looking for a durable product, a reliable product, and a beautiful product,"Alison Phillips, managing director of industrial design at BlackBerry, said in a video about the design.

The keyboard has physically raised keys that are also touch-sensitive.
CORRECTION: This post initially misstated the name of the iPhone 6, and has been updated to reflect that Blackberry 10 is an operating system, not a device.
Popular in the Community