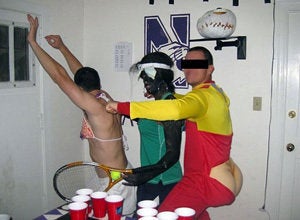 Two white Northwestern University students are in hot water after photos of them wearing blackface for Halloween surfaced this week on Facebook and sparked campus-wide outrage.
Student leaders at the Evanston school are holding a forum Thursday night to discuss issues of racism on a campus of overwhelmingly white students that two years ago had a similar incident involving two PhD students wearing blackface. (Scroll down for updates on the forum)
"While I fully support the principles of free expression, at the same time I am deeply disappointed to see any example of insensitivity that demeans a segment of our community," new Northwestern President Morton O. Schapiro wrote in an campus-wide e-mail. "It is my hope that we can use this incident as a catalyst to reflect upon the values of inclusiveness and respect for others that are central to Northwestern's mission."
One of the students covered himself in blackface and wore a T-shirt with the word "Jamaica" on it. The other dressed as a female tennis player in blackface, a stuffed bra and toting a tennis racket.
Both students are reportedly varsity athletes, according to the Daily Northwestern. Photos of the students were first spotted on Facebook Sunday morning, but have since been removed.
"We as a community must take the responsibility to defy the oppressive nature of our past if we are ever to move past notions of race," sophomore Kellyn Lewis wrote in a letter to the Daily Northwestern. "This act was not merely an act of discrimination or even racism; it highlights the severe need of a society to face demons of its past AND present to make a new journey."
"Truthfully, when I saw photos of the blackface kid, I laughed myself out of my chair," junior Carlton Barzon wrote in the student paper. "I could only think, "Wow. How can someone intelligent enough to be admitted to Northwestern University, 'Harvard of the Midwest,' lack the tact to recognize such a racially inflammatory costume choice?"
UPDATE: An estimated 600 students and faculty packed Thursday night's forum on race relations at Northwestern. Below are video reports from The Daily Northwestern and WGN.
Related
Popular in the Community