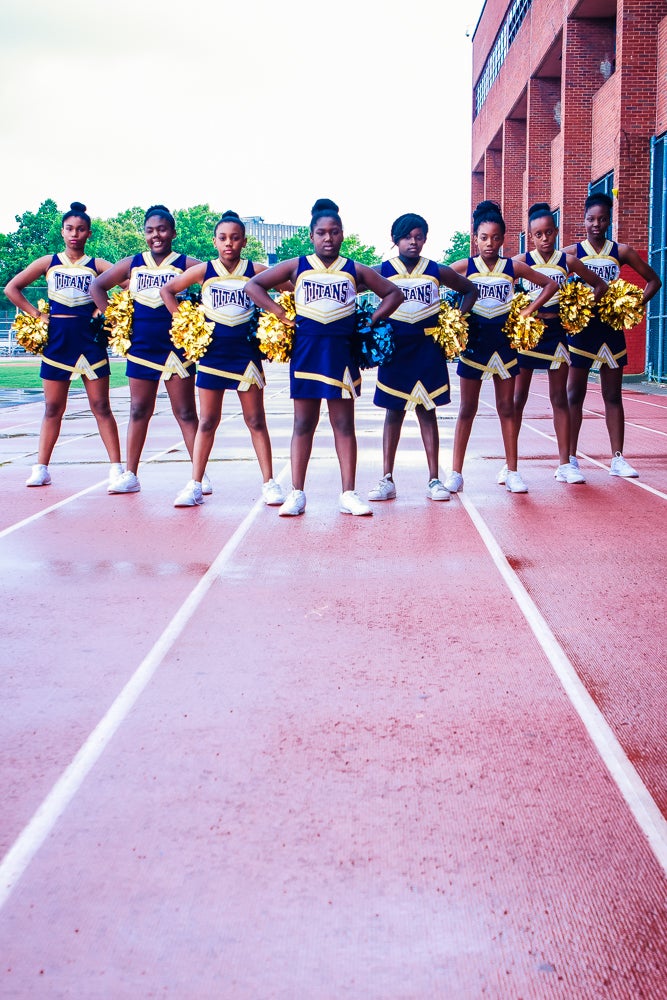 According to their findings based on data from public schools in Boston and New York City, Black girls are punished more severely than white girls and are six times more likely to be suspended than white girls.  They also observed that, Black and Latina girls are often burdened with obligations at home that undermine their capacity to achieve their academic goals.  Many end up acting out when their need for counseling isn't met, which often leads to harsh punishments.
#BlackGirlExcellence is our latest photo series featuring black girls who are are doing extraordinary things.  For this project, we are celebrating young women who defy the odds and work everyday towards achieving their goals despite their obstacles. 
They are cheerleaders from the Brooklyn Titans team, fencers from the Peter Westbrook Foundation, a renowned organization that has produced Olympic level fencers; and double dutch jumpers from the Jammin' Jumpers team based in Brooklyn and led by Ruth Payne who's been leading young people in various sports for decades.  These young women are confident and self aware.  They are also privy to the burdens black girls face in school and in society as a whole.  It's those burdens that fuel their endeavors and give them the audacity to recognize themselves as an inspiration to other black girls.
We asked them to describe how their sport makes them feel, how they feel about their schools, and how they continue to strive for excellence despite the odds.
Brooklyn Titans Cheerleaders, Bed Stuy, Brooklyn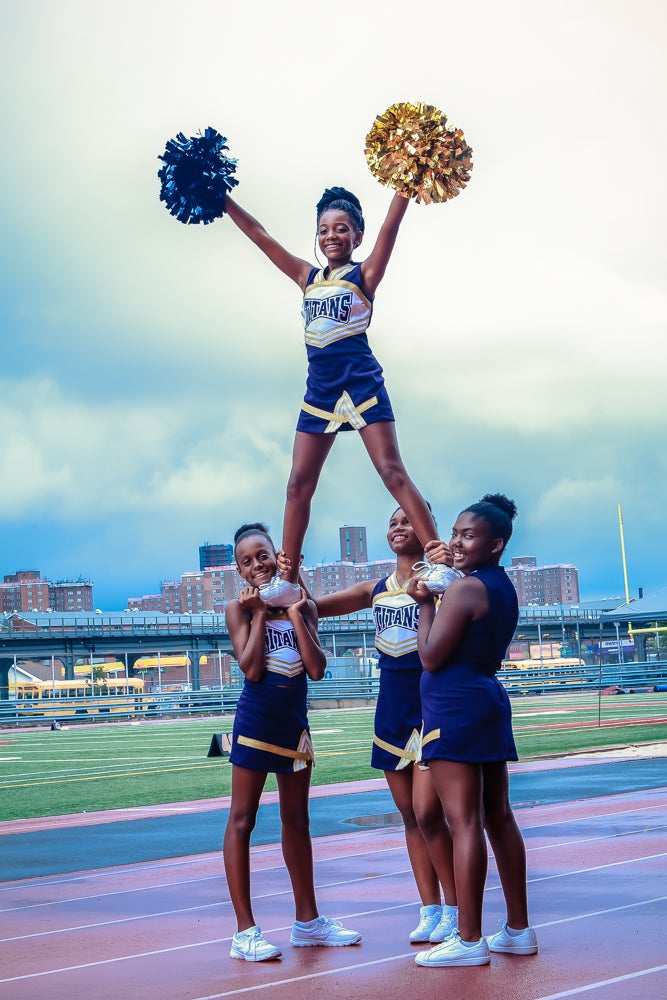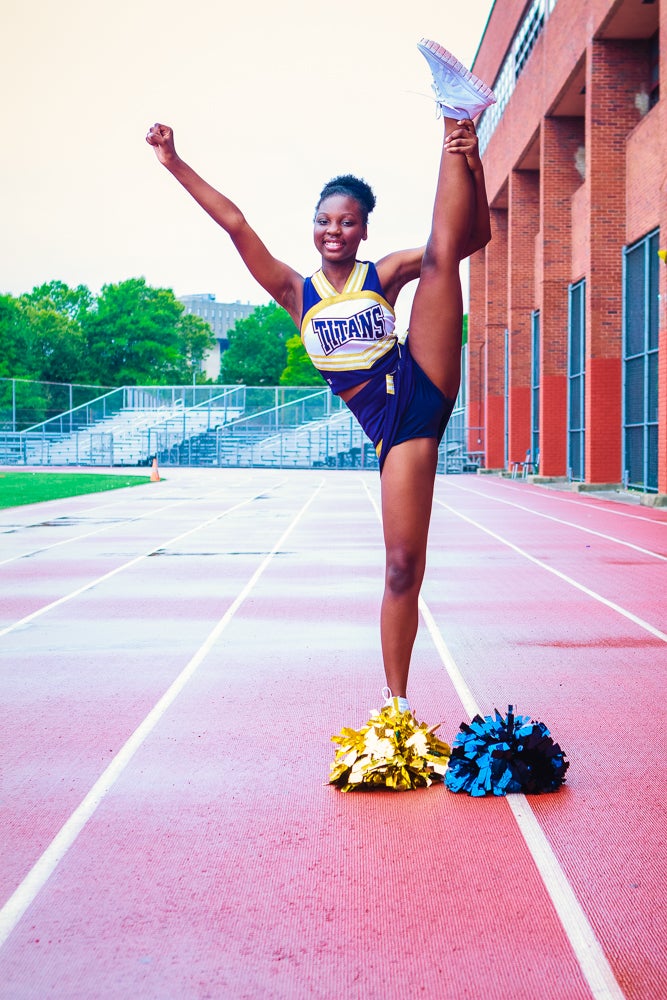 School Life My school has a bad [reputation] but I really do feel safe. Our teachers have our back so you really wouldn't expect much. It's really a black school. You'll never see a white person. You'll see an Asian or a Spanish person, but you'll never really see a white person. There are a lot of white people moving into the area, and I feel like they can come and try the school. It's either they're mixed or they just don't want to come to our school. I don't feel bad. It's just that they're missing out because I love my school and I feel like we treat each other like family. I've never been suspended. I have seen girls get suspended for very petty reasons. It's for like fighting or doing something they're not supposed to. It's very rare that you see them get suspended. It's mostly boys.
Cheer Life I feel very happy when I perform. Usually in practice I'm sometimes stiff, but when I'm performing it just comes through me. I like cheering. I actually started cheering at school. When my mom saw that I was good at it, she put me in the Brooklyn Titans. In movies like Bring it On, you usually see white girls as the cheerleaders. When you see a black girl, they do stepping and it's totally different. I like that about it. We usually do stepping and it's different.
My Future I want to be an engineer of some type. I was thinking about something like Astroengineering or a chemical engineer. I'm not sure about the chemical, but they get paid a lot. – Heeqmat Jacksmith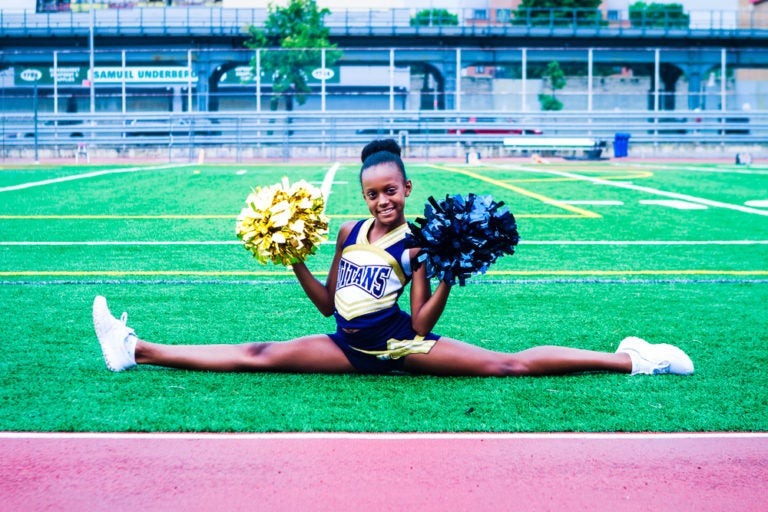 Cheer Life When I'm cheering I feel like it helps me express my feelings. If I come from a bad day, cheerleading relieves me and it's something I come home to do as a hobby that I really enjoy doing.
My Dreams So far my dream is to become a really well known dancer. I would be a college cheerleader but I wouldn't want that to be my career. – Ciera Watson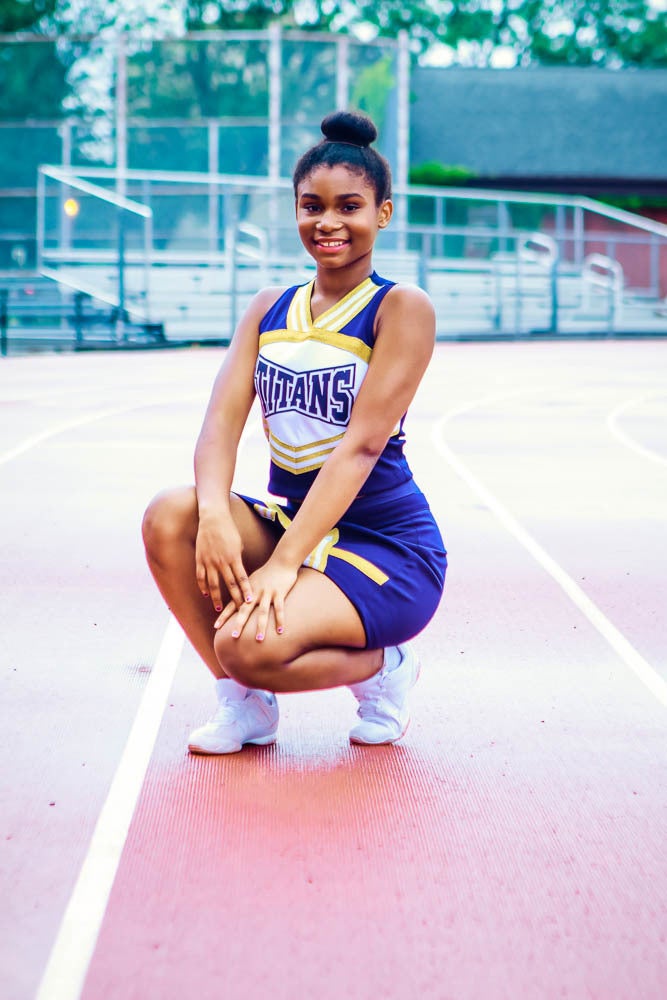 School Life My school is mediocre.  It's in East New York (Brooklyn).  I personally think that if a kid is told they're going to do bad, then they're going to do bad. If a kid is told they're going to do good, then they'll aim to do good. At my school we're separated by honors classes and general Ed. People in yellow shirts are general Ed. They are [indirectly] told that they are not as smart as blue shirts, which are students in honors classes. So they don't care about what they do. They just do things because they are [indirectly] told they are bad. I'm an honors student.
Cheer Life I've been cheering for a lot of my life, but I joined this team last year.  I feel happy when I cheer. I feel excited. I feel like I've worked hard enough so I get to show it now.
My Goals I have four things that I want to do. I want to do architecture, medicine, journalism, and I want to be a book critic. But if cheerleading can take me somewhere, I'll take that too. – Shanya Moore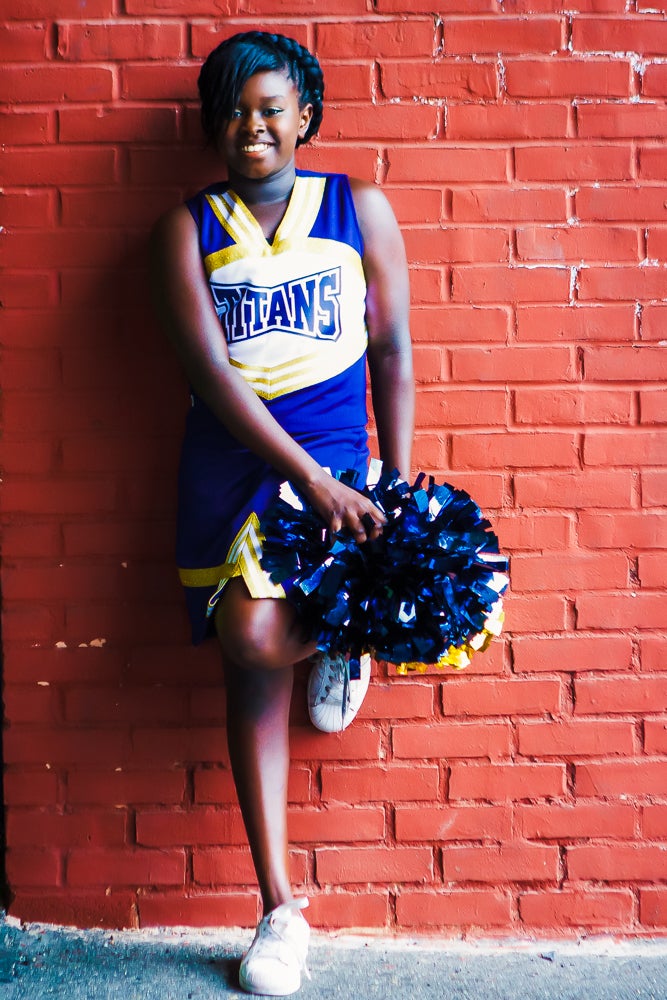 School Life I just graduated from the 5th grade.  Sometimes I feel safe in school but not all the time. Sometimes kids bully you and threaten to do mean things to you if you don't do what they say.  When I get bullied, I tell the teacher and I tell my mom and I try to handle it the best I can.
My Goals I want to be a software engineer in the future.  Right now, I'm trying to make a blog for cheerleading.
Black Girl Power As a black girl I feel strong and that I can get through anything.  I would say to other girls, try your best and work hard. Never give up and keep on practicing and you'll do great. – Sumayia Moore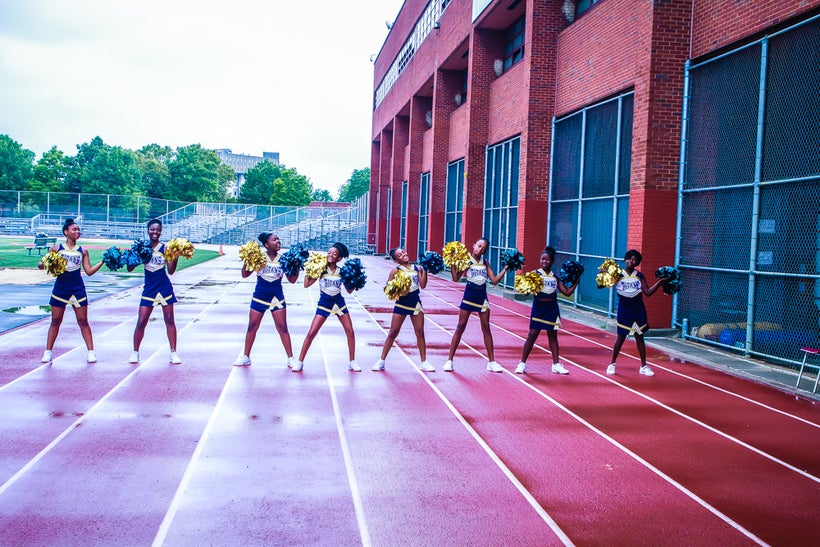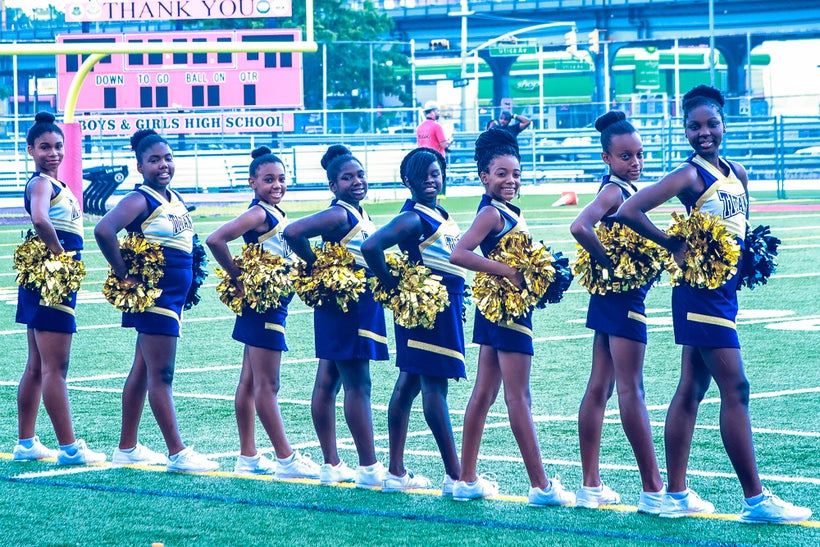 Chejsa and Kristen, Fencers, Peter Westbrook Foundation, Manhattan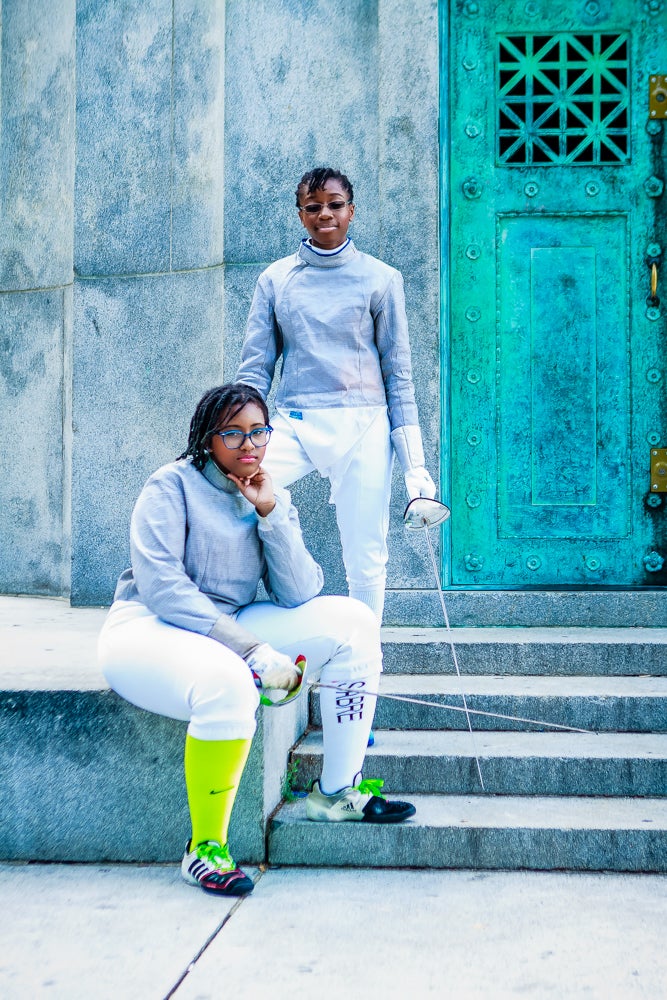 The Art Of Fencing
Kristen (right)– Being able to fence makes me feel strong. Since fencing is such an ancient sport, it makes me feel like I am taking part in something bigger than myself. Fencing has helped me learn to accept and embrace loss. When I first started fencing, I would always get really upset when I lost. Losing made me feel inferior to others and lowered my confidence. As I continued on my fencing journey, I learned that loss was necessary to achieving success.
Chejsa (left) – The way that I feel about fencing, it's like another world.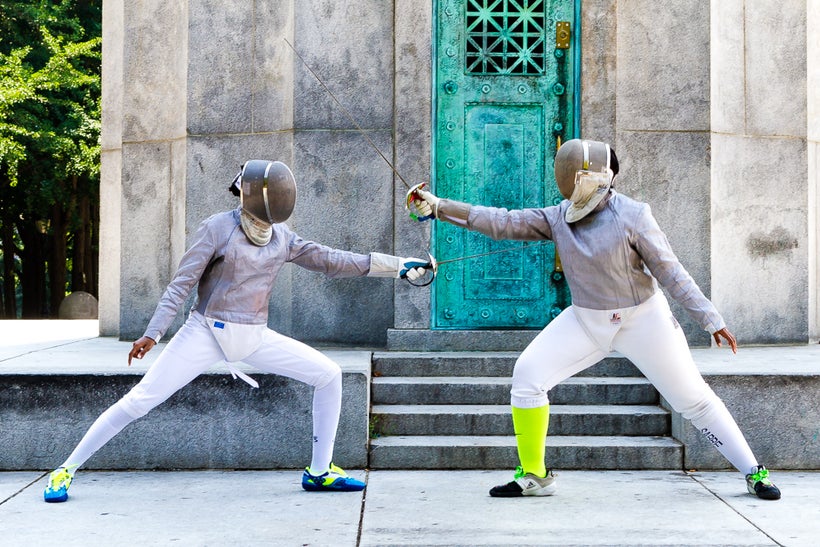 The Object Of The Game
The object of fencing is to tire out your opponent – both physically and emotionally. Many people call fencing physical chess because it requires you to think a lot and plan out your actions in advance. An important part of fencing is having high endurance. If your opponent has been training more than you and takes longer to get tired, they have a tremendous advantage over you. The same concept applies to mental endurance. If you are not able to control your emotions, they will quickly take over you and hinder your ability to fence. – Kristen (left)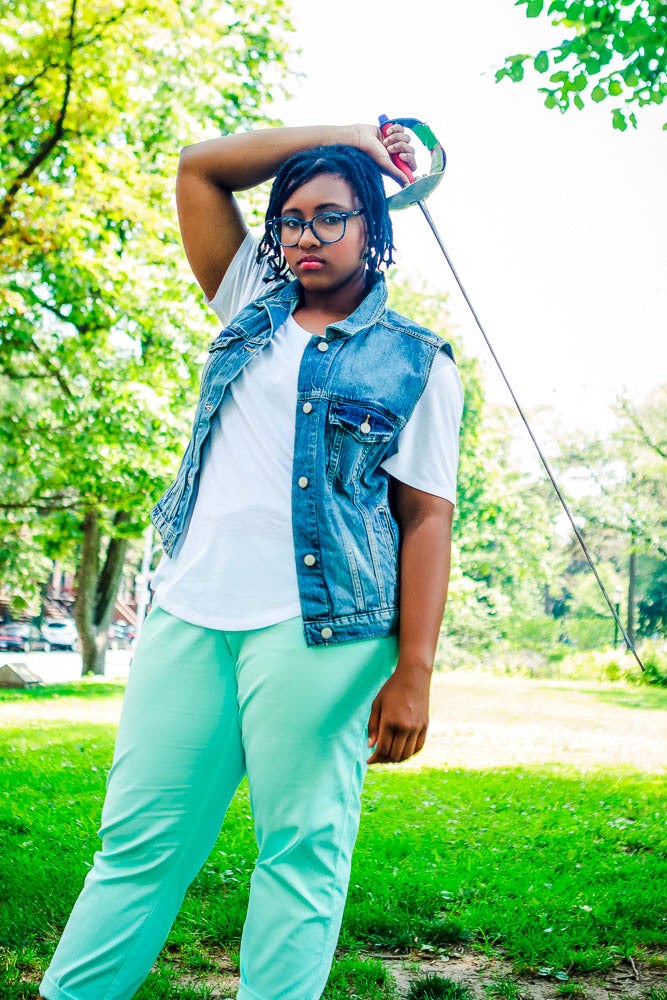 On The Strip
When I'm on the strip,  where we stand during a match, I feel like I'm taking in a whole bunch of things and like I'm doing a whole bunch of different actions like I can try new things. Fencing also introduces you to a lot of different people. I've met a lot of Olympians. It's really a cool sport. – Chejsa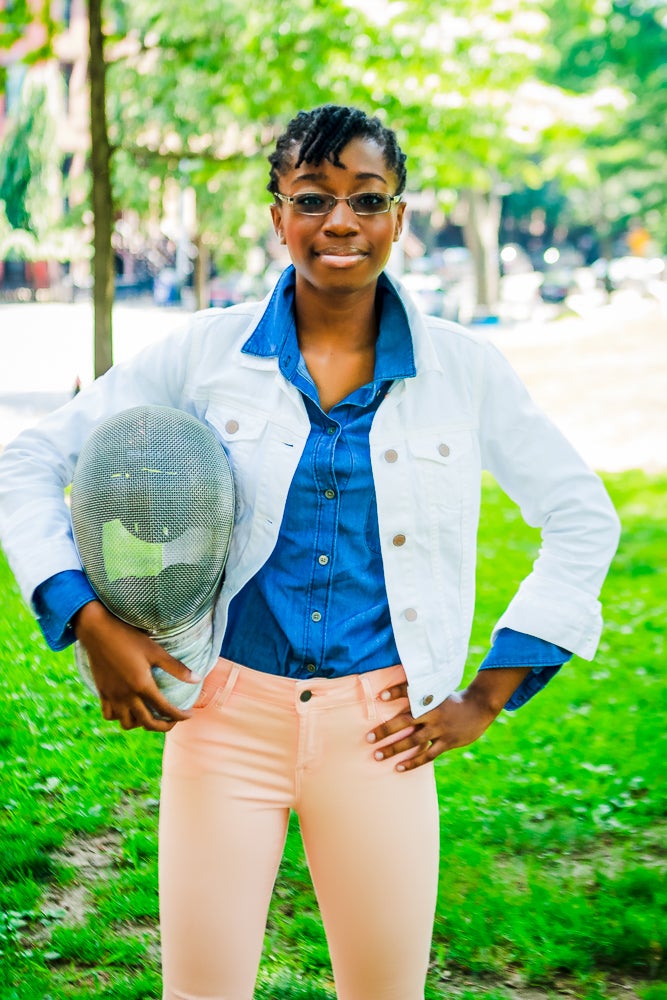 The Over-policing Of Black Girls In School
Many black children are born into unsafe communities and are denied the same opportunities given to white children. They are put at a disadvantage from a young age and the gap between black and white will only continue to grow as they get older. So it is no surprise that by the time some black girls reach middle and high school, they get into more trouble than white girls their age. In addition to this, white families are often richer and more successful than black ones, so it is much easier for them to buy their way out of trouble. – Kristen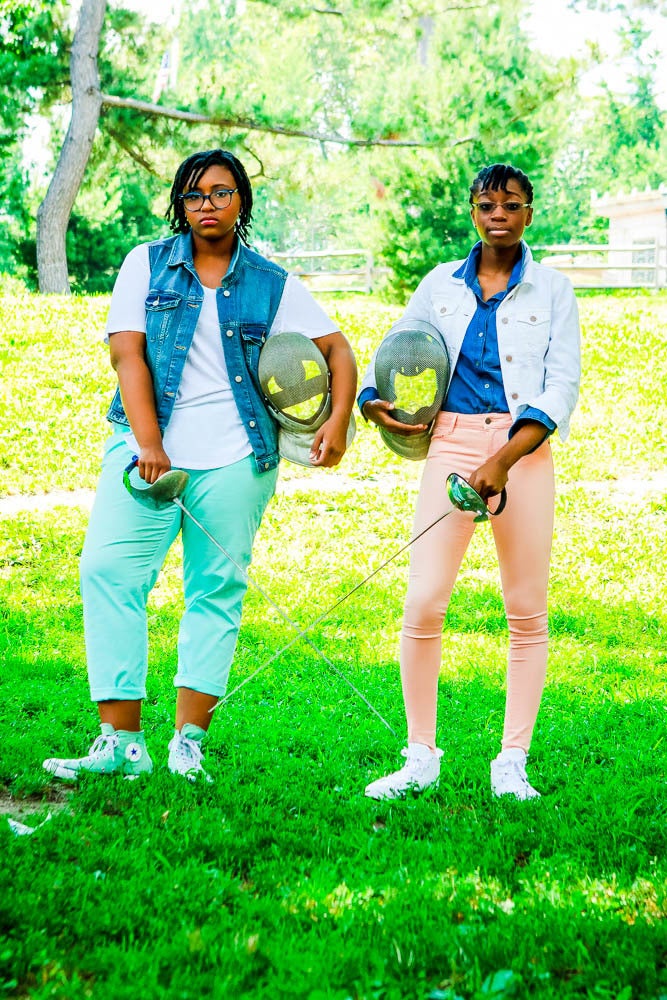 Being A Black Girl
I can't really explain what it is like to be a young black girl because I have never been anything but a young black girl. I have never experienced life through anyone else's eyes and truthfully, I only know what it's like to be me. I can't speak for all of the other black girls out there because none of us are quite the same. However, many people definitely see us that way. According to society, being black defines who you are. That's one of the reasons people label me as a black fencer and not just a fencer. Although the world sees me this way, I refuse to accept their predefined labels. I just see myself as a normal teenage girl. I like to hang out with my friends, listen to music, eat, sleep, and enjoy the life I was given. Doesn't everyone? – Kristen
Jammin' Jumpers Double Dutch Team, Brooklyn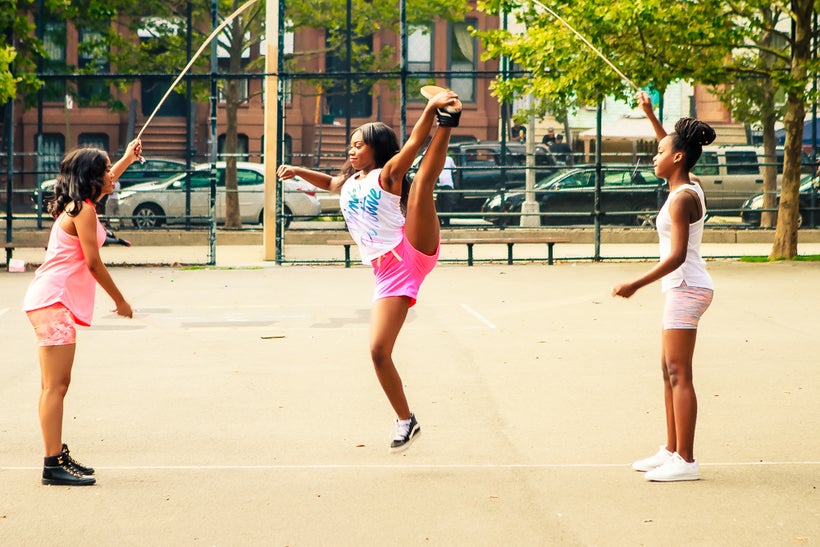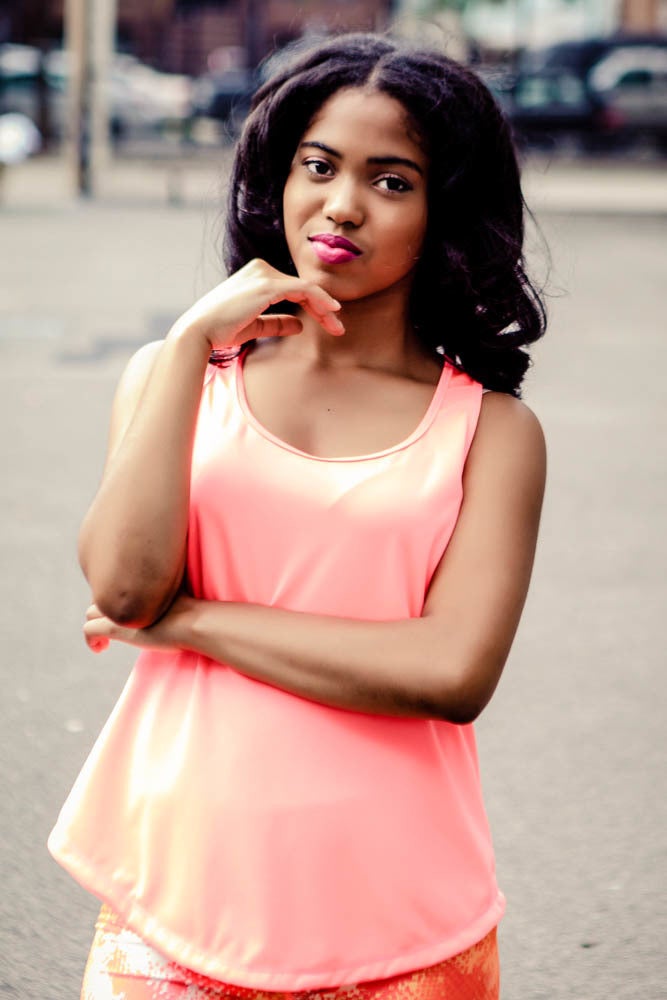 There's more pressure on girls in school because it's like everyone expects them to do better than boys. That's how people think, that boys wouldn't do better than girls academically. – Crisleidis Ceballo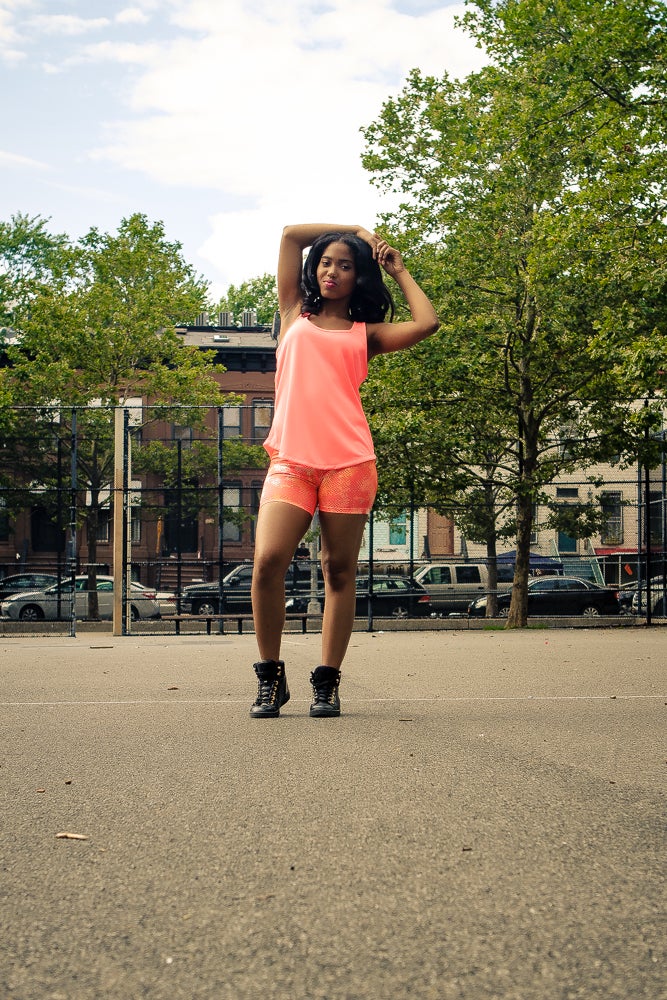 Double Dutch Life Double dutch is the only thing I find interesting right now. It makes me feel happy. I went to middle school and it was offered there. They had tryouts. I didn't know anything about double dutch, I just went to tryouts and I got picked because I followed directions. But I didn't know how to jump or turn, I just followed directions.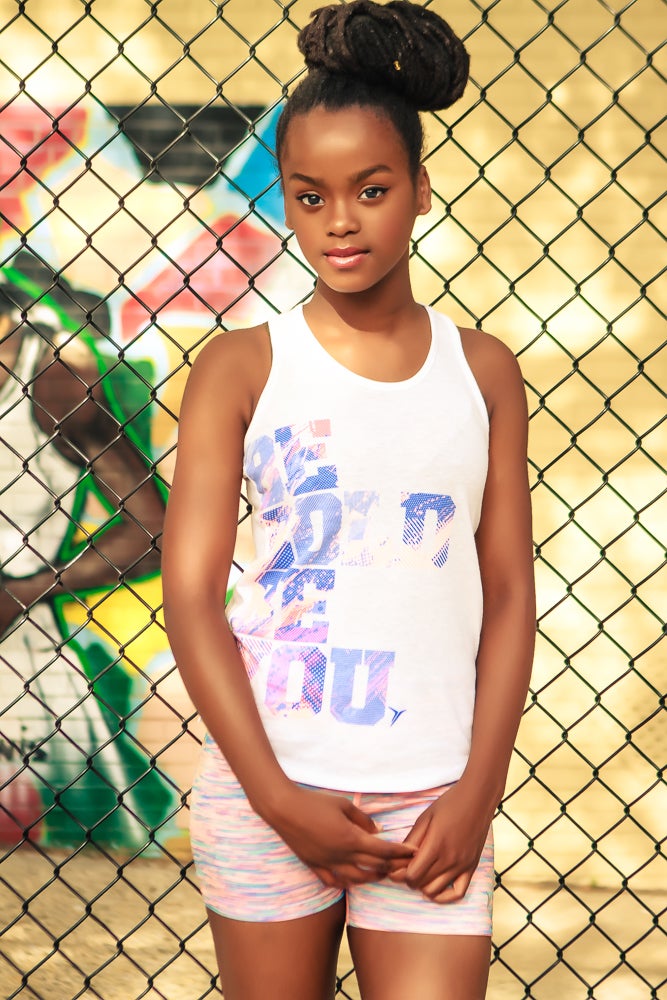 At my school I feel safe and not safe because of the environment where it is. Some people are racist towards [black people]. In school it's great because they accept everybody and everybody is always uplifted. But out of school is not. I go to school on 23rd street in Manhattan. The school is predominantly Latino and black. Everybody there doesn't live in Manhattan. They live in like Brooklyn, Bronx, and Queens. But some of the people who actually live in Chelsea are disgusting. Like when I went inside Rite Aid, my bag was in the line but I moved. So when I went back to where I was standing this old guy told me, 'This is what your kind does. Ya'll have no respect.' He was white. I just left. I was like, I'm not even going to buy anything. I just left. I felt disgusted. In this day and time, it's 2016 and you're still being racist. – Inikah John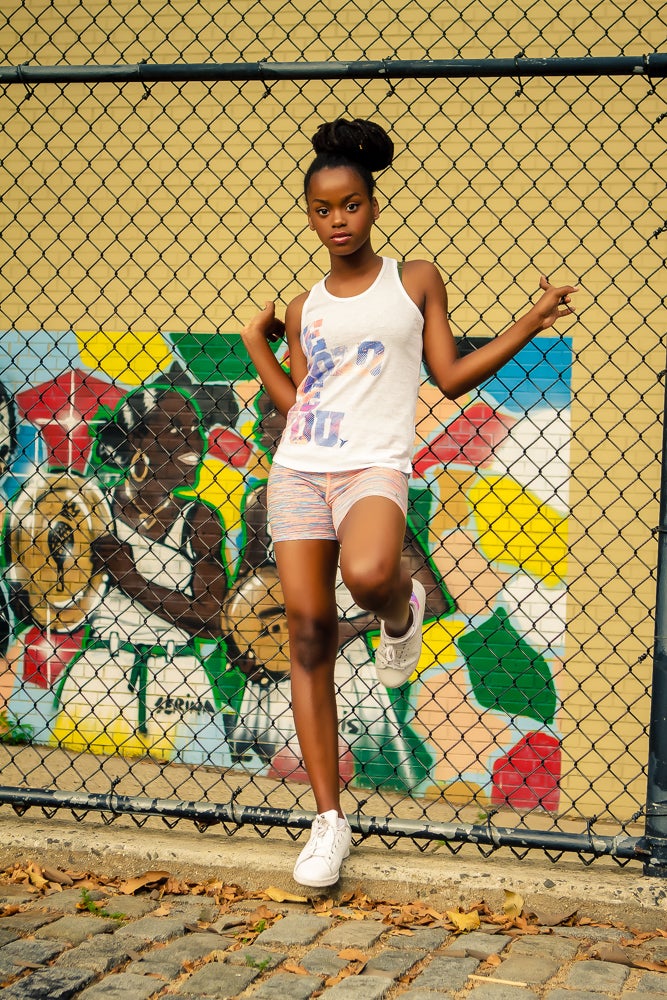 Double Dutch Power Being a Jammin' Jumper makes me feel powerful. People haven't jumped double dutch for many years, so we're getting into it is like inspiring other teens and other little kids to want to do it.  And it's fun. – Inikah John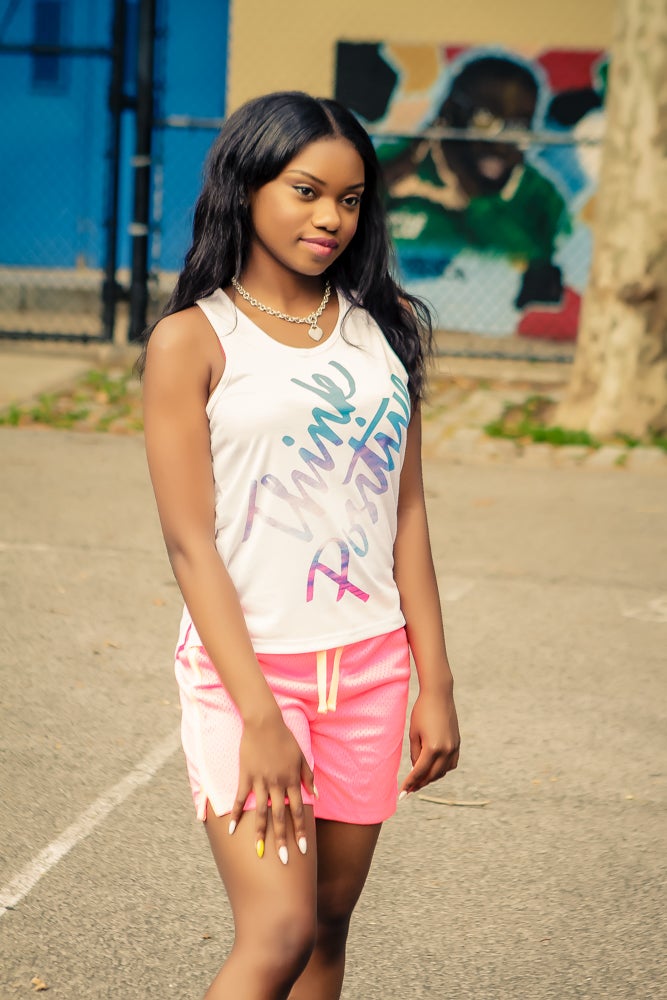 Black Girl Profiled What's happening now in our generation, we're being profiled now as violent, ignorant, ghetto—that's the main one. They don't get to know us and see what we're really capable of.
Jammin' & Jumpin' When I'm jumping, it makes me feel like I have a God given talent because I have something that other people may not be confident to go out and do. They see it and say, that's hard, I can't do it. But when I do it, it gives people the motivation that they can go out and do it. – Sydney Hernandez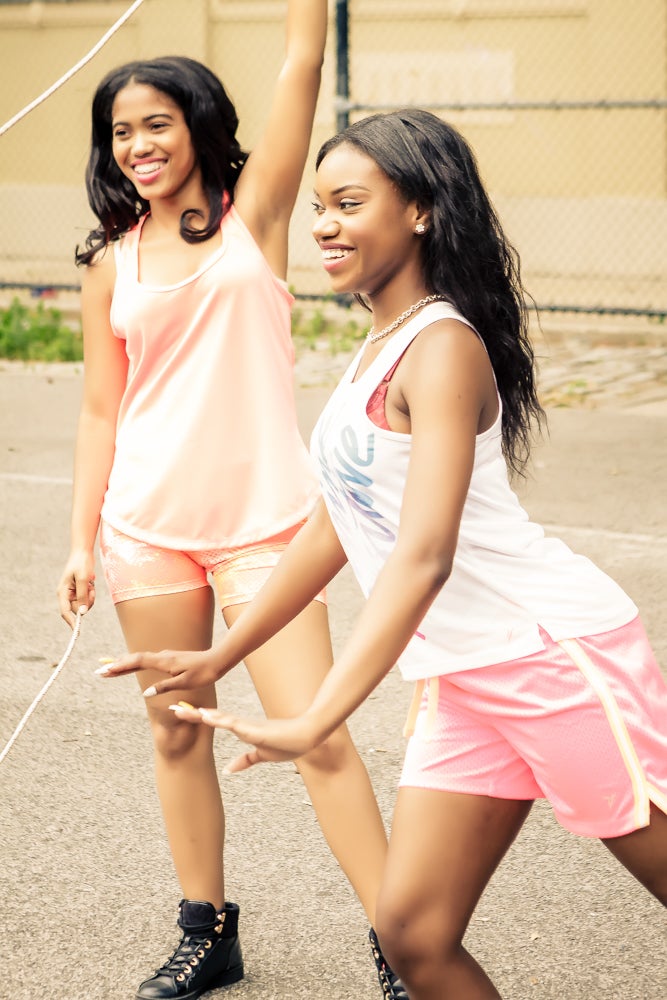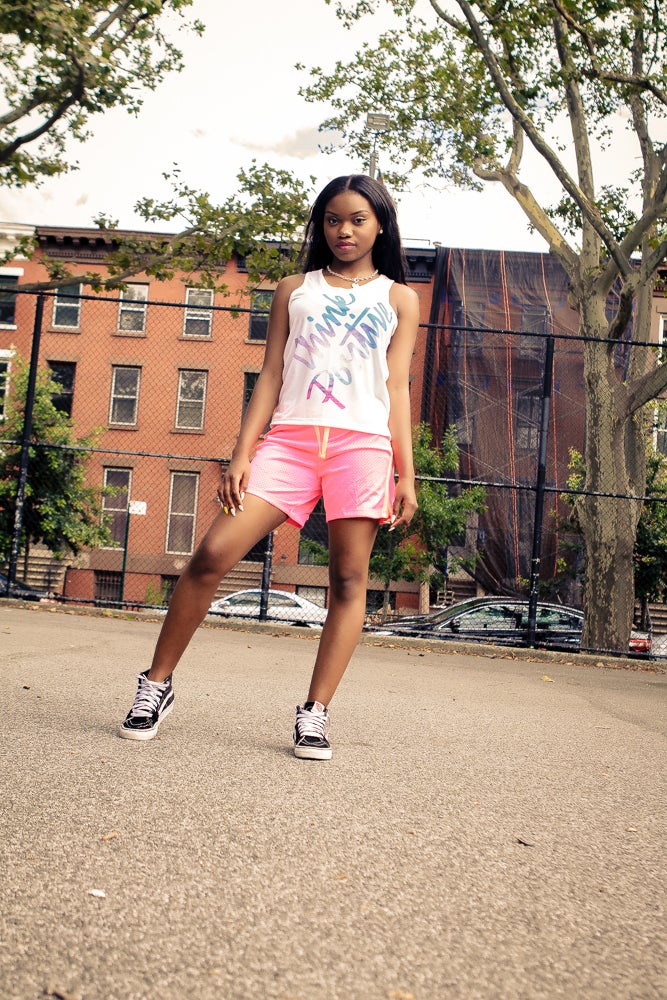 The Definition of #BlackGirlExcellence I feel it means that you love yourself for who you are and that your skin will forever be beautiful.
Abi Ishola, Editor-in-Chief BeyondClassicallyBeautiful.com
Kunle Ayodeji AyodejiPhotography.com
Jammin' Jumpers- Yetty Bames, Beauty Editor-at-Large, BeyondClassicallyBeautiful.com YettyBames.com
Jackie Palmer, Peter Westbrook, Ruth Payne, Coach Chante
REAL LIFE. REAL NEWS. REAL VOICES.
Help us tell more of the stories that matter from voices that too often remain unheard.
This post was published on the now-closed HuffPost Contributor platform. Contributors control their own work and posted freely to our site. If you need to flag this entry as abusive,
send us an email
.