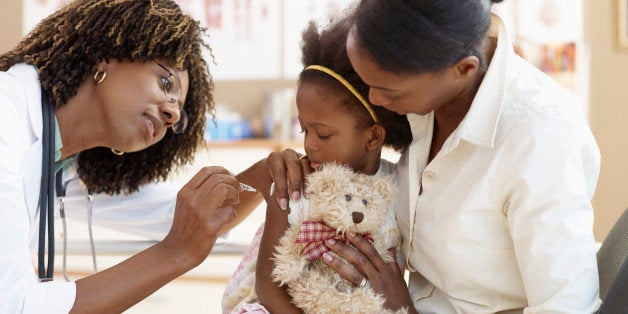 In 2010, my mother was diagnosed with kidney renal failure or end stage renal disease (ESRD). I was a sophomore at Temple University when everything came to a screeching halt once the doctor's revealed my mother's condition. Reflecting on the situation, it seemed as if my mother's illness came out of nowhere, but I would later discover kidney failure is one of the many silent epidemics in the African-American community. However, the unfortunate circumstances of my mother's condition shed light on an important narrative which needs to be fully realized in communities of color -- that Black health and Black access to quality health care matters.
The #BlackLivesMatter movement was birthed after the tragic murder of Trayvon Martin in 2012 and sought to spotlight the systematic nature of extrajudicial killings of African-Americans -- ultimately, declaring to the world the salience of Black lives as a resounding mantra for racial justice and equality. However, the movement extends beyond racialized state violence in the United States and subsequently addresses structural inequalities, which are inextricably intertwined in America and abroad.
It's vital to look at the full scope of the socio-economic and political implications of racism which affects every aspect of Black lives; and this includes both the historical and present-day health inequities which are prevalent within African-American and African Diasporic communities in the United States and beyond. Because of these health disparities, it is critical that global health -- as a discipline and practice -- acknowledge the legacy of racial injustice and the illegal medical experimentation of Black people, and invest fully in the holistic totality of Black lives and Black health. It is also equally imperative that individuals from the African-American and Afro-descendent communities are included as leaders in mobilizing the global health movement for health equity.
Today, African-Americans are 60 percent more likely to be diabetic; 40 percent more likely to be obese, to die from breast cancer and to die from a stroke; 30 percent more likely to die of heart disease; 20 percent less likely to receive treatment for depression; nine times as likely to be diagnosed with HIV; three times more likely to have kidney failure and twice as likely to be killed by police, compared to non-Hispanic whites -- the list goes on. With these staggering statistics, one can see that racial and ethnic health inequities are not only crippling the health care system, but are also detrimental to one's complete well-being. Although many will argue that these outcomes are preventable, one must also understand the determinants that serve as catalysts to the disenfranchisement of African-Americans and others within the African Diaspora to access to health care.
In order to effectively serve communities of color, it's paramount that global health practitioners are educated about the conditions in which people are reared and how this influences an array of health, functioning and quality-of-life outcomes and risks. We, in the global health field, need to understand how the intersectionality of disproportionate disparities on Black people in the areas of safe housing, education, economic opportunities, access to food, and more impact access to health care in Black communities.
The need for Black leaders to be included in the ever-developing global health landscape is dire; as the value of Black inclusivity for improving health outcomes are needed to rebuild trust in these communities to achieve health equity. The exigency for Black representation in global health needs to be more than just "diversity" in the field: diversity is simply a representation of different types of people of varying backgrounds. Inclusion, however, is the deliberate act of welcoming diversity and fostering an environment where all different kinds of people can grow and succeed.
This is why diversity is not enough in the scope of global health. In the movement for global health equity, the inclusivity of individuals who look like us; having resources and services created by us to serve and educate us; make health decisions for us and who in turn understand the societal issues that impact us, is too, needed to reinforce the notion that Black lives and Black health should not be feared, devalued, relegated and forgotten by the outside world.
So, from Baltimore to Bahia to Ferguson to Freetown, the resounding mantra continues to be heard and declared around the world that while #AllBlackLivesMatter, we must never forget that in global health and beyond, #BlackHealthMatters, too.
Popular in the Community