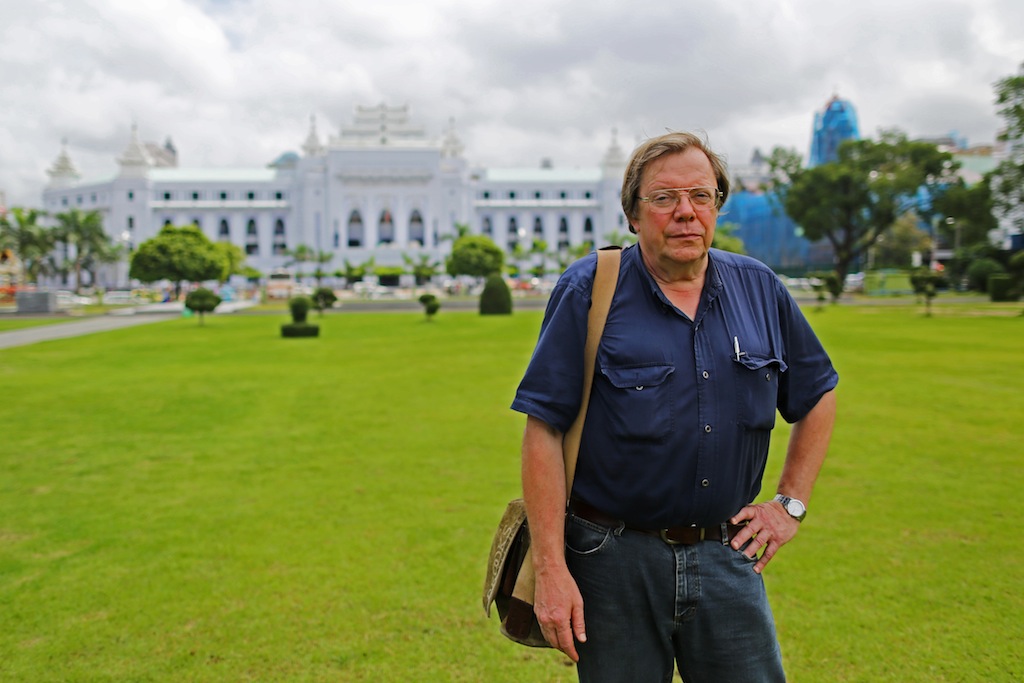 Bertil Lintner, expert on Burmese issues, in Yangon, Myanmar on June 15, 2013. He was blacklisted by Myanmar authorities in 1985. (Htoo Tay Zar/GlobalPost)
YANGON, Myanmar -- Journalist Bertil Lintner's presence in Burma this month, the first time he has been in the country with an official visa in nearly 30 years, is just one sign of change here.
Lintner was blacklisted by the military government in 1985, but on Saturday he launched a Burmese-language printing of his book "Outrage: Burma's Struggle for Democracy", first published in 1995 but banned here just as Lintner was.
The gentle-mannered writer with thick glasses and a thick Swedish accent addressed a group of 20 young Burmese and American journalists at the Savoy Hotel the night before the book launch. Lintner said he could not help but notice the positive changes that have taken place in the country since President Thein Sein announced a series of reforms following his election in 2011, but he remains skeptical.
"The constitution is not democratic," Lintner warned, the hotel staff who stood along the wall hanging on to every word just as the journalists were. "The military still has control."
Bertil said he first visited Burma in 1977 at the age of 24.
"I fell in love with the country," he said. "It's like being caught in a time warp, quaint and funny."
But after meeting a man who told him about friends who were either locked by the government or who had disappeared mysteriously, Bertil thought to himself, "there's something sinister underneath this quaint appearance," he said.
And indeed he was right, spending the next three decades documenting government abuses as a reporter for a number of publications including the Far Eastern Economic Review, which folded in 2009.
Linter said there are many things to consider when talking about reforms, especially in light of the recent clashes between Buddhists and Muslims in the country. Both religious discrimination and nationalistic sentiments have long been present in Burma, with the ethnic Burman majority remaining on the top of the social ladder.
"This has happened before," he said. "In 1968, a Muslim man wrote about the deaths of Muslims and mobs of Buddhists torturing and firing homes."
Looking around Burma, it could be difficult to imagine that a country with so many Buddha statues and pagodas lives in fear of a Muslim takeover of the country. The Muslim population makes up in total just 5 percent of the nation.
But many Yangon residents GlobalPost spoke with said a similar thing: "The people are fearful of the Muslim community. We don't want our country to be taken over by Muslims. This is a Buddhist society."
Lintner said he believes that Burma's constitution must be amended in order for Burma's most famous dissident, Nobel laureate Aung San Suu Kyi, to be able to run for the 2015 elections.
"The only person who can unify the country is Aung San Suu Kyi because her father General Aung San promised autonomy for all ethnic groups," Lintner believes.
The constitution states that anyone who is married to a foreigner or has children who hold foreign nationality is not permitted to become president. Suu Kyi's husband Michael Aris was British and both her sons hold British citizenship. She was under house arrest as a political prisoner for 15 years.
But as involved and appreciated as Gen. Aung San was in reconciliation with the ethnic communities, his daughter has been heavily criticized for her silence on ethnic violence in Kachin State and anti-Muslim violence in Rakhine State, among other domestic conflicts.
In an Asia Times article published in November 2012, Lintner wrote that "some Myanmar dissidents are beginning to ask, albeit in hushed tones, the hitherto unthinkable: is Suu Kyi being used by the Thein Sein's military-backed, civilianized government as a pawn in its efforts to break the country's long isolation from the West? And, has she come under pressure from the US and possibly other Western powers with a stake in Myanmar's future geopolitical role to strike a deal with her former military adversaries?"
Although Lintner said that Burma is not yet a democracy, his presence indicates some level of meaningful reform.
"They seem more optimistic than they have been for over a half a century," he said. "But one shouldn't underestimate the government."
Support HuffPost
The Stakes Have Never Been Higher
Related
Popular in the Community