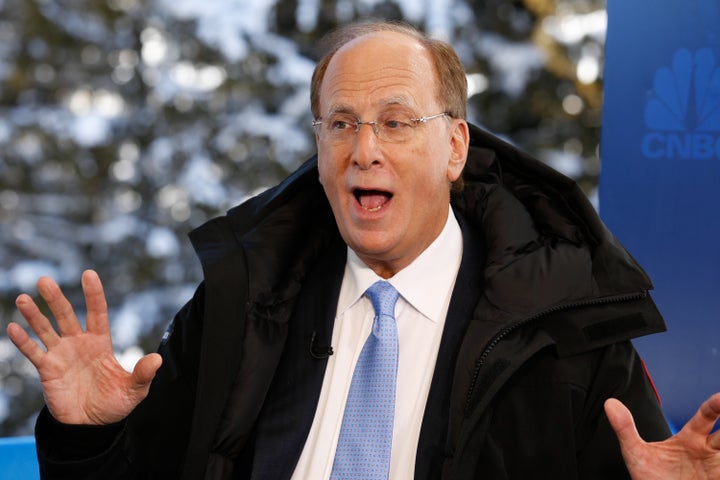 The stock market is about information -- figuring out which companies will do well and which will do poorly, and how much investors should pay to own a fraction of those companies.
So it's a bit odd that the chief executive of the world's largest asset manager is asking for less information from companies. But that's what Larry Fink, chairman and CEO of Blackrock, which manages $4.6 trillion, is doing.
Fink sent a letter to every CEO of every company in the Standard & Poor's 500, telling them to stop giving estimates of how much they will earn every quarter. Companies would still report earnings every quarter as required by the Securities and Exchange Commission, but they wouldn't release estimates of those earnings to investors ahead of time.
Fink's reasoning: Giving out that information pushes investors to further focus on the ups and downs of that three-month reporting cycle, which in turn pushes executives whose pay is increasingly tied to stock performance to run their businesses to meet short-term demands.
Those short-term demands, according to Fink, distract from long-term strategy and keep companies from making investments like research and development.
Fink wants to change that dynamic. In the letter, which was not released publicly but was obtained by The Huffington Post, he writes that "today's culture of quarterly earnings hysteria is totally contrary to the long-term approach we need. To be clear, we do believe companies should still report quarterly results -- 'long-termism' should not be a substitute for transparency -- but CEOs should be more focused in these reports on demonstrating progress against their strategic plans than a one-penny deviation from their [earnings-per-share] targets or analyst consensus estimates."
BlackRock declined to comment.
Fink is not new to this debate. He's long advocated that investors take a long-term approach. And he's not alone: His letter coincided with a private meeting of corporate executives, including JPMorgan CEO Jamie Dimon and legendary investor Warren Buffett, to discuss how to improve corporate governance in a way that encourages long-term planning.
Democratic presidential candidate Hillary Clinton has made attacking what she calls "quarterly capitalism" a key part of her financial reform agenda and wants to cut long-term capital gains taxes relative to short-term rates. Corporate lawyer extraordinaire Martin Lipton and management consulting behemoth McKinsey have also weighed in against short-termism -- and it should be noted they were speaking out in support of their corporate clients.
The business case for Fink's campaign against short-termism is less obvious. If information is the fuel that powers the market, Fink may be betting that his firm, with unmatched research resources, doesn't need companies to release earnings estimates because his teams can generate that information internally.
Indeed, a little less public information could give BlackRock even more of a competitive advantage. The focus on short-termism gives more weight to the perspective of corporate managers over public markets, and BlackRock is in a position to gauge and influence that perspective. (Fink's letter is itself partial evidence of that.)
But the most important issue with Fink's letter is not that it may be partially self-interested. It's that it doesn't go far enough. If you really want to deal with short-term financial planning, the most effective solution is not to fiddle with capital gains taxes or ask companies to stop giving earnings estimates.
It's to get rid of mandatory quarterly earnings reports altogether, and allow companies to publish financial results once a year if they want to. The U.K. made that shift, and it doesn't seem to have bothered many people.
PHOTO GALLERY
Most Amazing Business Images Of 2015
Calling all HuffPost superfans!
Sign up for membership to become a founding member and help shape HuffPost's next chapter