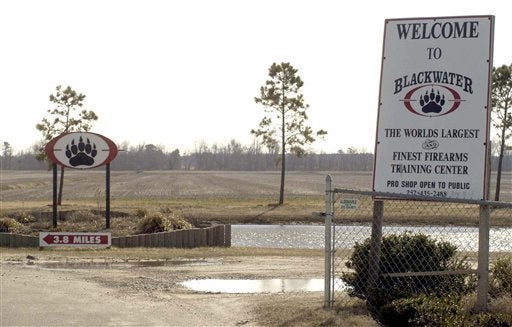 UPDATE: A Xe spokesman has told Talking Points Memo that they are unaware of any plans for the RNC to hold a fundraiser at their Moyock, N.C. facility. The spokesman said he was unsure why there was a slide in an RNC fundraising presentation that suggested otherwise. RNC Communications Doug Heye also told Politico's Ben Smith, who broke the story, that "No such Blackwater event ever existed," despite the calendar entry.
The Republican National Committee plans to hold an April fundraiser at a Moyock, N.C. compound owned by the military contracting firm formerly known as Blackwater, Politico reports.
According to an RNC fundraising document uncovered on Wednesday, RNC "Young Eagles" -- party major donors under 40 -- will meet at the facility in the spring.
Also on Thursday, the Wall Street Journal reported that Sen. Carl Levin (D-Mich.) has written a letter to the Justice Department asking for an investigation of Raytheon's alleged use of the Blackwater subsidiary, Paravant, for a contract in Afghanistan.
Levin has also suggested that the Pentagon should no longer consider granting a $1 billion contract to Xe Services LLC (formely, Blackwater) due to "serious questions" about the contractor's conduct.
It was recently reported that Blackwater employees took hundreds of firearms from both the U.S. Mmilitary and Afghan police forces using the South Park alias "Eric Cartman."
Calling all HuffPost superfans!
Sign up for membership to become a founding member and help shape HuffPost's next chapter