 The State Department awarded more than a billion dollars in funding to the security firm Blackwater and its later incarnations even after one of the company's top officials allegedly threatened a government investigator's life, a review by The Huffington Post has shown.
The New York Times revealed last week that the State Department's chief investigator reported being threatened by a Blackwater official in Iraq in August 2007. The investigator said project manager Daniel Carroll told him "that he could kill me at that very moment and no one could or would do anything about it as we were in Iraq."
Officials at the American embassy in Baghdad later asked the investigators conducting the Blackwater probe to leave. A few weeks later, in September, Blackwater guards shot and killed 17 Iraqi civilians. A criminal trial for four of the guards is currently underway.
And yet, the threat did little to stop the spigot of contract money that headed Blackwater's way. Between the date it was reportedly made, Aug. 21, and the end of September, the State Department designated over $269 million in funding for the firm, records show. In return, Blackwater provided training and protective services for the department in Iraq, Afghanistan, China and the United States. Some of the largest of those expenditures were approved after the shooting but were tied to contracts that had been signed previously.
In total, the State Department has awarded the firm and its subsidiaries over $1.3 billion since early fall 2007 for operations around the globe. These funds were awarded both when the firm was mired in scandal and in later years, when it was under less controversial stewardship.
"In the years following the events of 2007, we reviewed our practices of managing contractors and made improvements to increase oversight and ensure that operational control remains with direct-hire State Department employees," a State Department spokesman said, when asked why Blackwater continued to receive contracts. "Though we must always ensure that competitive contracts remain fair and open, the safety of our personnel is the highest priority, and we always take into account the past performance and abilities of each contractor."
The Huffington Post used the federal government's spending database to search for funding, either through new transactions or modifications of existing contracts, directed toward Blackwater and subsidiaries linked to it. The companies included Blackwater Lodge and Training Center, Inc., Blackwater Security Consulting LLC, U.S. Training Center, Inc., Academi Training Center and International Development Solutions. The company and its subsidiaries have changed their names several times and ownership once since 2007, owing, in part, to their efforts to shake bad publicity.
Because of the way the federal government distributes funds to contractors, the records only signify that the State Department set aside the funds to pay the firm. They do not reveal exactly how much money the firm actually received, or what it spent it on.
In several cases, the State Department revoked funding it had previously set aside to pay the firm. In all, the State Department has "de-obligated" $54,831,123 since the reported threat on the investigator's life.
The funding continued after President Barack Obama took office. More than half a billion dollars was set aside for the firm and its subsidiaries by the State Department under then-Secretary of State Hillary Clinton. Over $300 million of that total was awarded before Blackwater was sold by its embattled founder in 2010.
During Clinton's tenure, the services rendered by the firm reflected America's shifting priorities in the fight against terrorism. It received funding to train police officers in several African nations -- including Nigeria, Djibouti, Kenya, Senegal and Tunisia -- at a time when Africa has increasingly become a focus for American counterterrorism operations.
Clinton raised concerns about the company when she was still in the Senate. In the midst of her brutal presidential primary campaign against Obama in 2008, she co-sponsored a bill to ban Blackwater's work in Iraq.
In addition to the funding it's been awarded by the State Department, Blackwater has continued to receive contracts from the Defense Department and intelligence agencies, ThinkProgress reported last week.
Experts say that one of the main reasons Blackwater has been able to sustain its relationship with the State Department is that it has been largely successful in protecting America's diplomats.
"Blackwater likes to point to their supposedly perfect track record in terms of guarding personnel," said Neil Gordon, an Investigator with the Project on Government Oversight. "But of course there are much larger issues that have to be taken into account -- their effect on the mission and on international reputation."
Gordon added that there are other reasons that a company like Blackwater might continue to receive lucrative orders, despite bad press.
"Partly the government doesn't like to change contractors -- especially in a dangerous area like a contingency operation -- in midstream," he said "There's a lot of bureaucratic inertia."
For years, Blackwater, along with Triple Canopy and DynCorp, received an "umbrella contract" to protect State Department diplomats. Though it did not guarantee a significant payday for any of the three firms, it meant the State Department was likely to use one of them to fill major diplomatic protection needs.
When asked why Blackwater continued to receive contracts after the 2007 incidents, the State Department spokesman said that the firm's "qualifications" were vetted as part of the standard bid process.
"When dealing with an umbrella contract like a World Wide Protective Services (WPPS) task order that had several contractors, federal law requires that all such contractors be given a fair opportunity to compete for task orders issued under that contract," the State Department spokesman said. "The qualifications and ability of any contractor to perform on that task order will, of course, be assessed as part of the bidding process."
Individual contracting officers could use the firms to fill a specific order -- for example, security at an embassy. These officers independently make what are called "responsibility determinations" about a contractor's fitness to fill an order. But one contracting officer can find that a firm is not responsible without hindering their ability to fill other orders.
"You could have a contracting officer on one side of Baghdad that says 'Yes, I'll make an award to Blackwater' ... and then a contracting officer on the other side of Baghdad at the very same time could say, 'I don't think they're responsible,'" said Daniel Gordon, associate dean for government procurement law studies at George Washington University.
Even under the umbrella contract, the State Department may have had limited options when it came to finding an alternative to Blackwater.
"Other private security contractors aren't exactly clean either," Neil Gordon said.
Blackwater's story is inextricably linked with America's foreign policy after 9/11. More than any other contractor, the firm became associated with the war in Iraq. The outsize public profile of Erik Prince, a former Navy Seal and the heir to an auto parts fortune who founded the company in 1997, also contributed to its notoriety.
But the company was dogged by scandal -- most significantly the 2007 shooting, in Baghdad's Nisour Square -- and the Iraqi government eventually revoked its license to operate in the country. Absent the Iraqi government's approval, the State Department ended Blackwater's contract within that country (though not others). The company tried to rebrand in 2009, adopting the name Xe Services, while its United States subsidiary became U.S. Training Center, Inc.
With the State Department reportedly threatening to withhold further contracts until the divisive Prince left, the company was sold to a set of private equity investors in 2010 and renamed Academi. At the time, its new CEO said he wanted to make it "boring." The firm has since merged with rival Triple Canopy.
Callie Wang, an Academi spokeswoman, declined to comment on any of the company's existing contracts.
In the three and a half years since Prince announced he was selling the company, the State Department has become a less reliable customer, awarding Academi just over $500 million in contract money. During the three years before Prince's departure, the amount was greater than $784 million.
Under its new ownership, the company has done much to improve its reputation and track record, Neil Gordon said.
"They've largely stayed out of trouble in the last couple of years, as far as I can tell," he said. "It's just these instances from the past -- like the trial right now with the four guards for the shooting -- that keep coming back into public consciousness."
UPDATE: Aug. 20 -- Weeks after this story was published, the Government Accountability Office publicly released the results of a study that found the data hosted on USASpending.gov — which was used to produce this story — lacking in two ways.
Federal agencies often failed to report loans and grants to the website, but they largely reported their contracts with businesses. This story relied on data related to contracts, not loans and grants.
The study's authors also found that the data in the system was frequently inconsistent with the data found in agency records. Primarily, this story relied on data on the dollar value of the contracts given to Blackwater. The GAO estimated that between 88 percent and 94 percent of the data on the dollar value of each award is consistent with agency records
Before You Go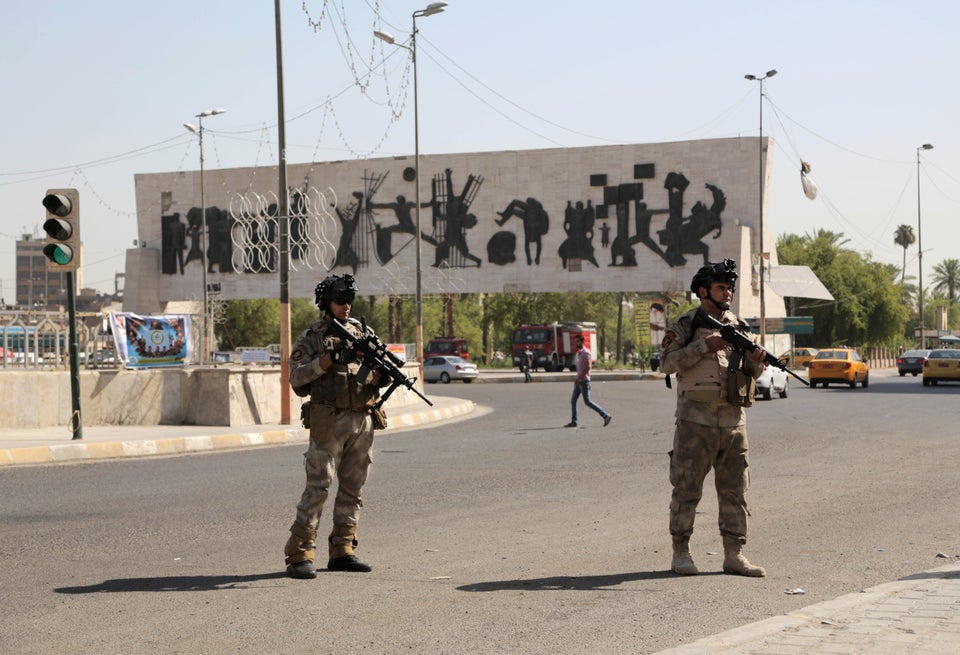 Fighting in Iraq
Popular in the Community