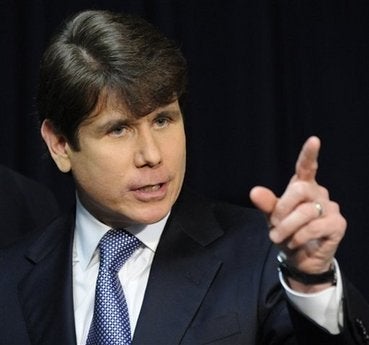 It's fitting that Rod Blagojevich was impeached on what would have been the 96th birthday of Richard Nixon, one of his favorite presidents. He told me during an interview for a Chicago magazine profile I wrote of him in 2003, when things were still "golden" for the young governor with presidential ambitions, "Nixon had a lot of fascinating qualities." He described Nixon, who resigned before he could be impeached, as a "visionary" in foreign affairs, but concluded, "He's a Greek tragedy in many ways."
Blago loves reading biographies of U.S. presidents. The bookshelves in his North Side home were full of them. I was there to interview Patti-- I had already interviewed Blago in his Thompson Center office--but he was still home and came in to say hello and to show off his collection. I wondered at the time why the state's chief executive would be home at midday; we've since learned that Blago often stayed home and, at the taypayers' expense, dreamed, schemed and read a lot of books, allowing him to regale reporters with little-known facts and anecdotes about past presidents. At that point he daydreamed about moving his wife and his two daughters into the White House on January 20, 2009.

Like so many politicians of either party, Blago claims that his favorite presidents are Teddy Roosevelt and Abraham Lincoln. One wonders if he blanched when U.S. Attorney Patrick Fitzgerald, in his news conference after Blago's arrest, said that Lincoln would roll over in his grave if he knew of Blago's attempt to sell Obama's Senate seat. Probably not.

When a former Blago aide suggested to the impeachment committee that they might want to order a psychological evaluation of the governor, I thought of Nixon, who, in his final days in the White House, seemed mentally out of whack. At the White House, Nixon would get dressed in his suit and tie, drink too much and talk to the portraits on the wall; Blagojevich, at home, dresses up in his jogging ensemble and heads out for his usual morning run, while in Springfield he's making history as the first governor in Illinois history to be impeached.

The Nixon tie starts with Blago's father, Rade, born in 1911 in a small village outside Belgrade, a child of pig farmers. He and his brother were artillery officers in the Yugoslav army when the Nazis invaded in 1941. They spent four years in prisoner of war camps in Germany, leaving Rade with a lifelong hatred of Communism. A staunch Republican, Rade adored General Eisenhower, whose army had liberated Rade's POW camp, and Richard Nixon, who made his name outing those he labeled Communists.

In the summer of 1980 before he started law school, Blago and a friend, on their first trip to New York City, (the friend was later in the news for giving Blago's daughter a check for $1,500 after the man's wife got a state job) awoke at 4:30 am so 23-year-old Rod could get an autograph from Nixon as he left his Upper East Side townhouse for his morning walk. Wearing a suit, Nixon emerged at 7. As his secret service agents eyed the boys warily, Blago, wearing running shorts, was waiting with his line: "Mr. "President, can I trouble you for an autograph?" He asked that Nixon sign the autograph to his mother who, Blagojevich explained, loved Nixon because "he had suffered so much," had "two lovely daughters," and "was loyal to Pat." Rod felt prepared and confident because he had read Nixon's memoir, which had been published two years before, and also had read Six Crises. Nixon handed both boys his business card. Rod told him that they had been to Yankee Stadium to see the a doubleheader against the Brewers. The park is beautiful, he allowed, but they were partial to Wrigley Field. A bystander suggested that they go to the "Met." Having never heard of the Metropolitan Museum of Art, Rod told Nixon, "We're going Friday to see the Mets play the Reds."

Having done poorly on the LSATs, Rod was rejected by the University of Chicago and Northwestern and Harvard, which is how he ended up at law school at Pepperdine University in Malibu, California. (He told me that he did not want to consider "second-tier" law schools in Chicago.) Lon Monk, Blago's roommate at Pepperdine and later his closest friend, groomsman at his wedding and former gubernatorial chief of staff, said the choice of Pepperdine was influenced by Blagojevich's fascination with and admiration of Nixon, whose roots were in the area. Monk recalls Blagojevich talking a lot about Nixon during those years. (If Monk's name sounds familiar, it's because he's in the news these days. Burris admitted Thursday to calling months ago to ask Monk, who by then had left government and was working as a lobbyist, to tell Blago of Burris's interest in being appointed Senator. It's also been revealed that Monk's cell phone was bugged by the feds; whether Burris's call to Monk was captured is not yet known.)

The admiration continued over the years. Blago was a "huge Nixon fanatic," John Wyma, his chief of staff when he was in Congress, told me. (Wyma is also in the news because last October he agreed to cooperate with the feds in their investigation of Blago. Wyma, a fundraiser and adviser to the governor, cooperated with Fitzgerald in an attempt to get immunity from prosecution. His cooperation led to court approval of the bugging of Blagojevich, Monk, etc.)
In our interview, Blago volunteered that he voted for Republicans: Ronald Reagan in 1980 and 1984, "thinks" he voted for the elder Bush in 1988, and had he been old enough to vote in the 1972 Nixon/McGovern race, he's not sure how he would have cast his ballot.

In an introspective mood, Blago, who on tape and in recent revelations sounds mean and angry, told me back then that the difference between Bill Clinton and Richard Nixon is that Clinton learned to forgive his enemies, even Republican congressmen who led the successful effort to impeach him.
"Unlike Nixon, Clinton didn't obsess about his enemies and hold these grudges to the extent that it destroyed him. ....[Nixon] came from humble origins, worked hard his whole life, was smart, tenacious, lacked a lot of natural abilities and overcame them, went into a profession, which was really in many ways not suited for his personality and through drive and determination and a lot of trickery-- Disraeli called that the greasy pole to the top-- and many of those qualities that got him to where he was, negative qualities, are what ultimately brought him down, and I think if Nixon were a little more relaxed and had a little more love in his heart, a little less negative resentments...."
When Blago was a congressman and Clinton was president, he got a ride on Air Force One. Clinton told Blago that he should take advantage of the great food and that he could call anyone, anywhere. He called his mother, who was not impressed that her son was on the presidential plane with the president. "Oh, son," she told him, "don't you let him get you in trouble."
REAL LIFE. REAL NEWS. REAL VOICES.
Help us tell more of the stories that matter from voices that too often remain unheard.