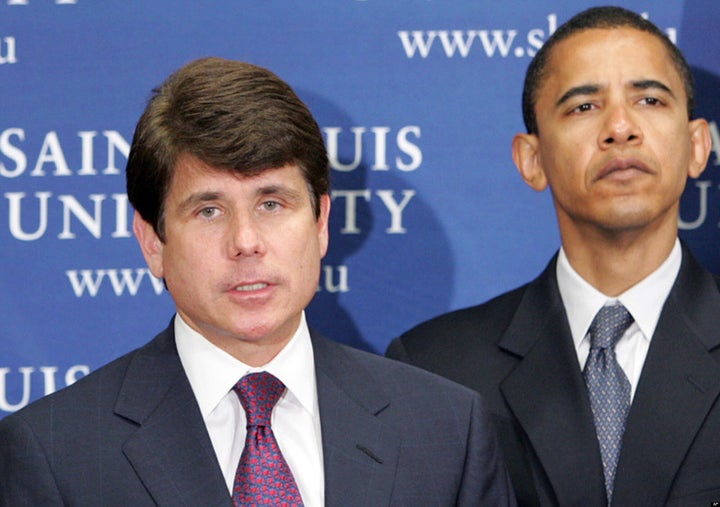 Defense lawyers for Rod Blagojevich have moved to issue a trial subpoena to President Obama, asking him to testify at the former Illinois governor's June trial.
"There are two conflicting stories and the defense has the right to admit evidence that contradicts the government's claims," defense lawyers wrote. "Only President Obama can do this."
Blagojevich's lawyers asked for FBI reports of an interview with President Obama last year, the paper reports.
"As of today's date, the defense has not received any notes, transcripts, or reports from President Obama's interview with the government," defense lawyers wrote. "President Obama has direct knowledge to allegations made in the indictment. In addition, President Obama's public statements contradict other witness statements, specifically those made by labor union official and Senate Candidate B (Valerie Jarrett). It is anticipated that labor union official will be a witness for the government. His accounts of events directly related to the charges in the indictment are contradicted by President Obama's public statement," defense lawyers wrote.
A spokesman for the U.S. attorney's office, Randall Samborn, had no comment on the 11-page motion. The filing contained several sections blacked out, apparently because they refer to material that the court has placed under seal.
The redacted portions were able to be read in the version of the document that appeared online, and allege a conflict between comments made by Obama at a news conference and statements to federal prosecutors made by a labor union president and a candidate for the seat. (Read the full document, including the parts that were redacted here.)
Blagojevich has pleaded not guilty to charges that accuse him of scheming to sell or trade the Senate seat left vacant by Obama's election as president.
READ the defense filing here.
Calling all HuffPost superfans!
Sign up for membership to become a founding member and help shape HuffPost's next chapter