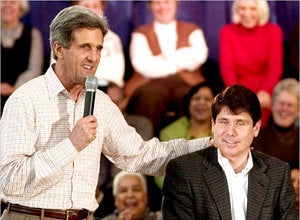 Gov. Rod Blagojevich has long held presidential ambitions and though he was never mentioned as a national candidate in 2004, he apparently expected to be named as John Kerry's vice presidential nominee, former employees of the governor told the New York Times.
Whatever else may have come apart within Mr. Blagojevich in recent months, one quality, unabashed ambition, has been a constant, his colleagues and his critics say. Even with approval ratings that had sunk to 13 percent as details of the federal investigation into his administration had seeped out over the past three years, Mr. Blagojevich, incredulous prosecutors say, still spoke in his recorded conversations in the past six weeks of the possibility of remaking his political future and running for president, perhaps in 2016.

That aspiration was nothing new.

At points in early 2004, Mr. Blagojevich appeared with Senator John Kerry, the Democratic presidential candidate, at a community center in Evanston and a junior high school in Quincy. Mr. Blagojevich seemed confident, said two former employees, who refused to be named out of concern that their comments could jeopardize their current work, that he would soon be selected as Mr. Kerry's running mate. (An aide to Mr. Kerry's campaign says he was never under consideration.) At the time, there seemed only one problem: Mr. Blagojevich was uncertain he wanted to be a No. 2.

Calling all HuffPost superfans!
Sign up for membership to become a founding member and help shape HuffPost's next chapter