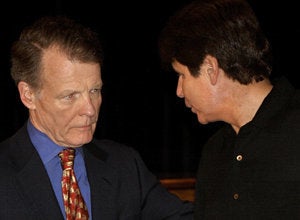 SPRINGFIELD -- House Speaker Michael Madigan turned heads last spring by admitting his staff had researched impeaching Gov. Blagojevich, then followed up with a fall memo to Democratic candidates advocating impeachment.
So why on the eve of lawmakers returning to Springfield to address a full-blown political crisis won't the powerful Southwest Side Democrat commit to impeaching a man regarded by some as the most corrupt state officeholder in modern Illinois history?
"It's baffling," said House Minority Leader Tom Cross (R-Oswego), who was among the first pushing impeachment after Blagojevich was arrested and charged Tuesday as part of a blockbuster federal corruption investigation.
Even more baffling is the fact that plenty of votes exist in the House to get the job done.
On Friday, Cross had a conference call with his 52-member GOP delegation and said "at least" 45 favored launching impeachment proceedings immediately.
The same day, Rep. John Fritchey (D-Chicago), who is preparing an impeachment resolution independent of Madigan's office, received commitments from 30 House Democrats to back impeachment.
All told, that's at least 75 House members wanting the impeachment process to begin against Blagojevich. Sixty votes are necessary to get the ball rolling.
REAL LIFE. REAL NEWS. REAL VOICES.
Help us tell more of the stories that matter from voices that too often remain unheard.
Read more on Chicago Sun-Times