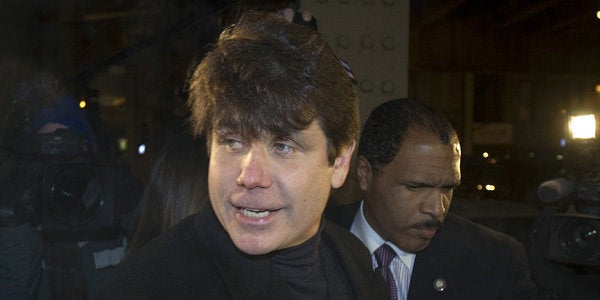 Illinois Governor Rod Blagojevich will hold a press conference today to defend his pick of Roland Burris as a replacement for Barack Obama in the senate.
Illinois Gov. Rod Blagojevich defiantly proclaimed his innocence Friday and said that he will not let a "political lynch mob" force him to resign.
"I will fight. I will fight. I will fight until I take my last breath," Blagojevich said in his first official statement since being arrested last week on federal corruption charges. "And I'm not going to quit a job that people hired me to do because of false accusations and a political lynch mob."
(Scroll down to watch Blagojevich's statement.)
The Democrat is accused, among other things, of plotting to sell or trade President-elect Barack Obama's U.S. Senate seat.

"I'm not going to quit a job the people hired me to do because of false accusations and a political lynch mob," Blagojevich said.

Still, one of the governor's attorneys said Blagojevich will take his constituents into account as the case moves forward.

"He told me if it doesn't work, if it is too hard if the people of Illinois suffer, he will step aside," attorney Sam Adam Jr. said after the governor finished speaking.

Blagojevich had been itching to talk, saying he wanted to tell his side of the story even though his lead defense attorney, Ed Genson, didn't like the idea. On Friday, Blagojevich asked state residents to "sit back and take a deep breath, and please reserve judgment."

"Afford me the same rights that you and your children have -- the presumption of innocence, the right to defend yourself," said the governor, who said he wants to "answer every allegation" in court.

Genson, who did not attend Blagojevich's news conference, has said he plans to challenge the court-ordered wiretaps at the heart of the allegations against Blagojevich. Genson called the wiretaps inappropriate, if not illegal.

Genson said he expects a federal grand jury to indict his client, which likely would unseal many of the documents supporting the charges.

The governor is also accused of trying to strong-arm the Chicago Tribune into firing editorial writers who criticized him, and pressuring a hospital executive for campaign donations.

The accusations outraged lawmakers from the president-elect on down and many demanded Blagojevich resign. He has steadfastly ignored such pressure and has continued to show up to work at his Chicago office and sign bills.
Watch Blagojevich's remarks:
REAL LIFE. REAL NEWS. REAL VOICES.
Help us tell more of the stories that matter from voices that too often remain unheard.