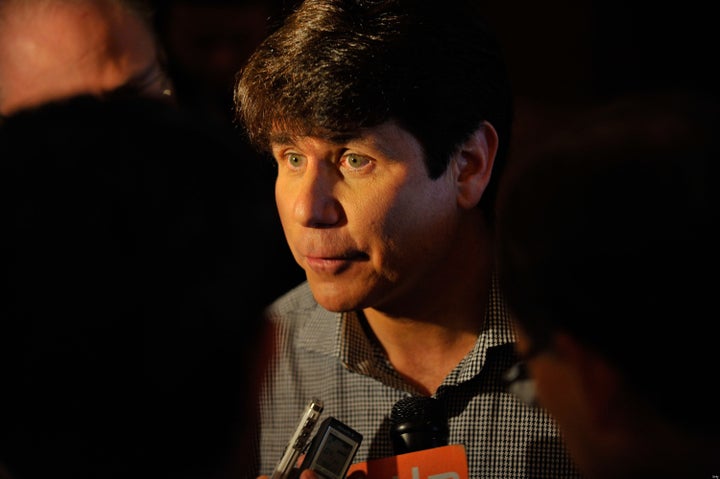 As a part of the ongoing circus that is Rod Blagojevich's corruption trial,defense attorneys for the indicted former governor of Illinois moved to subpoena President Barack Obama on Thursday to testify in his defense.
Many portions of the document were redacted, but HuffPost Chicago has extracted the redacted portions of the document and reconstructed the full subpoena.
One bombshell accusation included in a blacked-out portion of the document: that the Obama campaign accepted "a large sum of cash" from convicted felon and government witness Tony Rezko.
The document also alleges that President Obama suggested Valerie Jarrett get his old seat, and that he contacted labor union officials about lobbying the Governor's office on her behalf.
(Scroll down to read the full document.)
If true, this could contradict the President's statement that he was "confident that no representatives of mine would have any part of any deals related to this seat." Depending on the meaning of the word "deals."
The Blagojevich trial centers on charges that the ex-governor attempted to sell the U.S. Senate seat being vacated by Barack Obama. While, in statements like the one above, Obama has distanced himself from the scandal, the Blagojevich motion suggests he was somewhat involved in choosing his replacement.
From the document (Senate Candidate B here is Valerie Jarrett):
[An unnamed labor union president] spoke to labor union official on November 3, 2008 who received a phone message from Obama that evening. After labor union official listened to the message labor union official told labor union president "I'm the one". Labor union president took that to mean that labor union official was to be the one to deliver the message on behalf of Obama that Senate Candidate B was his pick.

...

[O]n November, 4 2008, Senate Candidate B spoke with labor union official about the Senate seat. Labor union official said he spoke to Obama. Labor union official said he was going to meet with Blagojevich and said "he was going to push Blagojevich hard on this.

Rahm Emanuel also appears in the document, accused of guiding Blagojevich's Chief of Staff John Harris regarding possible choices for the Senate seat.
A word on the cast of characters: Senate Candidate A is Jesse Jackson, Jr., a Chicago congressman. Senate Candidate D is Emil Jones, former President of the Illinois Senate and a powerful figure in state politics who propelled young Barack Obama's political career. Senate Candidate E is Cheryle Jackson, former president of the Chicago Urban League who finished 3rd in the 2010 primary for the same Senate seat.
President's Chief of Staff told the FBI that "he could not say where but somewhere it was communicated to him that" Senate Candidate A was a suggested candidate viewed as one of the four "right" candidates "by the Obama transition team."

...

On December 8, 2008, John Harris' secretary's call log noted President's Chief of Staff called at 10:47 am and wrote "needs to talk to you asap" (Harris 302, February 20, 2009). President's Chief of Staff told the FBI that he had a conversation discussing the Senate seat with Obama on December 7, 2008 in Obama's car. President's Chief of Staff told the FBI "Obama expressed concern about Senate Candidate D being appointed as Senator. ... [President's Chief of Staff] thought he suggested Senate Candidate E.
Finally, the redacted portions of the subpoena allege that Tony Rezko funneled large amounts of cash to the Obama campaign. The document claims to quote a letter tendered by the government in a private hearing, which allegedly reads:
[Rezko] engaged in election law violations by personally contributing a large sum of cash to the campaign of a public official who is not Rod Blagojevich. ... Further, the public official denies being aware of cash contributions to his campaign by Rezko or others and denies having conversations with Rezko related to cash contributions. ... Rezko has also stated in interviews with the government that he believed he transmitted a quid pro quo offer from a lobbyist to the public official ... but that the public official rejected the offer.

A footnote to this allegation reads: "The defense has a good faith belief that this public official is Barack Obama," and cites this Chicago Sun-Times article, suggesting that it coincides with elements of Rezko's claims.
Rezko, a Chicago real estate developer, was convicted of sixteen counts of fraud and corruption relating to a multimillion-dollar extortion scheme. The case involved Rezko using his influence with Blagojevich, to whom he'd donated hundreds of thousands of dollars, to demand kickbacks from businesses with state contracts.
The Blagojevich trial is set to begin June 3.
Read the subpoena. Portions which were redacted are now in bold.
Related
Popular in the Community