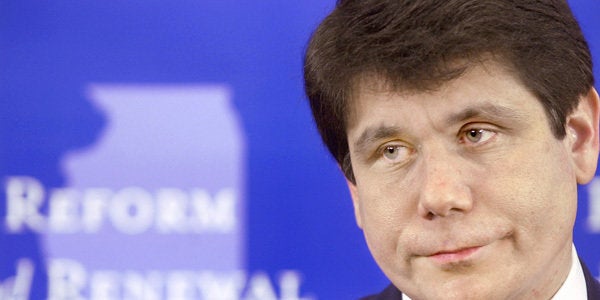 Illinois Governor Rod Blagojevich Indictment News Updates, 12-9-08:
-------------------------------------------------------------------------------------------------------------------------

Read the original news entry from October 23, below:
Gov. Rod Blagojevich was pilloried Thursday in a series of news articles connected by a single theme: The Democratic chief executive's widespread unpopularity.
In a Chicago Tribune poll, Blagojevich notched "the lowest ratings ever recorded for an elected politician in nearly three decades of Tribune polls."

The results show the state's first Democratic governor in a quarter-century has lost the confidence of voters in his own party. Moreover, the backing of one of his strongest voting blocs--African-Americans--appears to be falling away.

Overall, the survey of 500 registered likely voters conducted at the end of last week showed a mere 10 percent said they wanted Blagojevich re-elected in 2010, while three-fourths said they didn't want him back for a third term.
Blagojevich's job approval rating was a dismal 13% -- five percentage points lower than that of President Bush-- and his disapproval rating was 71%.
Only 8% of the Tribune poll's respondents felt Blagojevich had lived up to his promise to end government corruption, and another Tribune story, also published Thursday, helps explain why:
Pushing further into Gov. Rod Blagojevich's inner circle, federal investigators have subpoenaed records involving a lobbyist friend who represented a hospital company that won a favorable state ruling.

The company's for-profit affiliate donated $25,000 to Blagojevich's campaign a month after the state's action.

John Wyma, a top fundraiser and former Blagojevich aide, was named in a federal subpoena delivered two weeks ago to Provena Health, according to sources. It sought records about Provena's lobbying relationship with Wyma, the donation and the company's efforts to win approval for a new heart program.

That decision was made by the Illinois Health Facilities Planning Board, which has figured prominently in a corruption investigation that has led to influence-peddling convictions against several Blagojevich insiders.

Wyma is among Blagojevich's closest confidants, fundraisers and friends. Before becoming a top state lobbyist, he was Blagojevich's chief of staff when he was in Congress and played key roles in the governor's campaigns.
Blagojevich has long been a prolific fundraiser. Generating campaign contributions-- and doling them out to fellow candidates-- has been essential to his political success. But he's sitting out this election cycle, according to Ryan Keith's report in the State Journal-Register:

Blagojevich's campaign this week filed a "non-participation" report with the State Board of Elections. That means he's not giving out campaign cash to help other candidates or support or oppose policy issues on the ballot.
Though a Blagojevich spokesman said the non-participation report does not "represent any change in policy," political science professor Kent Redfield sees it as evidence of the governor's plummeting stock:

"It's an acknowledgment of how weak his position has become," said Kent Redfield, a political science professor at the University of Illinois at Springfield. "The worst thing he could do right now for someone running is send them a campaign contribution."
The governor's position is "weak" enough that his own party is using a negative depiction of him as part of an attack ad in a Southwest suburban congressional campaign.
In an action that veteran political activists say they believe is unprecedented, the Democratic Congressional Campaign Committee, the national election arm of U.S. House Democrats, this week quietly began airing broadcast TV ads in the Chicago media market that link an incumbent -- if unpopular -- governor of its own party to Marty Ozinga, the GOP candidate for Congress in the Joliet-area 11th District.

"Concrete's a dirty business, especially for Republican Marty Ozinga," says the announcer as video switches from a truck pouring cement to a picture of Mr. Ozinga, who owns a concrete company. "Republican Marty Ozinga and his companies gave 23 grand to Rod Blagojevich," it continues, showing a picture of a pained-looking governor.

Mr. Ozinga, the ad concludes, is "the last guy you'd send to clean up Washington."
The spot, which was paid for by the DCCC and done without Democratic candidate Debbie Halvorson's input, made Blagojevich livid, Hinz reports:

Mr. Blagojevich's office had no comment on the matter, but sources said the governor's camp has privately expressed its displeasure. Mr. Blagojevich, himself a former congressman, is said to have "gone ballistic" when he first heard of the spot.

Calling all HuffPost superfans!
Sign up for membership to become a founding member and help shape HuffPost's next chapter