You're still owed one (1) Euro-report, but first a string of Los Angeles recommendations, especially as these shows are ending imminently. In fact, it's almost too late to catch Naomie Kremer's paintings and "hybrids" and the marquetry paintings of Paulin Paris (at Frank Pictures, Bergamot Station, 2525 Michigan Ave. #A5, Santa Monica, www.frankpicturesgallery.com). Surprising, and superbly crafted, images lurk in Paris's intricate compositions of jigsaw-pieced wood, and Kremer now enlivens her already vigorous gestural abstractions with black-and-white video projections of crowd scenes, the to-ing and fro-ing of myriad figures intermeshing remarkably with similarly massed paintstrokes. (I hope she next figures out a way to back-project, as viewers cast irksomely interferent shadows when they come between each projector and painting.)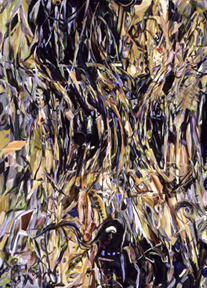 NAOMIE KREMER, Rhythm Section (Tiny), 2009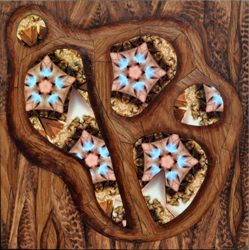 PAULIN PARIS, FOL 2, 2010
Also ending precipitously in Bergamot (at Robert Berman's #C2 space, www.robertbermangallery.com) is "Playground," the latest sequence of (mostly black and white) photographs by Jeff Charbonneau and Eliza French. Expanding on their goth-romantic figure-in-landscape imagery, Charbonneau & French set young women and equally young - or at least equally white-clad - weather balloons loose in a variety of settings, the concurrences alluring as much for their genial incongruity as for their ravishing clarity.
Any number of galleries in the parade along lower La Cienega Boulevard (technically LA but considered part of the Culver City gallery scene) are closing worthy exhibitions this weekend. "Somewhere on a Desert Highway," curated by Yael Lipschutz, brings together artists as disparate as Alexandra Grant, John Outterbridge, and Ben Patterson in a cramped but exciting examination of the California outback (at JK Gallery, 2632 S. La Cienega, www.jkgallery.net). Four veteran painters of the LA scene - Ed Moses, Charles Arnoldi, James Hayward, and David Lloyd - cohabit in "Abstract on Abstract" (at LA Contemporary, 2634 S. La Cienega, www.lacontemporary.com), showing all of them (especially Lloyd, who hasn't exhibited here in awhile) to particular advantage with just two or three biggish paintings apiece.
I have to go back for a second look, tantalized as I was by the first, at Charles LaBelle's intimate drawings of what seem to be European buildings and John Jurayj's free-standing objects and images etched into mirrors (at Walter Maciel, 2642 S. La Cienega, www.waltermacielgallery.com) - and equally at Kathy Grayson's group of colorful, information-laden paintings apparently based on electronic captures of televised golf tournaments (at Kim Light/Lightbox, 2680 S. La Cienega, www.kimlightgallery.com). In between, I'll drop back in on Chris Natrop's vivacious installation of painterly drips hewn from cut paper, colored thread, fluorescent tubes, mirror, and diverse other materials (at Taylor de Cordoba, 2660 S. La Cienega, www.taylordecordoba.com).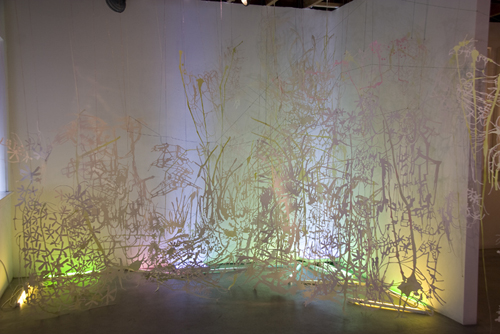 CHRIS NATROP, installation, 2010
The show that truly lures me back, however, is Iva Gueorguieva's (at Angles, 2754 S. La Cienega, www.anglesgallery.com). Already acclaimed for her vast clouds of immense scribble, every darting, spiraling line determined and inscribed with infinite care, Gueorguieva pulls out all remaining stops in these breadth-taking canvases, engulfing fields of titanic conflict that suggest nuclear explosions witnessed -- and, somehow, clinically described -- from within. The real power of Gueorguieva's monumental neo-abstract expressionism lies in its very anti-expressivity, its almost-etched precision, its suggestions of iincongruous imagery, and its manifestation of energy as a physical rather than emotional phenomenon.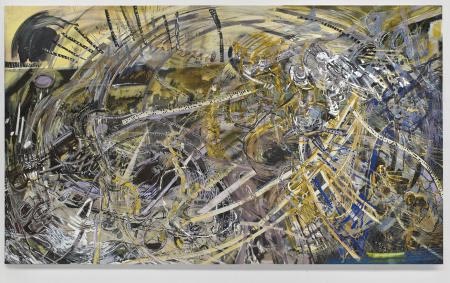 IVA GUEORGUIEVA, Reclining Nude: Stabbed, 2009, Acrylic, oil and collage on canvas, 77 x 134 inches
Not terribly far away, Christopher Mercier shows a boisterous grouping of paintings, sculptures, and in-betweens that also come down after Saturday (at Lawrence Asher, 5820 Wilshire Blvd., www.lawrenceasher.com). Mercier, an architect who once worked in Frank Gehry's office, is very conscious of "building" his painting-objects, composing them with exquisitely careful abandon, building out their surfaces with painterly gestures that become objects in themselves, arranging these in and among carefully constructed white panels, sometimes accruing them to free-standing structures of boxes and other found objects, and, overall, painting entirely - entirely - in three dimensions.
Back at Bergamot (at Galerie Anaïs, #D2, www.galerieanaisla.com, until May 19), Jean Kazandjian's complex, seemingly affable paintings - any number of them painted in multiple layers through the use of wire mesh - give up their delights slowly. Conflating the impulses of classic surrealism and Euro-flavored Pop art into a style at once gritty and elegant, light-filled and shadowy, the Armenian-French painter, now based here, plays with elusive figures, rhythmic repetitions, images both crass and transcendent, imbuing them all with a subtly posited monumentality that questions rather than sabotages their transience. In the first part of Kazandjian's show he played with images sometimes bordering on the silly; by concentrating on the female form in this part, Kazandjian builds in a reflexive classicism, but his approach is no less insouciant - and no less mysterious.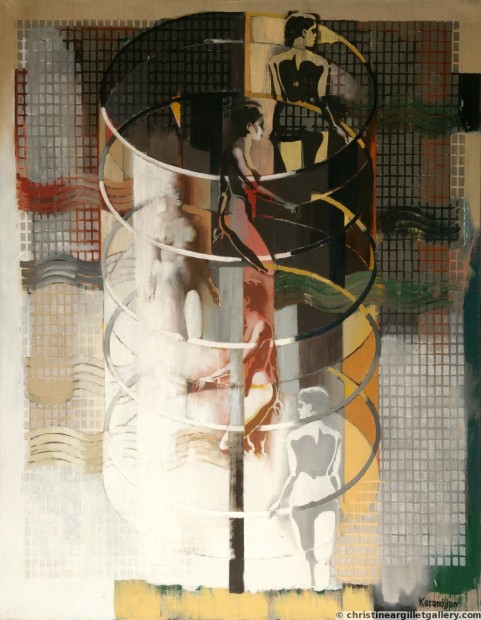 JEAN KAZANDJIAN, Sequences -- Spiral in Five Movements, 1999, Oil on canvas, 57 1/2 x 45 inches
Calling all HuffPost superfans!
Sign up for membership to become a founding member and help shape HuffPost's next chapter