Do Felipe Ehrenberg and Carolee Schneemann know each other personally? It's likely, given their association with so many of the most adventurous artistic phenomena of the recent past -- happenings, Fluxus, conceptual art, street theater, feminism, identity aesthetics, etc. -- and their treatment of these phenomena not simply as artistic or social movements but as personal networks. For them both, the personal is the political and the political is the aesthetic. But if art serves politics and vice versa, these realms of expression remain distinct in the two artists' practices. Neither takes precedent over the other. Thus, Schneemann's and Ehrenberg's surveys document their times -- the '60s but also since -- only incidentally; what they document centrally is the response of their subjects to their times.
Four years apart in age, Ehrenberg and Schneemann have stayed hippie-radical through bad times as well as good; their unrepentantly hairy approach to art and life may not have stayed fashionable, but, thanks in no little part to their commitment(s), it stayed viable, and now -- beyond the florid slogans, clothing, music and gestures -- what Schneemann and Ehrenberg have (always had) to say, and how they say it, again seem vital as well.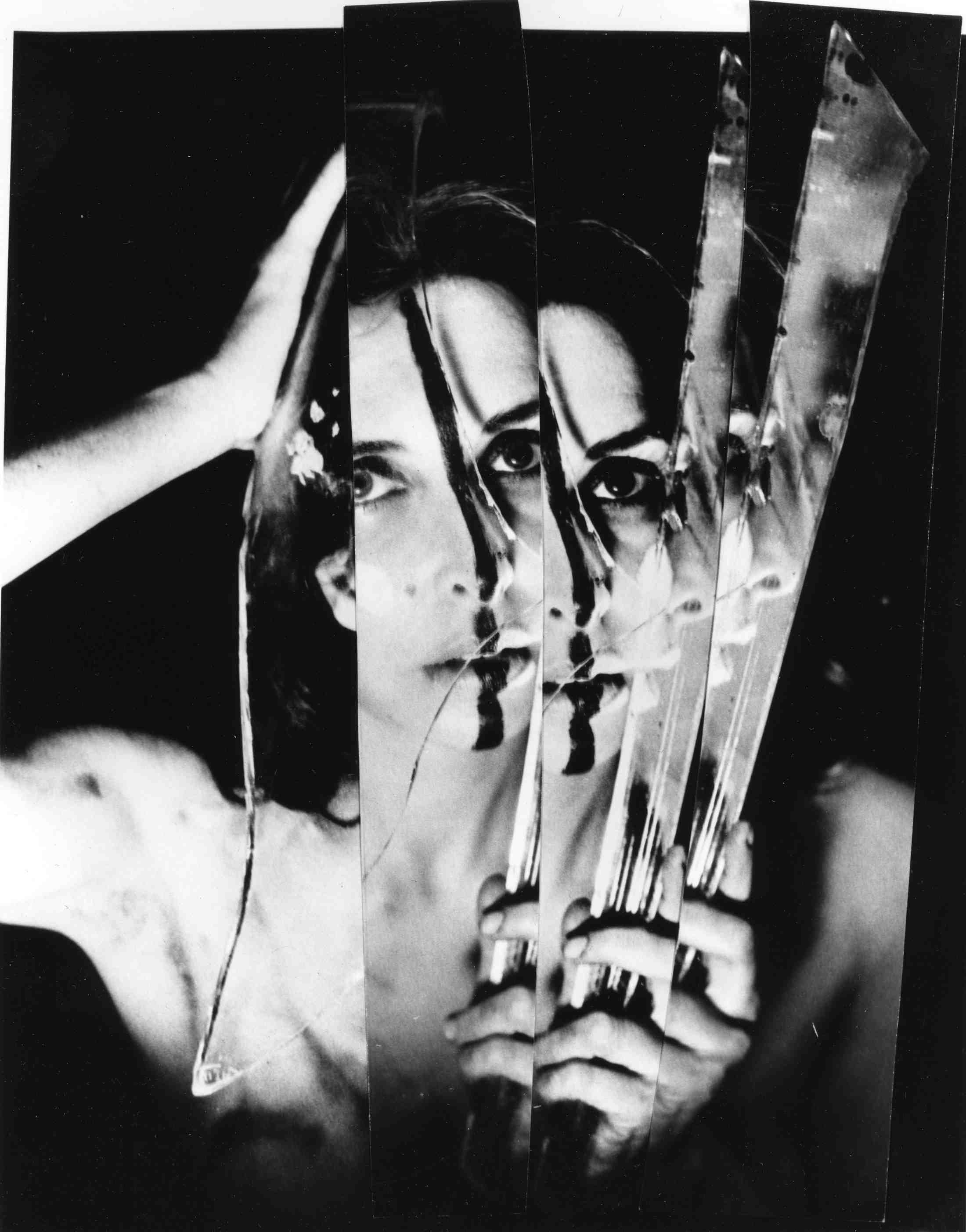 Carolee Schneemann, from "Eye Body: 36 Transformative Actions", 1963/2005 Gelatin silver print, 24 x 20 inches Photography: Erro
Schneemann's retrospective, recently mounted at the university down the road from her lower-Catskills home, ranged over a half-century, from the expressionistic figurative painting of her college years to photographs, assemblages, installations, films and videos produced in the last decade. A founding member of the Judson Dance Group and frequent collaborator with the Living Theater, Schneemann is best known as a performance artist, and is probably most famed for the provocative happenings and solo works filled with sex and sensuality that she realized, yes, in the 1960s and '70s. But what the documentation of such in-your-face productions as "Meat Joy" (1964), "Up To and Including Her Limits" (1973-4) and "Interior Scroll" (1975) reveals when interspersed with objects, drawings and photographs done at the same time -- and before, and after -- is that Schneemann's program has been as consistent in its focus as it has been in its passion. It has been dedicated not to shocking its audiences (although it's done that quite thoroughly), but to turning them on and tuning them in. It's also been dedicated to measuring the conditions of Schneemann's own existence, of how she has lived her life at the edge -- the leading edge, to be sure -- of society. Whether elaborating on the loss of a beloved cat -- examining both the animal's rite of passage and her own -- or recording personal evolution in terms of lovers -- an almost-literal changing-of-the-guard boyfriend switch -- or reacting to friends' artworks with her own, or reacting to current events with bricolaged structures that embody the impotence of her fury and a refusal to turn away, Schneemann remains riveted to the present and to the life she is leading within that present.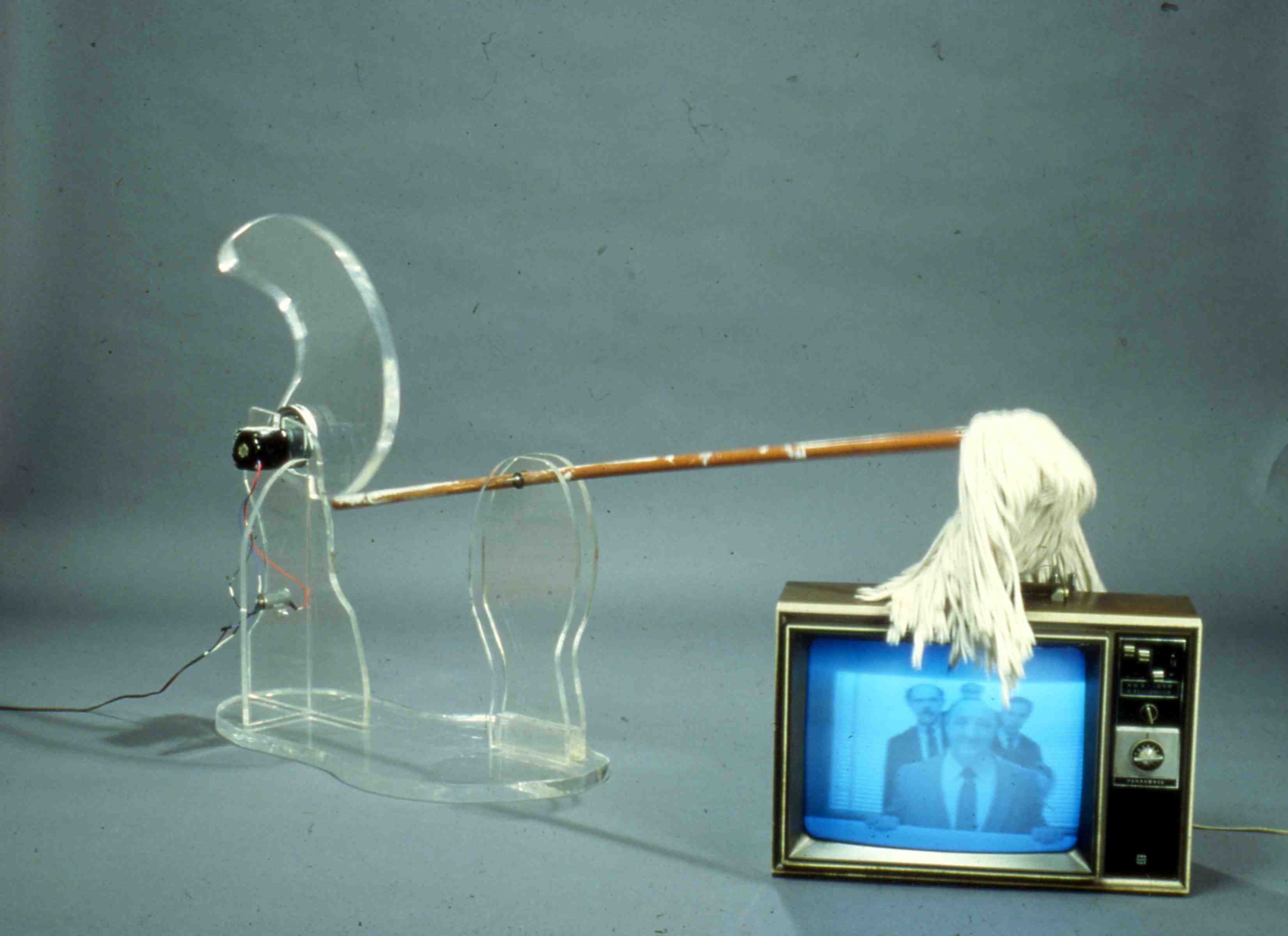 Carolee Schneemann, "War Mop", 1983 , Mop, plexiglas, motor, custom hardware; "Souvenir of Lebanon", analogue video/audio transferred to digital video; monitor, player, 24 x 62 x 20 inches; 5 min. 50 sec.
What keeps such artworks momentous and not momentary? What makes a spiky little box fabricated in response to an Yvonne Rainer dance or a huffy recollection of a filmmaker's rejection or a protest over conditions in the Middle East seem bigger than their points on history's timeline? Schneemann's ability first of all to react spontaneously, and second of all to immortalize that spontaneity in shapes and materials. Ironically, this interdisciplinary multimedia polyartist practices an almost-pure form of abstract expressionism, honoring the painters who influenced her and at the same time freeing their ethos from the rarefied context of painting. Unabashed in her sensuous, self-reflective immediacy, Schneemann transcends her moment by wallowing in it.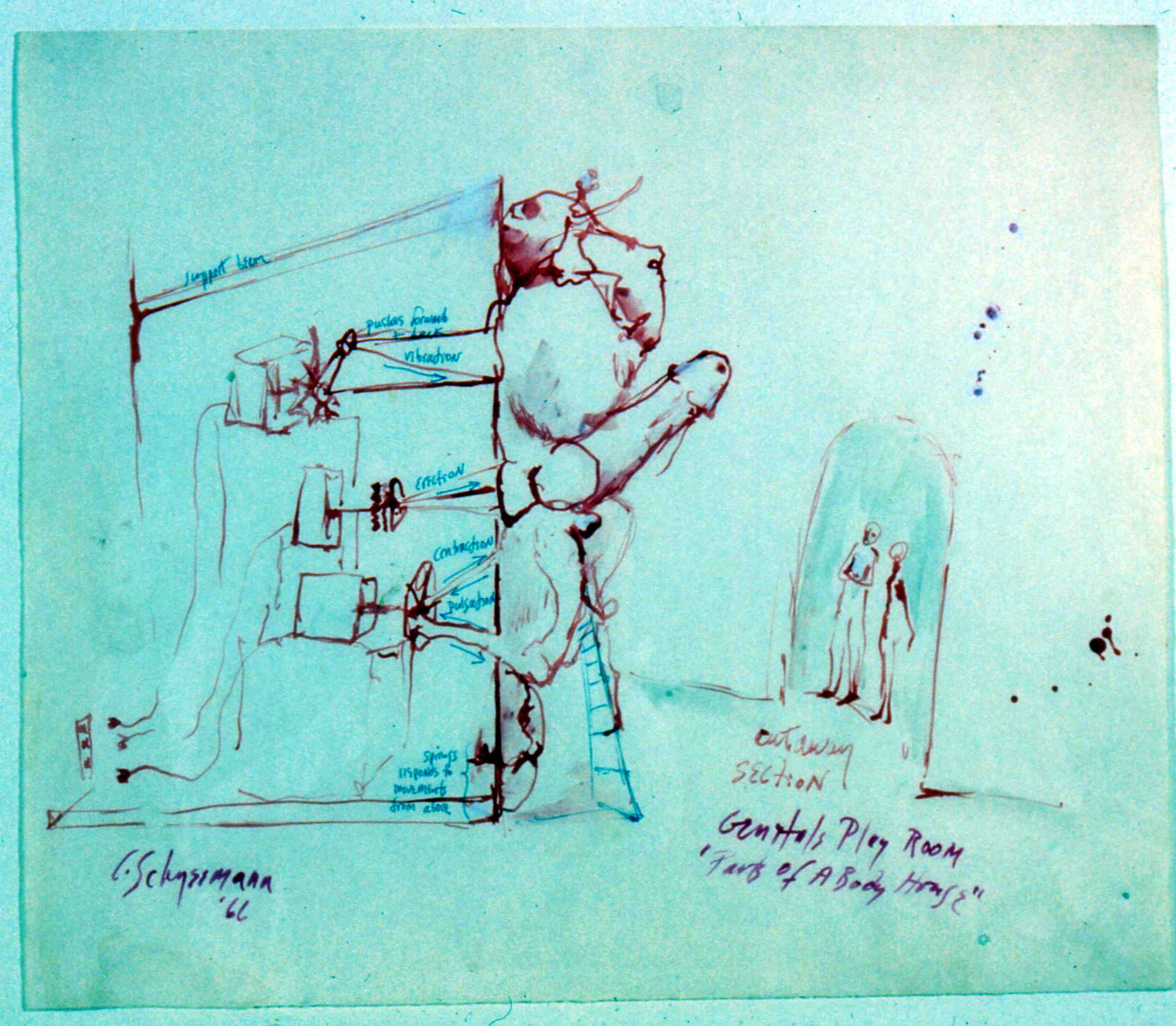 Carolee Schneemann, "Parts of a Body House -- Genital Playroom I", 1966 Watercolor and ink on paper, 26 1/4 x 26 3/4 inches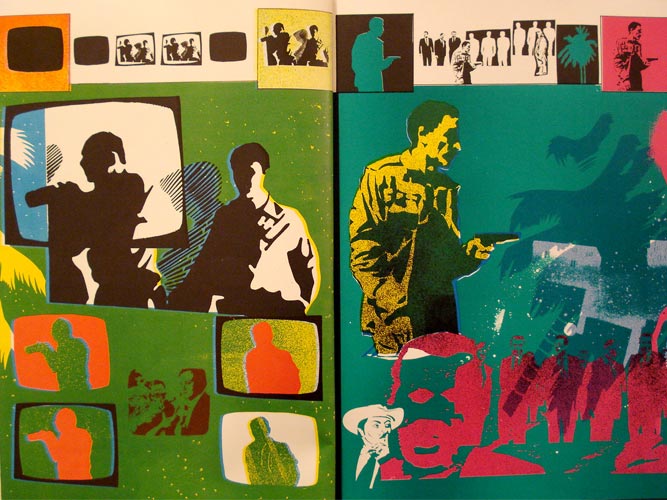 Felipe Ehrenberg, from "Codex Aeroscriptus Ehrenbergensis", 1990 Mixed media on paper
One of feminism's youngest and closest-in foremothers, Schneemann is a figure to be reckoned with outside as well as inside artistic discourse. Similarly, her intermedial kin Ehrenberg helped pioneer what also became an important artistic approach to changing minds in the social sphere, by imbuing his art with ethnic address. A self-declared Mexican artist even during his salad days in London, Ehrenberg went as far in those early days as any artist in distinguishing his work as Latino -- for universal consumption, to be sure, but speaking to the circumstances under which Latin-American peoples lived, historically and currently. Active in guerrilla-art circles and in prolific publishing projects while in England, Ehrenberg moved back to Mexico in the mid-1970s, where he invented and captained numerous events and activity structures designed to inspire both artistic creativity and an awareness of contemporary conditions. He's done everything from run a barrio art program to run for office (and now lives in Brazil, the result of having been posted there as Mexico's cultural attaché), but Ehrenberg's social achievements, as his retrospective clarifies, are part of a larger program.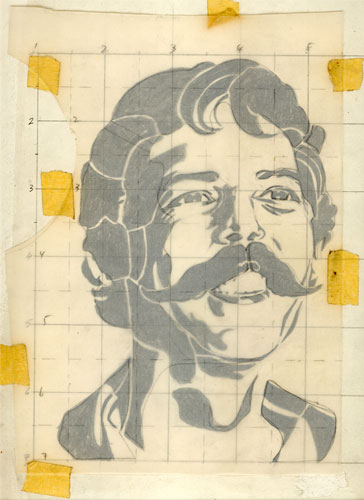 Felipe Ehrenberg, "Campana del PSUM", 1982 Offset on paper
Unlike Schneemann's, Ehrenberg's artistic thrust does not originate or culminate in his personal experience (although his likeness recurs throughout his oeuvre); but it does rely on his urge to observe and notate the social patterns that surround him. Speaking in words no less, yet no more, than in images, Ehrenberg adduces things from what he sees around him - the rhetoric of public language, the ever-presence of sexual cues (and their employment as consumerist triggers), violence ritualized as social expression, the overlay of modernity on traditional practices (and vice versa). He is a sociologist in reverse, injecting himself into the documentation in order to pop open the subject and reveal its agenda. And just as Schneemann honors abstract expressionism by hijacking it, Ehrenberg divests Pop art of its passivity, turning it into a tool for social transformation.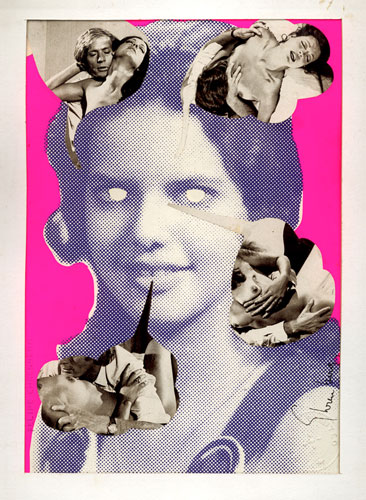 Felipe Ehrenberg, "Sin titulo" (from the series "Obras irreproducibles"), 1975 Collage on paper
Ehrenberg, the catalogue to his show notes, "calls himself a neologist: a cultural activist who dents culture." Nothing is beyond the artist's reach; his critique of modern life, elaborate, parodic and very measured (if not subtle) in its subversive transformations, wanders everywhere and uses, again, a broad mediumistic vocabulary to mirror and mock its targets and to reach its (extra-artistic) audience. One gets the sense that, while Schneemann employs every substance and format she can find because she is constantly wondering, solitarily and sensuously, about how things are going to turn out, Ehrenberg is ranging across contexts and disciplines in order to look in every corner of social discourse and reveal his findings to as wide an audience as possible. Schneemann is streetwise, but regards the street as a source, not as an arena. Ehrenberg's gallery is the street. Finally, though, both artists strike and maintain challenging ethical stances, perpetuating not just a cluster of countercultural tropes, but a whole countercultural mindset, and relying on everything from paper to videotape to do so. Do they do their thing on-line, too? Probably; but as children of the 60s, they dig for sure the tactility, and fragility, of hard copy.
Carolee Schneemann's retrospective "Within and Beyond the Premises," mounted at the Dorsky Museum of the State University of New York at New Paltz, has just ended, but will travel. Felipe Ehrenberg's "Manchuria: Peripheral Vision" is at the Museum of Latin American Art in Long Beach, California, until August 15.
Popular in the Community